Having a strong digital presence is a foundational component to the success of your marketing strategies and business development goals. Whether you operate locally with specialized markets or provide general contractor services nationwide, concrete SEO strategy cements your credibility in the industry (trying to get these out of our system early) and will increase both the number of qualified project leads in your inbox and talent looking to join your team.
Before we dive into search rankings, it's important to remember that ultimately, we're looking to reach people – not pander to algorithms or robots.  As shared a few weeks ago, "When done well, SEO improves the overall experience for your visitors…key for both bringing in customers but also recruiting new employees."
Building the Foundation
Search engines will penalize sites that are riddled with errors, unorganized, slow, or untrustworthy. Knowing where your website stands today will help you prioritize your time. Running some diagnostic tests will be helpful to make sure the foundation is solid before you spend resources writing and optimizing on-page content.
The tool for the job is Google Search Console. It's free, it easily integrates into your website, and provides valuable health checkpoints. You can opt in to email alerts for any issues detected on your site and Google Search Console will also give you insight into the search terms that are already driving traffic to your website. Ranking for 'keywords' is a vital component into your SEO strategy we'll dig into below.
Is your site responsive? Your digital presence should be polished and consistent across users visiting from office headquarters and from the field. We've seen higher percentages of tablet/mobile traffic within our construction clients than our other clients, and search engines evaluate your site as though on a smartphone, giving prioritization to 'mobile-first' design – websites that deliver dependable experiences across all devices sizes.
Metadata: Helping Search Engines Help You
Search engine optimization can be boiled down to organization. Giving your website an intuitive menu structure and easy-to-digest content will do more for your performance on search engines than taking up blogging.  Pages with clear headlines, subheadings, and summaries are more enjoyable to read and also help users find the information they're looking for faster.
Defining metadata within your website is all about labeling and assigning hierarchy to your content. Don't be scared when we reference HTML in this section. There are tools that allow you to manage metadata — title tags, descriptions, etc. without touching code with a 10-foot pole: we utilize Yoast SEO Plugin on all our sites.
Google leverages title and heading tags to determine the core message of the page:
Title Tags: This is the text that will show up as the clickable link within the search result.

Title tags, also referred to as meta titles, also appear as the text at the top of the browser tab.

Heading Tag: Title tags don't appear on the body of the webpage, but heading tags do (also known as H1)! This is why it's important to assign both within your metadata HTML.
Meta description: Within Google's search results, the meta description is the ~160 characters that appear below the meta title.

This is how you prove to users that the page they're about to click on is going to serve their needs. By not defining a custom meta description for a page, you run the risk of the user reading boilerplate copy about your business and -understandably- moving on to the next result that includes copy more relevant to their search term.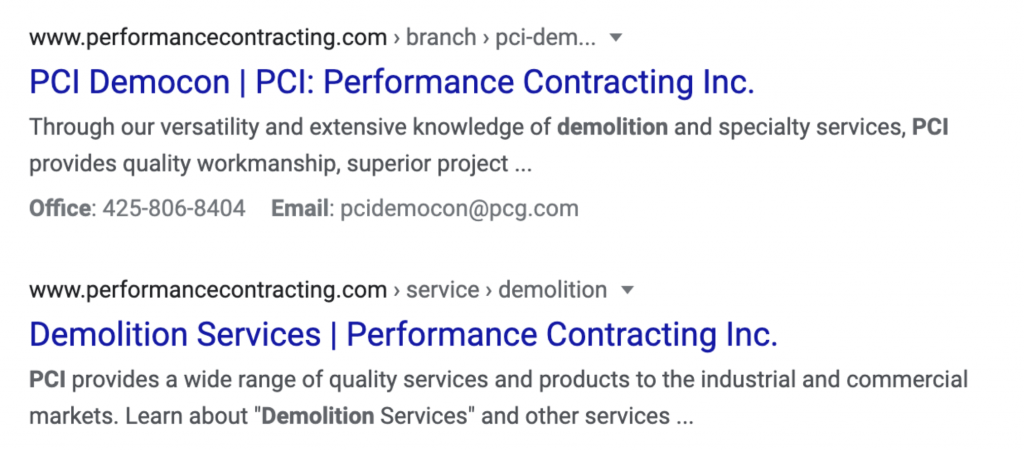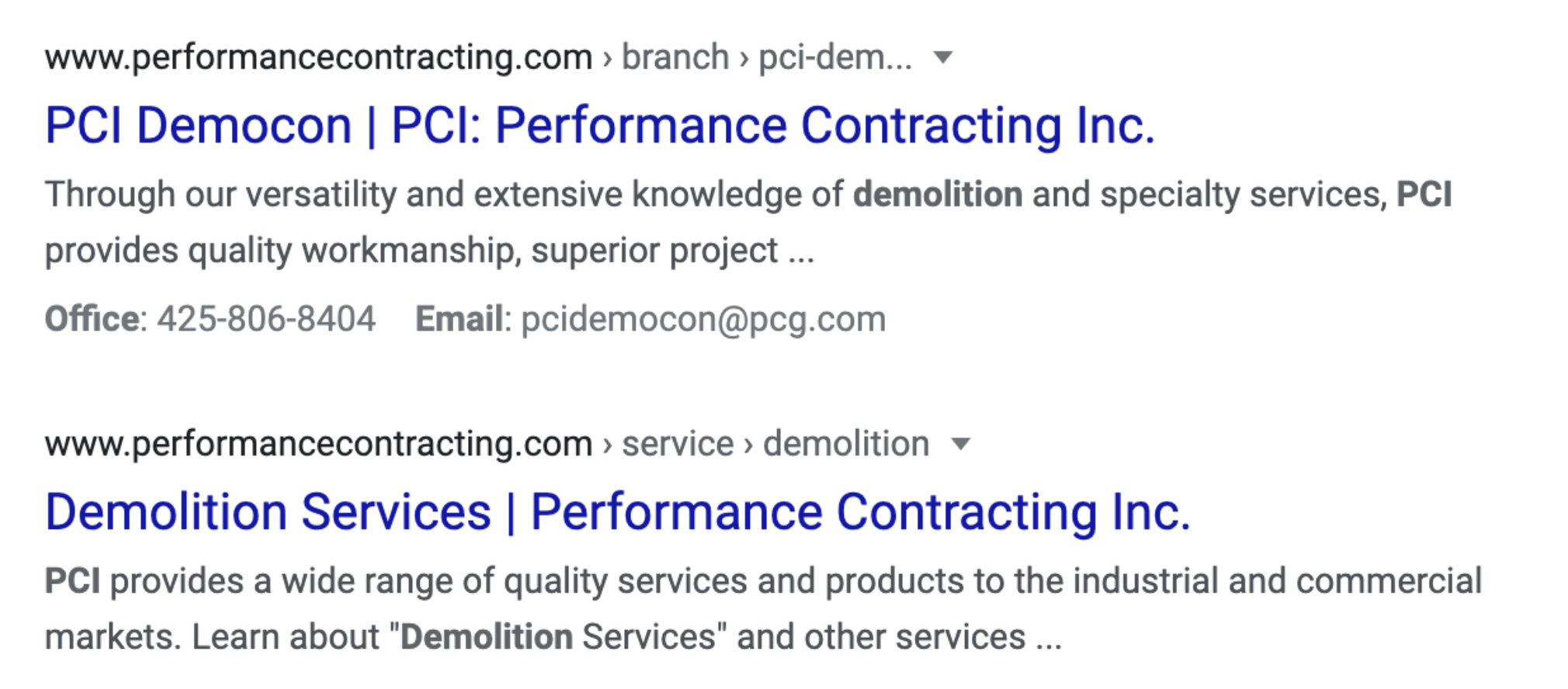 If your page content is mislabeled or irrelevant to a search term, your site is likely to be dinged. These penalties are expressed through 'bounce rates', the measurement of users clicking on your site from a search result, and then leaving (bouncing) without navigating to any other page. As a benchmark, service-focused sites should expect a 10 – 30% bounce rate. It's important to note there are also off-page SEO metrics that affect your rankings that you don't have full control over, such as the personal search habits/history of the user.
Keywords: The Seeded Draft
There are a number of ways to outrank your competitors on search results. Identifying the phrases and keywords that are currently driving traffic to your site and your competitors' sites is one of the most important.
Google Search Console, referenced earlier, will give you a starting point for the search terms you rank for currently. For deeper insights, we leverage SEMRush both internally and for our partners to research keyword ranking data. These tools will give you an understanding of search volume, search value, and suggestions for related terms and phrases that you can write about.
Optimizing content with keywords is not about plugging in a search term over and over into a page in an effort to get it to rank (this is called keyword stuffing and it's annoying to users and thus Google). The point of researching keywords is to identify terms you can leverage to promote the services you provide.
Consider your target audiences as well and cater information towards each user group. A procurement manager likely cares about different content than a trade contractor or a potential employee. Stuck on what to write about? With the construction industry, there are a number of areas to update that will keep your content fresh, relevant, and help drive the number of qualified leads reaching out:
Showcase in-progress and completed projects
Talk about your project management approach and the locations you work in. You don't have to spill any trade secrets but you should give potential clients an idea on what it's like to engage your team and reinforce your service expertise.
A complaint we often hear from construction companies is that their clients rarely understand the full breadth of services offered, logging a company in their Rolodex for one service only. Project portfolios and case studies are a great way to layout auxiliary service offerings.
Brand values
Not only is your approach to workmanship and safety likely evolving (giving you new opportunities to keep content updated) it should be exhibited as a key component of your identity and differentiation.
Team structure and employee benefits
Make sure your job listings are updated alongside perks/benefits. Your recruitment team will be thankful for web content they can share with potential employees to showcase what it's like to join the team.
For more on how to rank locally (ie 'Best Portland concrete contractors'), "Bulletproof Keyword Research For Local SEO" is a great resource.
TL;DR
Successful SEO strategies will accelerate your business development pipeline, establish your authority within a service, and attract new employees to join your team. When establishing an SEO strategy for your company, start with the foundation. Run diagnostics to ensure your site is in the favor of search engines, which will also establish benchmarking data to measure the fruit of your efforts. As you create and update content, make sure it's well organized and metadata is labeled accordingly.