Pinterest has blown up in the past year. From December 2011 to April 2012, the social sharing site grew from 7 million unique visitors to nearly 20 million, according to web traffic analysis service Compete.com. While growth has tapered since then, daily use of the site is consistent and rivaling that of Facebook and Twitter. So it comes as no surprise that most businesses are wondering "How do I use Pinterest to market my company?"
How Pinterest works
First, in case you're not familiar with the Pinterest world, let's review the basics.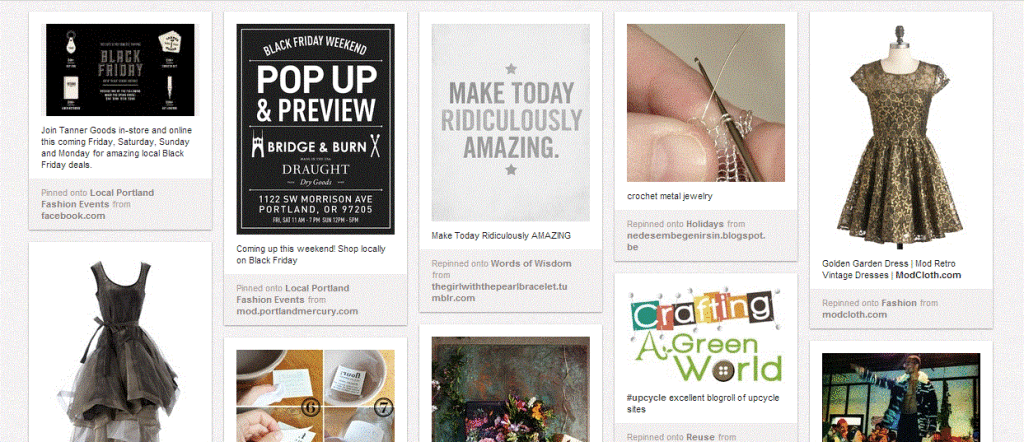 Pinterest's goal is "to connect everyone in the world through the 'things' they find interesting." This is accomplished by allowing users to share, curate, and discover new interests and ideas by posting (or "pinning") images or videos to virtual pinboards—their own or others'. A pinboard is a collection of pins, usually organized around a common theme. Users can upload images and videos from their computers or pin things they find on the web using a URL, the Pinterest bookmarklet, or a "Pin It" button (more on this below). The clincher is that every pin from the web, when clicked, takes interested users back to the original source of the image or video. While these are "no follow" links, they're invaluable for driving traffic to increase sales, generate leads, build website trust, and build brands.
Creating an account
Before you can use Pinterest, though, you have to have an account on the site. Create an account with the same email address you use for your business's Twitter account, or use the "Sign up through Twitter" option when registering. Stick with Twitter and not Facebook here since Pinterest currently doesn't offer a connection to Facebook business pages. Some setup tips to help you make the most of your Pinterest account:
Under the Settings tab, optimize your profile with a company name, logo, a brief description of the business, and a link to your website.
Be sure you keep "Hide your Pinterest profile from search engines" in the OFF position so your profile can get indexed in search.
Add a "Pin It" button to pages on your website with engaging content, so that visitors can easily share the content on Pinterest. Just like other social media–sharing buttons, the "Pin It" button will help expose your brand to new audiences.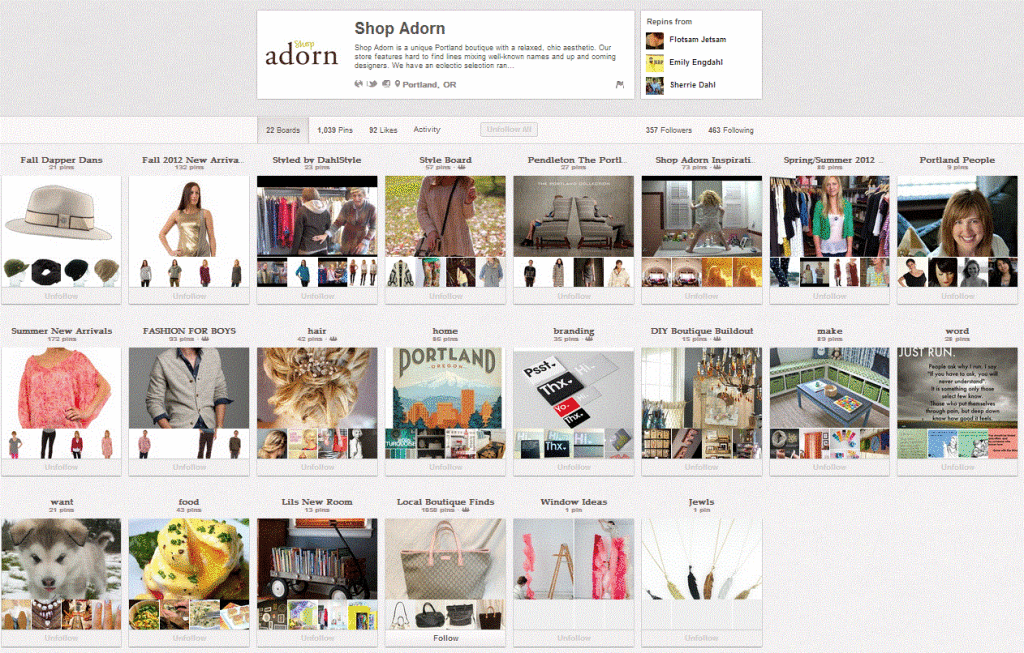 Find creative ways to promote your brand
Pinterest discourages using the service as a shopping cart for your business. While it's tempting to load up a pinboard with all of your products and services, it's a better strategy to focus on the lifestyle that surrounds your business. For example, Yasso is a low-cal frozen Greek yogurt business that embraces Pinterest's philosophy. While the company does have pinboards with recipes that include its yogurt, the majority of its boards focus on the lifestyle they want associated with their brand. On these boards, there's not a yogurt image to be found. This focus on culture over products allows users to learn more about Yasso as a brand. This is the type of content that should be aimed at internet users who are in the 'Awareness' stage of the industry surrounding your brand.
As a general rule, the more compelling the content, the more likely it will be repinned and circulated throughout the community—leading to more traffic and higher brand awareness for your business.
From mommy bloggers to Fortune 500 companies…
Succeeding on Pinterest requires discovering creative ways to communicate how your products and services fit into the lifestyle of your target audience. Here at Gravitate, our digital marketing department has some ideas and tips for doing just that and becoming an authority in your field on Pinterest:
Infographics are incredibly popular right now. Try to find or create visual representations of industry data and throw them on a pinboard together.
Use hashtags (#). Just like Twitter and Google+, Pinterest supports hashtags in order to make content more search friendly.
Offline events make for perfect pinboards. Next time your business has an event, snap some photos to showcase its personality and promote future events.
Create a user-generated pinboard. Enabling users to interact through a shared pinboard creates a great opportunity to involve customers in your marketing and let your business's top evangelists take care of some promotion.
Use images you already have. Have an "About Us" page on your website with headshots of your employees? You can create a pinboard that uses these images and includes a brief bio to increase business transparency and awareness.
Engage with your audience. Start following users you think would want to follow you back. Interacting through repins and commenting will increase traffic to your own pinboards and help promote your brand.
Measure your success
It's vital to see the impact of Pinterest on your business. Is traffic increasing? Are you generating leads? Are there specific topics or image types that generate more traffic than others? Before you invest time on Pinterest month after month, be sure you've set up analytics and you're consistently reviewing the data.