Why Digital Transformation?
In the Forbes article, "How Data Creates Trillion Dollar Firms", Business Analyst Ray Wang predicted that by the year 2050, 90% of the current Fortune 500 companies will have disappeared and 100 digital giants will control the global marketplace. Data is the lifeblood of your company's future. It is forcing businesses to adapt to the new market reality and rethink their strategies. If you can implement technological solutions guided by data, it creates a competitive advantage and drives sustainable innovation.
Digital Transformation became a buzzword over the last decade as companies like Amazon, Google, and Meta dominated their industries through these strategies. Digital transformation (DX) uses technological solutions to influence broad-business strategies. If that sounds too abstract, the key is applying DX to your customer experience. Salesforce CEO Marc Beinoff said, "Every digital transformation is going to begin and end with the customer." Doubling down on your customer experience through digital transformation will mean the difference between failure and success.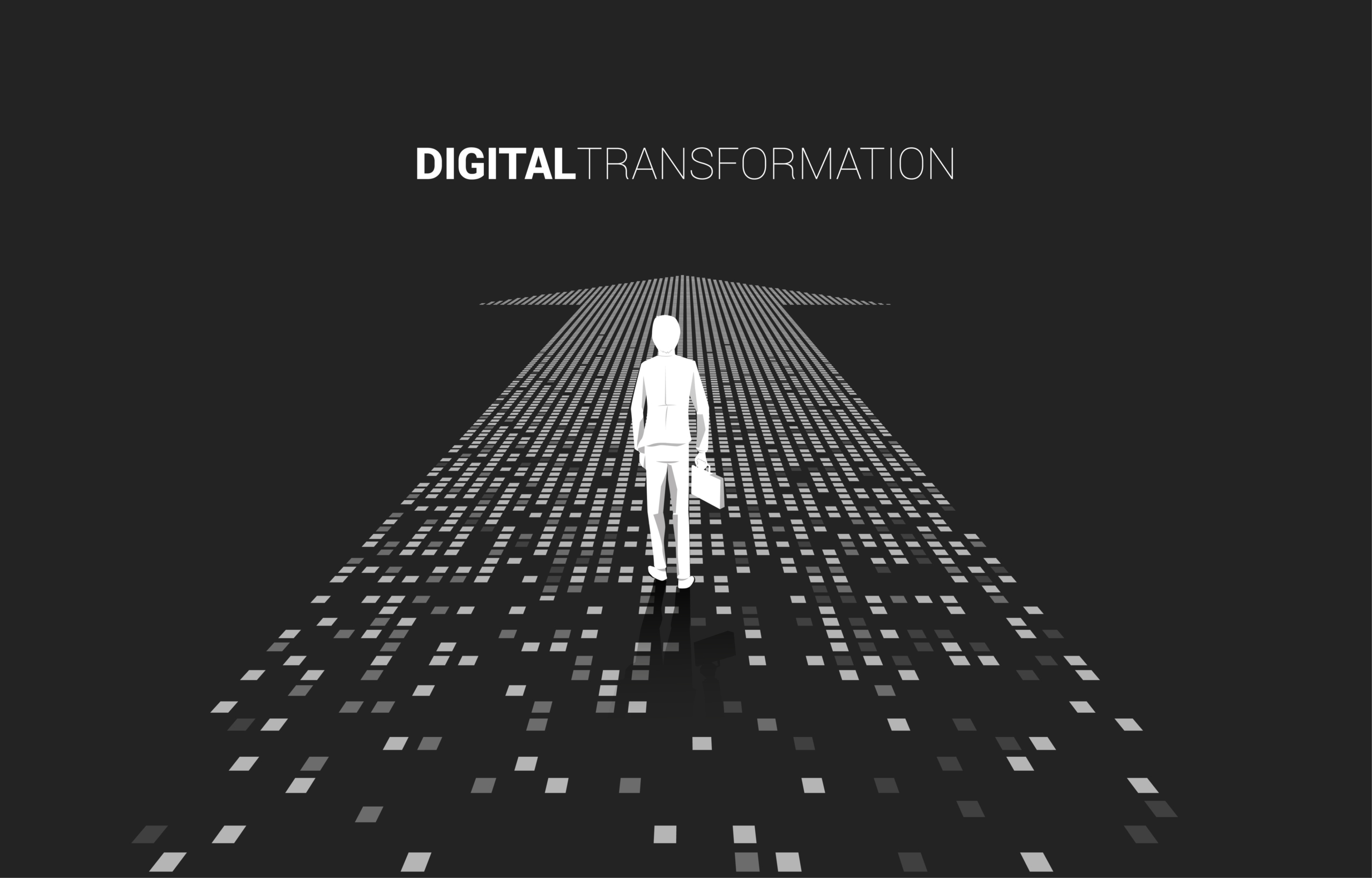 Whether it is digitizing your workforce, transitioning your store to e-commerce, or tailoring the user experience through an app or website, every business can tailor services to its customers through DX strategies. It all boils down to leveraging your customer data to identify what your customers care about, the problems they are trying to solve, and the pain points in your customer journey. While Digital Transformation looks different for every business, they all navigate with a focus on the customer.
What does digital transformation look like?
DoorDash and UberEats used the latest AI software to change the modern conception of delivery services. Through ease of use and accessibility, these apps transformed how restaurants and customers do business. Online delivery services leverage data not only about the customer but about the business as well. By taking hold of a large share of the market through technology, they now compete with the small businesses that they represent.
If you open UberEats to see what is available and navigate away, the app will remind you that you are hungry hours later. If you craved pizza two Fridays ago, they predict you are likely to want it again soon. As more customers engage and allow their data to be tracked, the apps adapt to customer buying habits. The key for these companies is leveraging AI systems and customer data to entice you to buy. Understanding how your customers interact with your products and services will unlock new opportunities to serve them better.
How do you differentiate your services in the digital economy?
Double down on your customer experience.
We know that the modern consumer has a limited attention span and expects instant gratification. You'll have a difficult time with retention if your process is unintuitive. If it is difficult for a shopper to check out on your website, then the chances of conversion drop dramatically.
Meet your customers where they are.
If your messaging not only lives effectively on your website but integrates with other channels like Facebook and Google, your ability to generate revenue multiplies. Domino's implemented a tech platform called "AnyWare" that syncs its platform with services across many digital channels like Google or Ford Sync, so while you're driving home from work, you can order a pizza from your vehicle dashboard to meet you in time for dinner.
Leverage AI systems to improve your offerings.
Create a seamless customer experience by leveraging data analytics and machine learning. There is a bevy of AI platforms like HappyFox that are dedicated to improving your customer experience through helpful chatbots, customer support services, and streamlining your communication channels.
Train and hire a digitally savvy workforce.
This will help digitize the culture of the organization and bring fresh perspectives and awareness to the transition. Having an adaptable workforce that embraces the constant changes of the digital marketplace will be essential for the long-term success of your transformation because they recognize the value of modern solutions.
Set Yourself Up for Long-Term Success
The only constant through Digital Transformation is the importance of focusing on your customer experience. It's not about discovering a silver bullet or modernizing for modernization's sake. It's a commitment to the ongoing improvement of your digital experience as you understand your customer's needs and habits. New digital channels offer more efficient ways of doing business that enable you to deliver on your values and mission.
Over the last 20 years, Gravitate Design has been helping clients navigate the road to digital success. Developing a clear roadmap for digital transformation is essential to your long-term success and we have a variety of services to help you get there. As your partner in the Digital Transformation process, we will work together to find the right set of strategies for your organization.