The traditional goal of a marketing plan is to grab people and hook 'em, right?  Customer interaction has been fairly limited and mostly reactive rather than proactive in the past.  Well, times have changed, due in large part to social media outlets and business blogging.
Today's digital world offers business owners a unique opportunity to interact with their customers rather than just transact. With tools such as Facebook, Twitter, Pinterest, and Google+ companies can now proactively become part of a community and engage with their customers in more ways and more often than ever before.
Lead a Conversation not a campaign
With these changing tools and technology, the message must evolve, too. A lot of businesses are using this still new-ish technology, but sticking with the same old message. This just won't cut it anymore.
Recently, in a Technorati blog post. Paul Adams, Facebook's global brand manager, highlights this idea, "blasting a large ad on Facebook defeats the nature of the medium. Facebook should be used to build the relationship first, over time, and only then, market to them."  Your blog and social media pages shouldn't be digital billboards.  Find out what your customers are talking about and get into a conversation!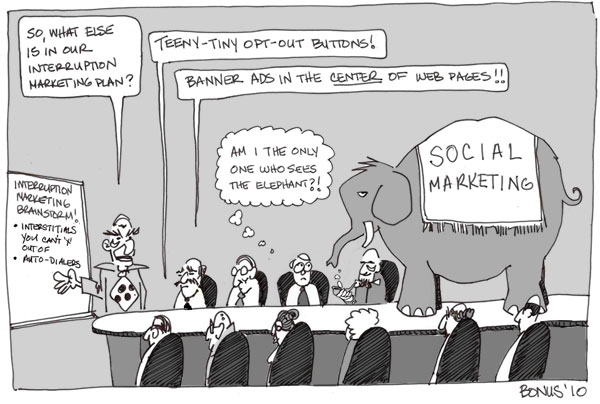 *Cartoon Courtesy of Eloqua (www.eloqua.com)
Build Relationships
Blogging and social media are all about building relationships, which can be an incredible tool for your business.  A trusted relationship encourages brand loyalty and word-of-mouth recommendations.  While this is possible, it takes time and considerable effort to create helpful, reliable, and shareable content.  They key is to use social media to ask questions and listen to your customer base, find out what is important to them, and then give them what they want.
Check out Technorati's 2011 State of the Blogosphere for a great Do and Don't list for social media strategies for businesses. The highlights are: listen to the current conversations, be active, focus on quality, and be human.  Social media tools and blogging are opening a new door into business-consumer relationships. Don't let old habits slam it in your face.