The lifeblood of highly skilled craftspeople has always been word of mouth recommendations, whether you're a plumber, a carpenter, a painter, or a construction company. But as the world continues to spin, the ways to reach potential customers change and evolve—which means your business development needs to be fluid and adaptable.
In today's modern world, your construction business has to be online. And we're not talking about a 1995 web page with nothing but a glittering welcome sign and a phone number; you need something a savvy consumer who is used to visiting modern sites like Facebook, Amazon, and Yahoo is going to see and appreciate. Here's what you need to know to promote your construction business online.
In many ways, your online presence is like a business card for people who have heard of you, but you haven't met yet. Thanks to the quality of your work and word-of-mouth recommendations, you likely have a big group of people who are interested enough in you that they want to learn more. And that's where your online presence comes in; it is a chance to introduce yourself. If a prospective client is intrigued enough to look you up, you want them to be impressed by what they find, just as they would have been if they met you in person.
The Key to Impressing Clients in 2021 is Marketing Your Construction Business Online
Getting your business online involves more than just having a website though: it's everything from having an active social media account to getting client reviews, pictures, and videos of your work, and making sure you pop up when somebody searches your name on Google or Bing. All of these things fall under the umbrella of digital marketing, and we're about to give you a crash course.
The Three Ways a Client Connects To You Online: Your Website, Social Media, and Search Engines
Method #1: Website
On your website, you want to create a connection to a potential customer. Remember, your website is like your business card for people who haven't met you yet: yes, it has your contact information on it, but it also needs to fill the same role meeting you in-person would. This means it needs to establish your credibility, your mastery of your craft, and how much of a pleasure you are to work with. So how does a website support in marketing your construction company? Through pictures, videos, reviews, and emails.
Pictures
Photos of your work—both the finished product and the in-progress shots—speak volumes about your work ethic and the quality of what you produce. As a construction company, you want to capture as many photos as possible. One way to do this is to encourage your team to snap a pic when they can. It could be of them taking a break together, or putting the final beam up, or anything in between.
Video
Smartphones make taking high-quality video easier than ever before. The video content for your construction business should emphasize the camaraderie of your staff, the cleanliness of your worksites, and of course: the finished product. When showing off the final thing, it might be worthwhile to hire a videographer to help you make the content; but you can get a very professional looking video with just an iPhone and some basic editing software.
Reviews
If word of mouth is your bread and butter, it helps to get it in written form (or on video!).  Customer reviews for a construction company should focus on a variety of jobs and the quality of jobs accomplished. You want someone to be able to look at your previous work and come to the conclusion that "yeah, they can handle my project."
Emails
You're in the business of construction, so you don't want to waste time writing dozens of spam emails to annoy your customers. What you do want to do, though, is to check in every month or two. Send out an update email covering the projects you are currently working on, when you'll be available for smaller jobs, or celebrating somebody's birthday. The point of these emails is to keep yourself in the minds of your prospective clients, so that when a friend of theirs asks: "do you know a good contractor?" they'll immediately name your company.
Method #2: Social Media
When it comes to social media, you don't need a huge presence and you don't need to post every single day (but if you did, it would help!). Stick to one or two platforms (try to use the ones most of your customers are on, like Facebook). You can get away with simply giving a glimpse into the behind-the-scenes of how your business works. People are interested in learning things they do not know, and the odds are good that power tools and the people who use them might intrigue your clients. Social media is a bear of a topic though, so if you want more details, check out our social media crash course.
Method #3: SEO
Finally, you want to make sure you pop up when somebody searches for your name on Google. This is especially important because often a word of mouth recommendation goes something like this: "Hey, I worked with *CompanyName* on a project and it was great." And that's all someone says, but it's enough to get the other person to Google the company name.
Popping up when that happens is the first step; then making sure what pops up is of high quality and able to establish a relationship is the next one. This digital marketing practice is called Search Engine Optimization (SEO), and it's important to develop a clear SEO strategy. SEO for construction businesses is another huge topic, so to get more info on the subject of Search Engine Optimization, look here.
Give Your Advocates Data So They Can Pitch Their Boss On Your Behalf
Here's a final online marketing tip when you start to consider what content to put on your website: give someone who wants to hire you the tools they need to convince someone else. Whether it's a wife persuading her partner to invest in a new shed or a city planner looking to contract with a new builder, there's often someone on the inside who is already in your corner; you just need to equip them so they can get you hired.
Here's what you DON'T want to happen. A fan of your company goes up to their boss and says, "My buddy says they're really good!" and the boss says "Well, so what? Your buddy also really liked the 8th season of Game of Thrones."
Instead of having a word-of-mouth recipient rely on the hearsay from a friend or coworker, give them data, pictures, previous examples of work, and then they can add "and I heard from a buddy they are great to work with."
There are a lot of studies that show that most people use facts to justify their feelings and not the other way around. If they've heard you're good to work with from a friend, all they need is a few facts from your website to support this feeling they already have about you. And those facts are easy to bring to the higher-ups, so you want to make your site chock full of them. It doesn't need to be a statistic or a number, either. It could be a company review by a peer, or a video of the final product of your work, or an in-progress shot. Simply equip your advocates, and they'll impress you with how much they get done.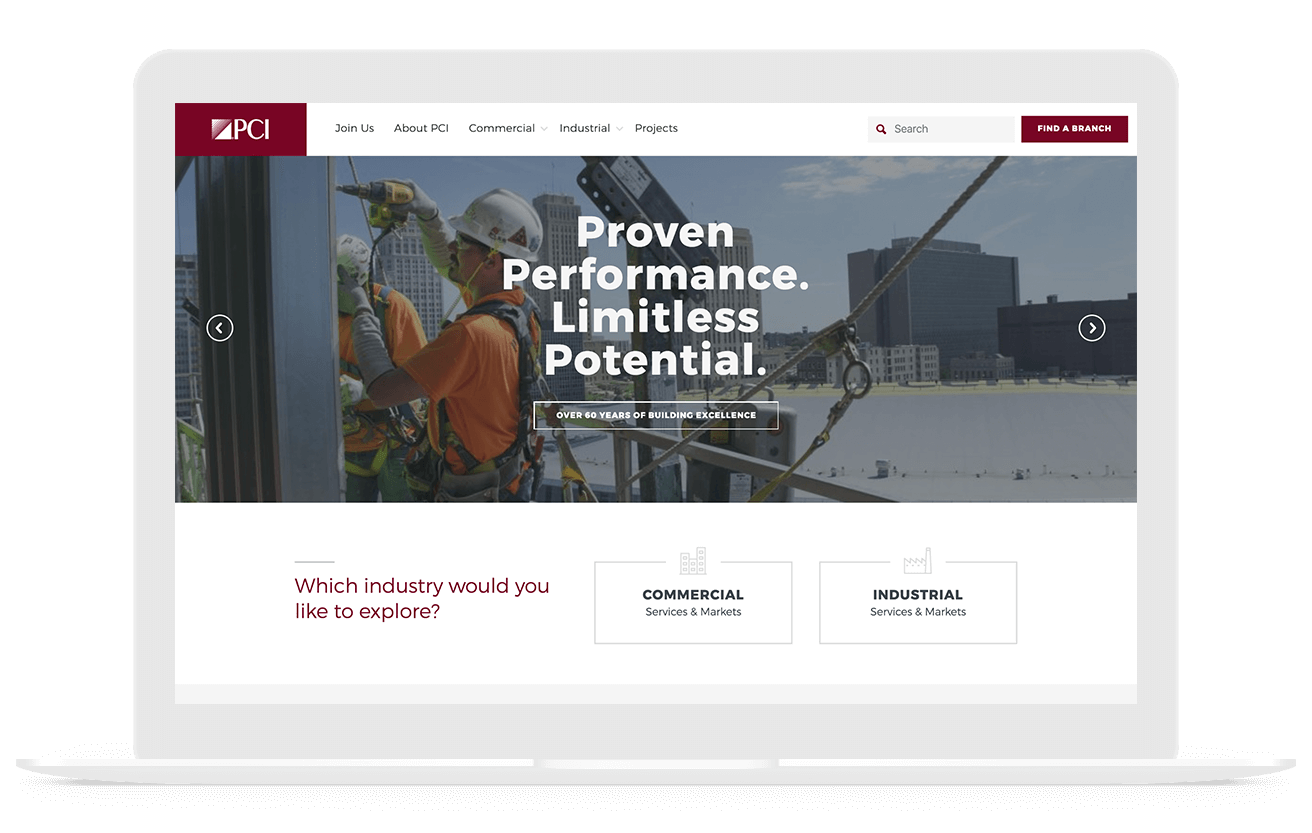 Performance Contracting, Inc
Constructing a Great Experience
A robust website that elegantly supports and markets an incredibly wide range of services, guides users to relevant information, and showcases not only industry expertise but also PCI's dedication to their customers and employees.
Case Study