Is your website design mobile-friendly? We hope so, because on April 21, Google announced it will be "expanding use of mobile-friendliness as a ranking signal." Google continued to say that the change will affect mobile searches in all languages worldwide and will have "a significant impact" on search results. In fact, Zined Ait Bahajji from the Webmaster Trends team was quoted as saying the upcoming algorithm will have more impact on search results than Panda or Penguin—two previous cuddly-named, yet powerful, algorithm updates.
Essentially, if you're browsing a site on your phone or tablet, and you just pinched-to-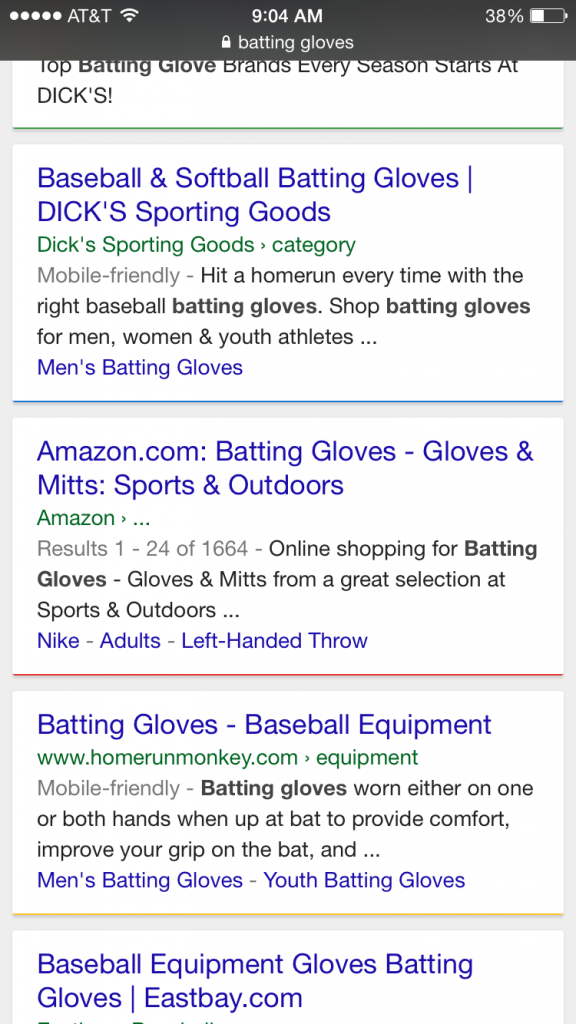 zoom or scrolled horizontally, it's not mobile-friendly. Come mid-April, that site will see a significant dip in your search rankings, traffic, and conversions.
For Example…
It's baseball season now, and a consumer is looking to purchase some replacement gear. They search for "batting gloves" on their phone, and the websites DicksSportingGoods.com, Amazon.com, HomerunMonkey.com, and Eastbay.com (localized results) are listed as the top four organic results.
After April 21, this may not be the case. At the time this article was written, HomerunMonkey.com was not listed as a mobile-friendly website and will more than likely not populate in the first page of mobile searches until it is fully optimized for mobile.
But Why, Google?
The numbers don't lie. Conservative figures show 30 percent of all organic search traffic originating from mobile—with some data putting the number as high as 60 percent in certain industries. These numbers aren't about to plateau either.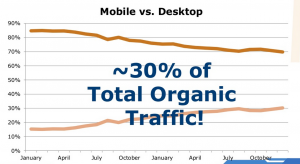 The formula adjustment will have a huge impact on where and how consumers spend their money. Just think of the number of times you've used your phone in a pinch to influence a buying decision. We rely on smart phones constantly to research and compare products or to find a nearby restaurant.
Understandably, Google's search formula balances a wide range of factors to determine site priority, but some are concerned the update will penalize relevant, informative content in favor of other sites that happen to be easier to access. However, it stands to reason that no matter how great the content is, if it's a pain to read on an iPhone, it probably doesn't belong on the first page of mobile search results.
The good news is that Google will judge sites on a "page by page" basis, meaning each page's optimization for mobile will be crawled independently. This is promising for websites that aren't completely mobile-friendly (e.g., the e-commerce pages are responsive, but the client portal isn't).
The bad news is, well, if you're not mobile-friendly in Google's eyes, you only have until next Tuesday to make a change!
Um, if you're curious, every site we build is responsive. Just check out our work or the many articles we've published about mobile-friendly design.