To attract new patients, you have to be willing to move away from traditional medical marketing tactics and adopt a strategy for content creation. If your website acts like an online brochure instead of a lead generating tool, then you could be losing potential revenue for your health practice. Your website should be a continually growing hub that attracts online visitors and converts them into patients, not a digital phonebook for parents who seek health advice when their child swallows a penny.
Unlike the penny, this may be hard to swallow, especially since traditional tactics have always been the standard in marketing. Currently, 72 percent of people are going online to learn about their medical condition. In turn, traditional marketing channels are becoming less popular for health-related information. In effect, traditional marketing channels are also becoming less popular for health-related information. One study found that 32 percent of patients use TV when researching medical conditions while 20 percent use magazines and 18 percent use newspapers.
With healthcare marketing, these numbers prove that you need to have a content marketing strategy so that patients can find your website through search engines. The key is creating quality content that speaks directly to your target audience—and the more you create the better.
Why Great Content Matters
Content creation can mean anything from writing articles and step-by-step guides to producing infographics and online quizzes. Quality content also improves SEO and greatly impacts traffic to your website. In a case study for Elite Care, a walk-in emergency center based out of Texas, we found that organic web traffic increased by 288 percent over 24 months after implementing a strategy for content creation, and organic page views increased by an astounding 399 percent!
Even Google urges website owners to create original and compelling content to avoid being penalized in search results. Matt Cutts, head of Google's Webspam team, says the ultimate goal of Google's indexing system (i.e. search engines) is to provide a good user experience by delivering high-quality search results. To achieve this, he says, websites need to have great content.
Unfortunately, producing quality content is not as easy as copying and pasting WebMD articles onto your blog. A successful content strategy plan requires you to fully commit your time and resources to creating original content; and it takes the skills of a hybrid marketer to be effective.
Hybrid marketers are the future of marketing
A hybrid marketer is a specialist in web marketing. We're driven by data as well as creative strategy, and we're constantly searching for new tools, processes, and products to improve efficiency. Adaptable, curious, and eager to learn, we're not afraid to abandon the old approach for a newer, cutting-edge technique that allows us to do our jobs faster and with greater results. This is in contrast to traditional marketers who tend to be married to traditional marketing tactics.
As specialists in SEO, content marketing, copywriting, and social media, hybrid marketers develop a long-term strategy that focuses on generating leads, revenue, and cost savings while keeping the end-user in mind for each step of the marketing process.
Attracting New Patients with Content
Without a strong content strategy for your medical marketing strategy and website you could be hurting your bottom line. According to a survey conducted by Focus and the Marketing Automation Institute, 75 percent of traditional marketers say their lack of digital marketing skills has a direct impact on revenue.
With healthcare marketing, you can avoid this pitfall by creating more content on your site and/or improving your existing web copy. But before you start writing, you should first understand how users consume information on the web.
Understanding How People Read Online
Internet users only read 28 percent of the words on a page.
People don't read on-screen copy the same way as printed text. When reading on the web, for example, users consume information in chunks rather than reading from top to bottom. In an eye-tracking visualization study by Nielsen, most online readers skimmed the page in an F-shaped pattern, reading headlines and bullet lists while skipping over entire paragraphs.
Some theorists refer to this behavior as, "screen based-reading," and it's characterized by: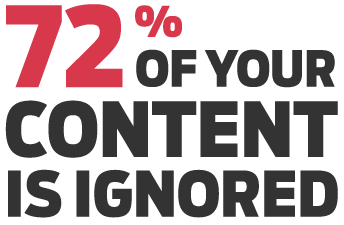 Browsing and scanning
Keyword spotting
One-time reading
Non-linear reading
Selective reading
Needless to say attention spans are also much shorter online.  According to a study by Nielsen, a web page has 10-20 seconds to capture readers' attention before they hit the back button. This means most users spend less time reading your content in-depth and more time skipping around the page until they find what they're looking for.
Writing Tips for the Web
The inverted pyramid is a writing style used by hybrid marketers (and journalists) to combat readers' short attention spans and their need to skim. According to this method, the most relevant information is stated in the beginning of the article, followed by supporting facts, and subsequently closing with less important details. Articles that are written using the inverted pyramid have shorter paragraphs (2-3 sentences) and the headlines explain the main gist for impatient readers who want to skim.
Quickly communicate your expertise
Quickly explain to readers why this content is valuable and worth their time

Be absolutely clear about what users can expect to read

Support any claims with sources and evidence
Allow the interested to dive deeper
Break up content using headings, subheads, quotes, and questions
Provide anchor links throughout your text subsections within the article

Use visuals (e.g. diagrams and charts) to support your text (steer away from stock photos)
Drive users to a call-to-action (CTA)
Have a clear CTA
Invite users to ask questions or to schedule an appointment
Give something to your users (e.g. a PDF download, infographic, newsletter subscription)
Make sure your CTA is compelling and adds value to your users
Follow web-copy best practices to improve SEO
Have 400-500 words of keyword-rich content on 'service' pages
Get to the point quickly and remove unnecessary fluff
Promote skimming whenever possible
Don't hide key points—bold or italicize when necessary

Use language that is easy to read (think elementary terms)

Ensure headings contain frequently-searched keywords
Transform intimidating walls of text into short bullet lists
Use a keyword friendly URL structure when possible
For more writing tips for the web, visit "Solid Advice on Writing for the Web": Part I and Part II.