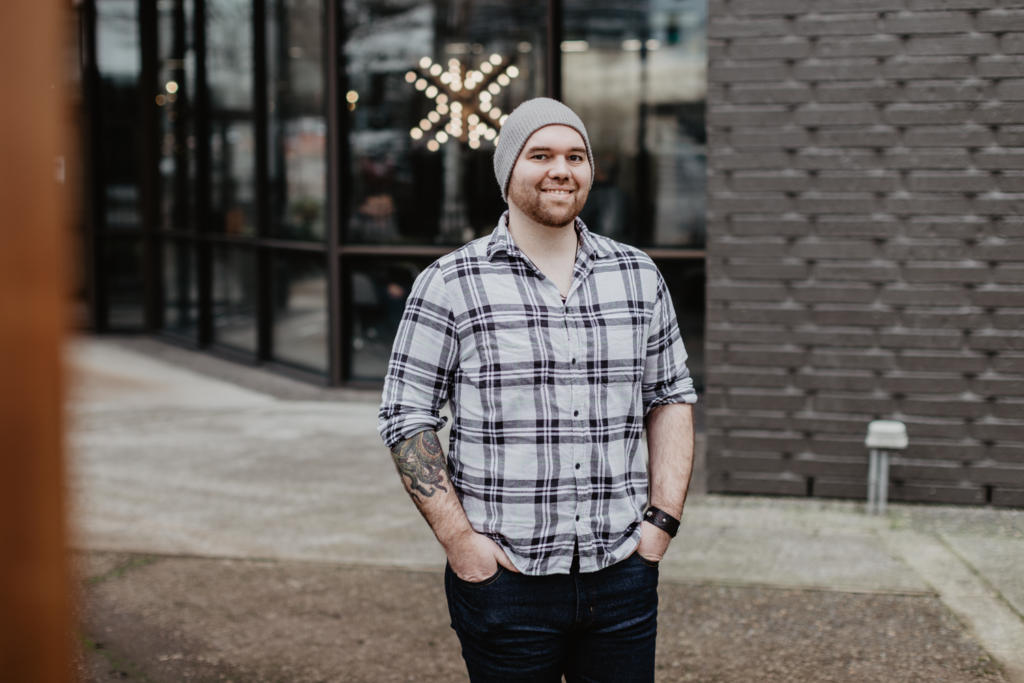 Welcome Calvin!
With a black belt in martial arts and some serious Big Buck Hunter skills, adding Calvin to our zombie response team (oh yeah, and our development department) increased our chances of survival in a zombie apocalypse at least sevenfold.
Not only does Calvin tackle code like a beast, but he's also a keen guitar player, devoted cat dad, and a genuinely good human.
The team asked, Calvin answered.
When you're not at work, what's your favorite way to spend your time?
Playing and writing music. I also enjoy going to the gym and spending time with my Fiancée Rayana and our cats Lebowski and Sky.
What's your favorite movie? What do you like so much about it?
Step Brothers. I love how ridiculous and lighthearted the comedy is between Will Farrell and John C. Reilly.
If you could have an unlimited supply of one thing, what would it be and why?
Guitars. Every guitar has its own unique life force and sound, no two sound the same way and if I had an unlimited supply it would leave so many options for making music.
Who influenced you as a child, other than your parents?
My Grandmother. She showed me that age is just a number and that keeping an open mind is the antidote to aging and the key to a happier life.
How do you proceed when there's no right answer?
If there is no right answer I would choose the best option that will address the challenge at hand.
Tell us about your most recent obsession.
The tone and mixing of the instruments with my band to get the optimal expression recorded. Also, learning every aspect of the big picture in Web Development, which ultimately will make me more versatile with and challenge that is thrown my way.
Describe your "perfect meal."
Caribbean jerk chicken with rice and vegetables. Simple, but it's delicious and balanced.
If you could teleport anywhere in the world, where would it be and why? 
Okinawa. I have studied Karate for most of my life and I have always wanted to go to where it originated and experience the authentic side of the art as well as the culture.
How long would you survive in a zombie apocalypse?
Good question. If we are talking "sprinter zombies" probably not too long since there are plenty of people that can run faster than me and the random panic that would inevitably happen with other people would make it tough. If we are talking "walkers" I think I would make it and hopefully start a commune of survivors.
Tell us two truths and a lie: 
– My best friend from Las Vegas whom I've known since the 6th grade plays backup guitar for Slash in Myles Kennedy and the Conspirators.
– I am 1/4 Native American and am registered with the Yakima tribe.
– I can do 200 pushups in under 2 minutes.
Okay, now tell us which one of those was a lie and how you came up with it: 
The push-ups. I can do a fair amount, but there's no way I could even break 100 in that time limit. Or without stopping.
Name something super overrated. Why?
2nd wave black metal. It sounds like it was recorded on a Fisher-Price speaker.
Now- What do you think is under-rated?
The guitar-playing talent of Kurt Cobain. He was a great songwriter, but his guitar skills were commonly overlooked.
Fire, 3 interesting facts about you?
– I have 2 black belts.
– When living in Las Vegas I got to set up some equipment for The Who and got to meet the band.
– I am able to hit falsetto very easily when singing, even though my voice is kind of monotone
What's on your bucket list?
Seems cliche, but traveling. I want to see the world and experience the differences of many different cultures.
If you could replace your arms with other objects for a week, what would you pick?
a Chainsaw and a Feather Duster.
What's the most useless talent you have?
I can play the King of the Hill theme song on guitar.
Now what about your most useful talent you have?
My ability to adapt and learn new things fast by relating them to things I already know.
What do you do differently than most?
Learning backwards. I usually start by doing, then I will learn the theory as to what I am doing to make it all make sense.
Tell us about your new role – what are you most excited about?
I am a Web Developer and I am particularly excited about expanding my knowledge and one day being able to help others learn and become the best Developer they can be.
What is your favorite part about your role at Gravitate?
The opportunity to learn from everybody on the team and become a more evolved Developer.
Any parting quotes, thoughts, or lines of poetry?
"The great mistake is to anticipate the outcome. We shouldn't be concerned with whether something ends positively or negatively. Let nature take its course, and your tools will be utilized at the right moment." – Bruce Lee