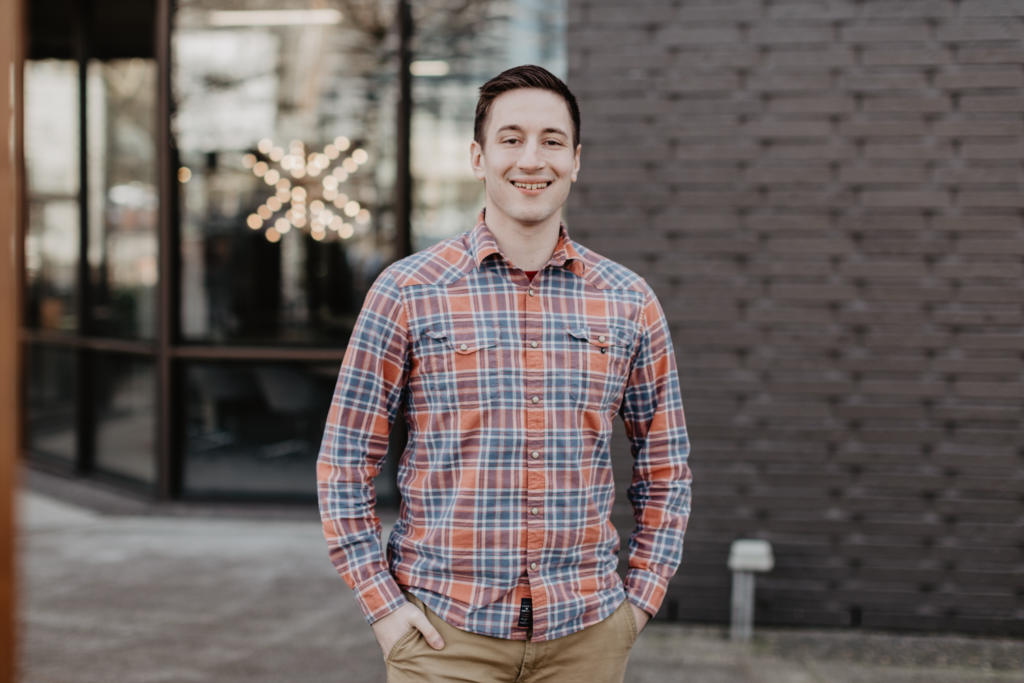 Welcome Nate!
Nate joins Gravitate with an SEO-focused background and is ready to crush it for his new set of clients. What's that I hear? Oh, that's just Nate spinning the coolest new indie record from a band that you probably haven't heard of. He was a college radio station manager. And yes he went to an arts-focused high school and we love him for that. Outside of work these days you can catch Nate swing dancing, moving to Maryland.. or pretty much just one of those two things.
The team asked, Nate answered.
When you're not at work, what's your favorite way to spend your time?
I love going on adventures with my partner Allie. Fun fact: We met Swing Dancing in Portland, when she was in town for a conference for work (We will be getting married in May!). I can often be found hiking on weekends, watching movies, or having many board game nights with friends.
What's your favorite movie? What do you like so much about it?
I think my favorite movie is A Knight's Tale because it has the great Heath Ledger in his prime and has always been a movie I enjoy watching no matter what mood I am in. It may not be a perfect film, but I think it executes in making me feel good whenever I watch it.
If you could have an unlimited supply of one thing, what would it be and why?
Unlimited Supply of board games because I would never be bored trying new games with friends. I love how board games make you think and bring on laughs in my groups. Unlimited supply means I wouldn't need to spend money on them anymore and that would be good for my budget as I spend too much on them as it is haha.
Who influenced you as a child, other than your parents?
I really feel like music was my first connection to my personality and thoughts when I was younger. I quickly found myself in bands like Snow Patrol, Coldplay, The Goo Goo Dolls, Foo Fighters, and The Killers just to name a few.
How do you proceed when there's no right answer?
I will always try to ask better questions in a situation like this. Until I get closer to an answer I can feel confident about.
Tell us about your most recent obsession.
I have been very consumed with the show Vikings (2013) and just Viking folklore in general. I find it weirdly interesting and inspiring. It is similar to my fascination with pirates, but in a different part of the world during a different era.
Describe your "perfect meal."
I love Asian cuisine, like a noodle dish that contains ginger, garlic, and other spices. I just find myself smiling and I feel like you can do a lot with the leftovers. Fried rice is also a new staple of mine.
If you could teleport anywhere in the world, where would it be and why? 
I would go back to Edinburgh, Scotland to visit my penpal Danielle who lives there. I had such a fun time in 2015 the last time I visited. It is a beautiful place with lots of old streets and buildings to explore.
How long would you survive in a zombie apocalypse?
If we are being honest, probably only a few months by myself. I get really weak when I start running out of food to eat. I would survive longer with friends.
Name something super overrated. Why?
Salt and Straw Ice Cream in Portland ( I think Cloud City Ice Cream is better – out by Reed College)
Now- What do you think is under-rated?
Downtown Ridgefield is a really nice day trip and I find a lot of people who have never been.
Fire, 3 interesting facts about you?
– I love to Juggle
– I am an Eagle Scout
– I was nominated for a college radio award for my morning show "Nate AM @ 8 AM" – I got to fly out to New York City for the awards ceremony
What's on your bucket list?
Visit Iceland
Publish a novel
Dance in the streets of Paris
Tell us about your new role – what are you most excited about?
I am excited to learn more about how SEO strategies can grow businesses over time. I want to help participate in case studies that help showcase my skills and I am excited to work with a variety of different kinds of businesses.
What is your favorite part about your role at Gravitate?
The team here at Gravitate is so great to work with. I love how we put our clients first and we partner with them to help them be successful in their marketing efforts.
I love being on a team that sticks together
Any parting quotes, thoughts, or lines of poetry?
You do not rise to the level of your goals. You fall to the level of your systems.
– James Clear from Atomic Habits