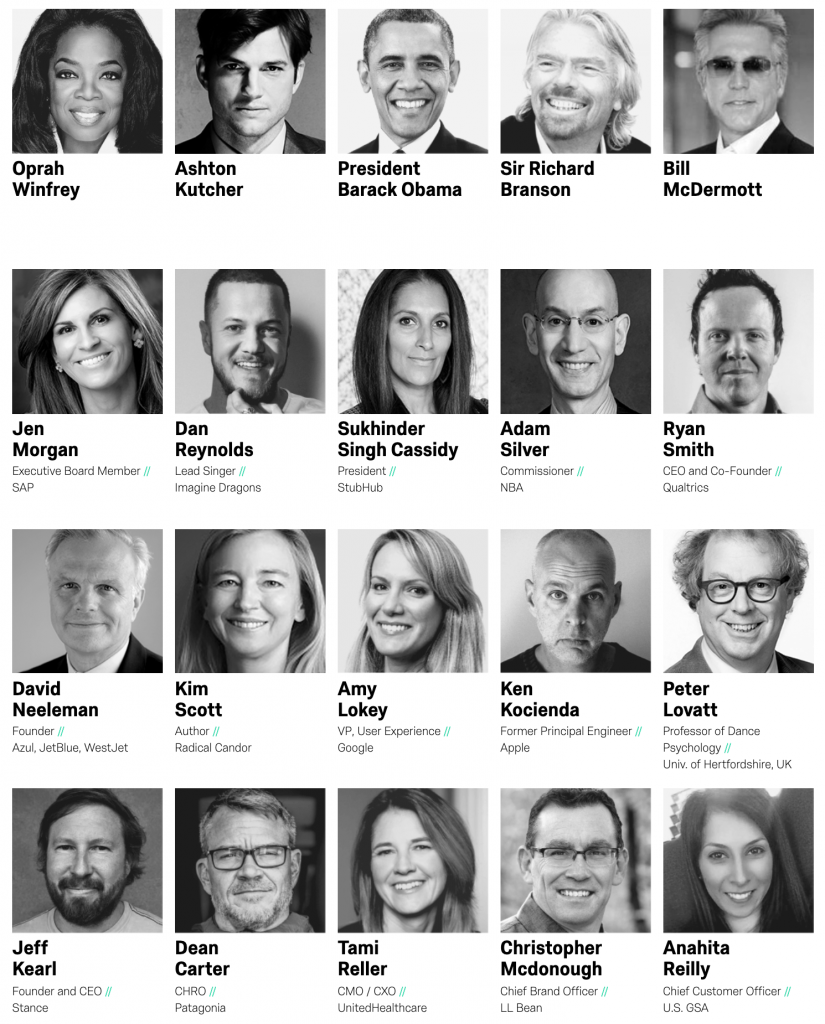 Recently, I got the opportunity to attend the X4 Experience Management Summit, hosted by Qualtrics.
The four-day conference was held in Salt Lake City, Utah back in early March and featured a bucket-list-worthy lineup of main stage speakers, including President Obama, Oprah, and Sir Richard Branson. On top of that, each day after the keynotes, we jumped into breakout sessions where the visionaries behind some of the world's most iconic brands shared the experience management programs they've built to delight customers and employees. Oh yeah, did I mention the ski day in Park City, Tony Hawk, tWitch, DJ Livia, or Imagine Dragons?
Okay, we'll get to all that. First off, let me start with some backstory of how I got this phenomenal opportunity—which is pretty incredible in itself!
Why me?
A few years ago, a senior designer, Jessica, and I were booked to fly to the Bay Area for an important pitch to our largest client at the time. We've had big meetings before, but this was another beast entirely and probably the most nervous I've been for a meeting in a long time. But we were ready and planned to set out early the next morning.
So, I won't lie. I overslept a bit. But, while scrambling to get out the door, I remembered we had already checked in through the app and I should be able to make it through security in plenty of time. I even snapped a quick screenshot after I checked in—because I'm weird and a little paranoid. It'll be fine.
Nope.
There was a glitch in the app so when I unlocked my phone for TSA to scan the app displayed that I still needed to check in. But wait! I had that screenshot! I fumbled with my phone and stammered through an explanation.
"You see, I took a screenshot just in case something like this ever—"
"Sir, you have to head back to the Virgin America counter or ticketing kiosk and check in. I cannot accept that."
Well shit. I rushed back to the service counter and waited anxiously to be helped. By the time I reached a Virgin rep I was told my seat had already been given away because I missed the allotted check-in time. Devastated, I texted Jessica on the plane—who I had been keeping up to speed throughout the morning.
Jess to the rescue
Jessica has never been one to sit idle and wait for problems to work out. She took action and alerted flight attendants, fellow passengers, and eventually the pilots of my plight. Armed with my screenshot—and some desperate charm, I'm sure—she began to make progress.
At the same time, as I began to walk away from the ticketing counter cursing and thinking of ways to get to San Francisco the ticketing rep who had just turned me away yelled after me.
"Sir. Sir! The pilot just phoned down and apparently they aren't going to take off until you're on the plane, sir. [Sigh] Let's get you that ticket."
I quickly told Jessica the good news, but of course she already knew.
I ran through security, smiled at the guard who helped me earlier, and continued to the gate. As I boarded the pilot clapped me on the back.
"At Virgin, we don't leave anyone behind."
I thanked him and hugged Jessica as I took my seat and the plane began to taxi down the runway.
"We don't leave anyone behind." I thought again. This was an incredible experience with the former Virgin America (now part of Alaska Airlines) and something I'll always remember and be grateful for.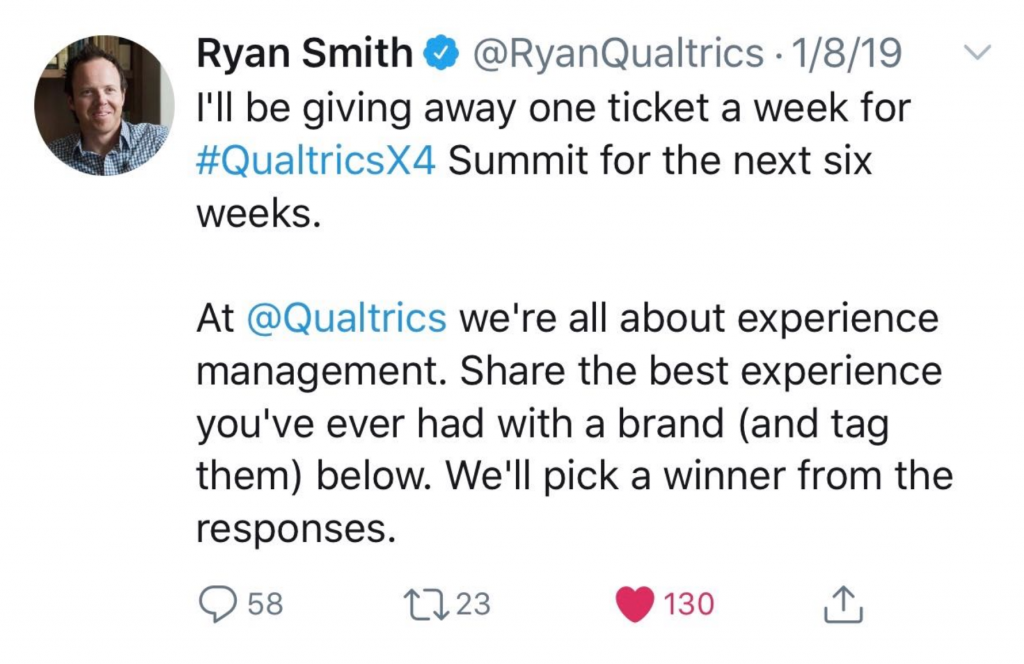 So, how does that have anything to do with the Qualtrics Summit?
Jeez, hold on. I'm getting there. Until earlier this year I had just told colleagues and friends about my wild morning until I saw this come across my Twitter feed: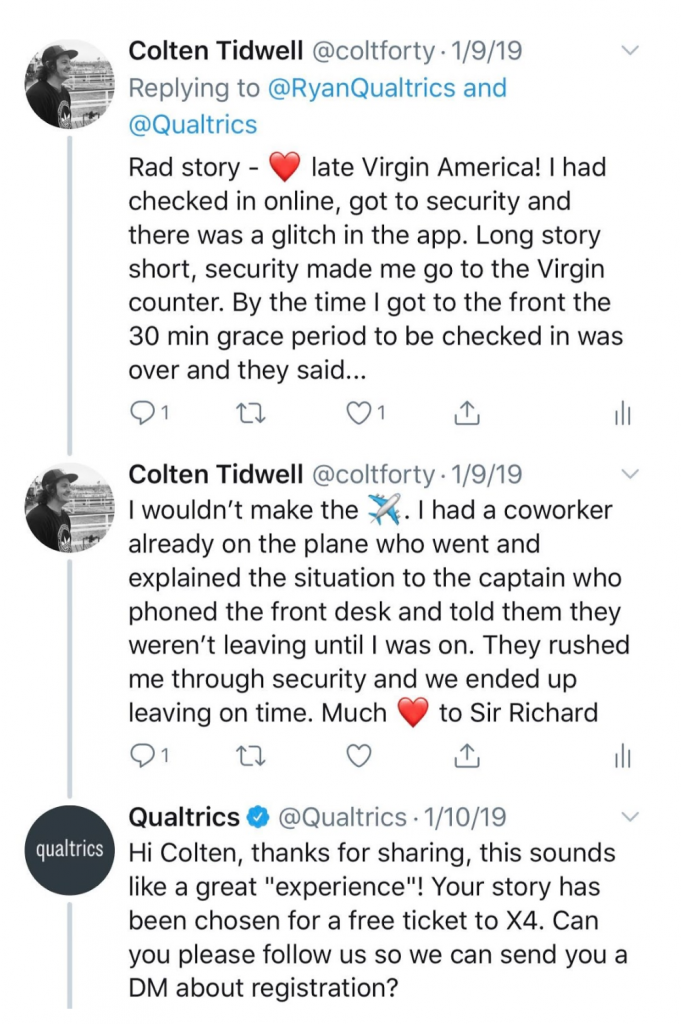 You miss 100% of the shots you don't take
I had heard the 2019 Qualtrics Summit was going to be unreal. I also knew that Sir Richard Branson would be there. So, I took a page from Wayne Gretzky and shared my experience over Twitter. Virgin America already been purchased by Alaska at this time so I figured that I didn't stand a chance.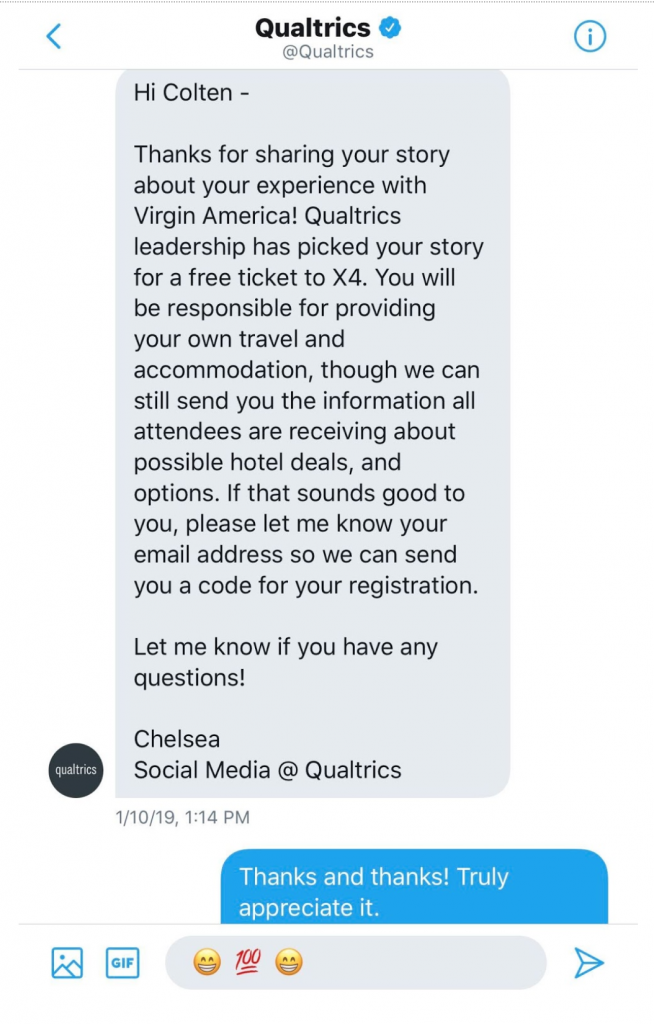 Whaaaaaa?! I never win anything!
A VIP pass for the four-day summit, surrounded combined with a full-day customer experience training and passes to snowboard at Park City! Are you kidding me? I was so stoked! Having followed Branson for years, I always wanted to hear him speak in person. He takes some radical approaches and I've always found that very inspirational. Not to mention, the rest of the elite keynote lineup. Let's go!
Hallmarks of experienced leaders
After listening to many speeches from thought leaders, social icons, and top executives from around the globe—I began to notice a few similarities between the group.
They are great at connecting on an individual level, having candid meaningful conversations, and very much relationship driven.
They surround themselves with great people, equip them with the right resources, and get out of their way.
They take their egos out of challenging situations to solve complex problems.
They are good listeners, they validate often, and are open to opinions and feedback.
They are a force for good.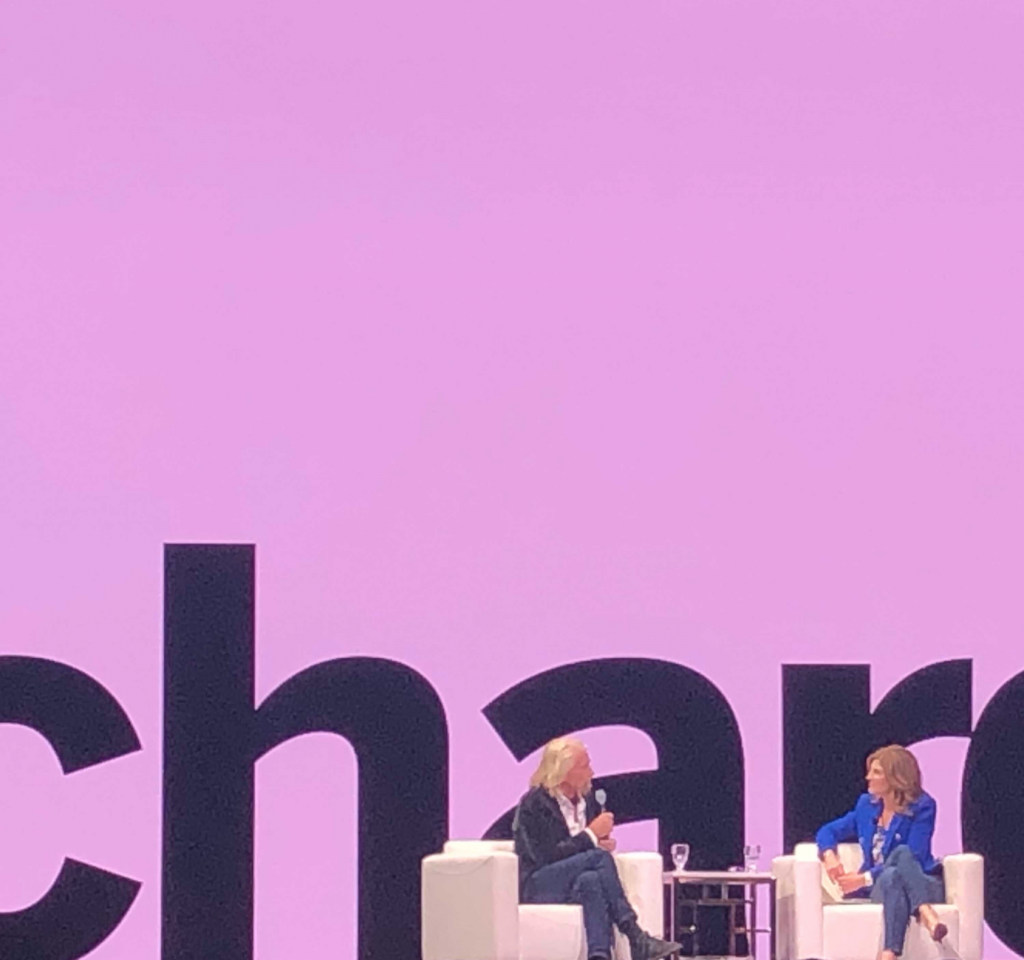 Sir Richard Branson – Virgin Group, Founder
"Give people the opportunity to right a wrong."
Backing this up, Sir Richard told the audience how Virgin hires as many ex-convicts as possible, knowing that if they are given another opportunity in life, the chances of a second run in with the law are a lot lower.
"We have a woman who works for us during the week and come Friday afternoon she goes back to due her time over the weekend. Come Monday, she is back to running security for us. She is great at security."
When asked what makes him so fearless he said, "I am not that fearless, I'm as human as all of you. I can shit myself just like the rest of us."
Suhkinder Singh Cassidy- StubHub, President
"Lead with live."
Live experiences are what StubHub has built their business on. Yes, your brand should focus on what "live experiences" mean and how they can impact customer loyalty but it was her message at the end of her keynote that resonated most with me. "Start the live experience the moment you walk through your door after work with your loved ones – be there, live and in person."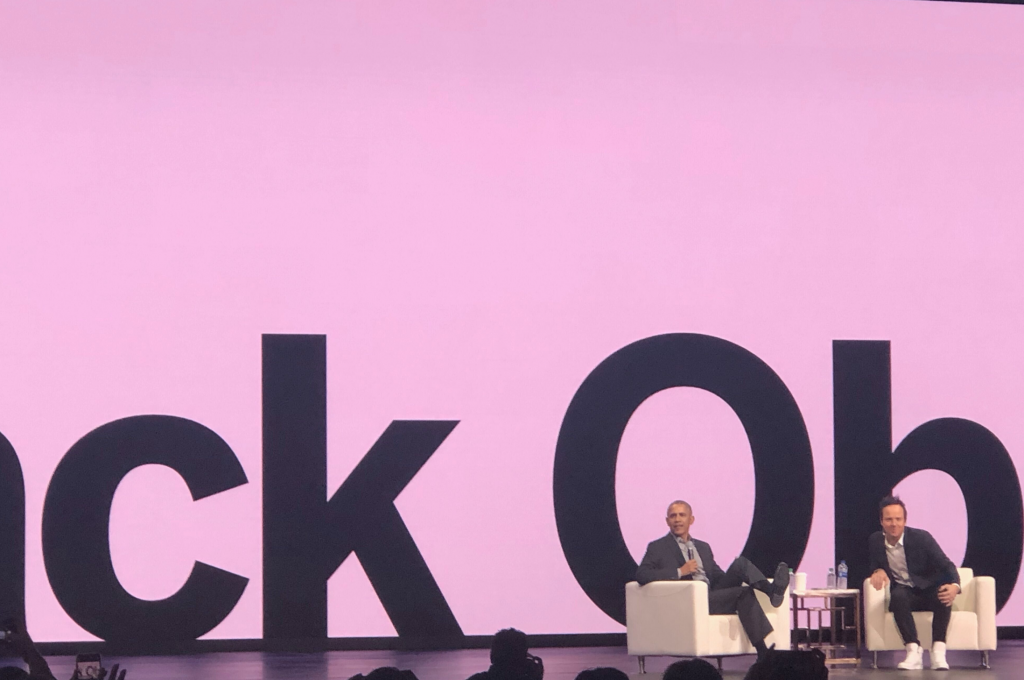 President Barack Obama
"Build transparency by giving credit to those bringing the ideas to the table."
President Obama was charismatic and on point when speaking about the people who made a difference in his presidency. "Hold on to people who make a difference."
When asked about vulnerability and failure he spoke of his experience with the Affordable Care Act. President Obama's only request was that it worked. As you know upon launch, it didn't work. "I was annoyed, there was 'Drama with Obama but I hadn't jumped in to understand everything needed.'" "Sometimes, even if you are focused on the right thing and you don't jump in and care about what the things in the weeds are, failure is inevitable."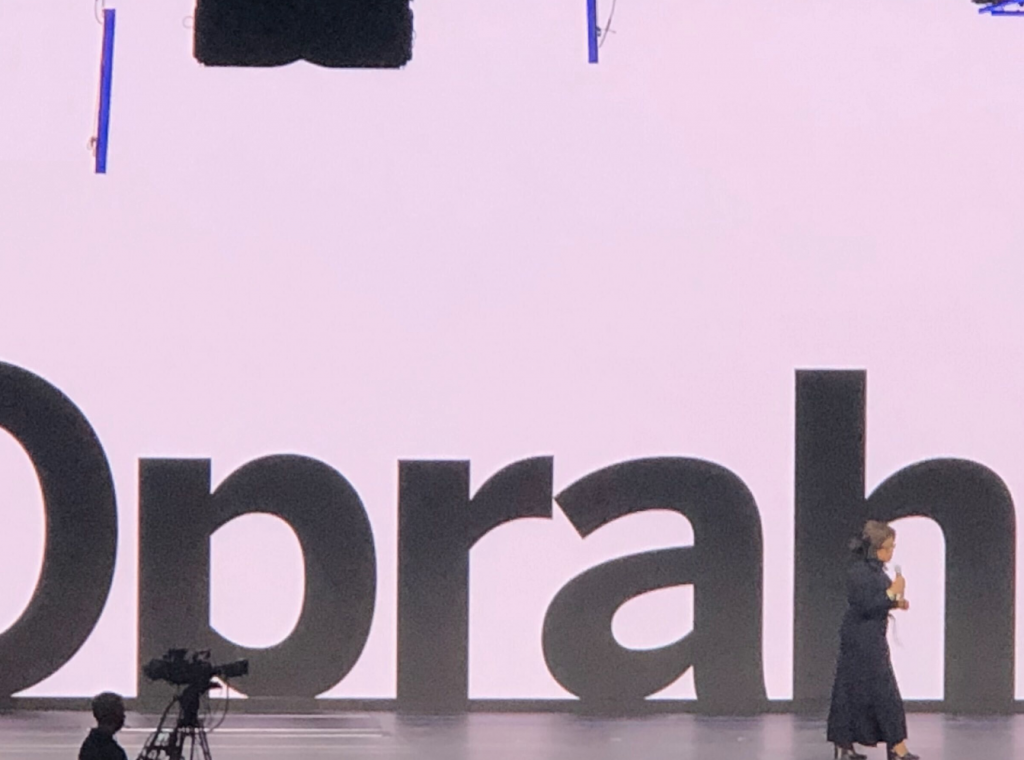 Oprah Winfrey
" Your legacy is every life you touch."
Big surprise, Oprah had so many great stories and so many great quotes and inspiring thoughts about living a meaningful life. She is a spiritual giant who in the end asked everyone to "practice gratitude." She was truly amazing to see in person.
I came to the summit with a focus on how we could improve employee and customer Experience, so I chose breakout sessions that supported this focus. Specifically, I wanted more knowledge and ideas around several key areas:
Internal leadership programs and building career paths
Internal and external on-boarding
Designing a meaningful culture
Day 1
The first day did not disappoint! I attended three sessions ranging from rethinking leadership development, creating love through compelling customer experiences, and—my favorite—BuzzFeed talking about creating meaningful employee experiences and puppy parties. Who doesn't love puppies!
Several takeaways from the day:
Ford, Quicken Loans, and Qualtrics all sat on a panel together – Rethinking Leadership Development. The shared idea from this panel was to create an opt in leadership program where at anytime an employee can opt in and begin their own leadership journey.
Experience is becoming the differentiating factor for brand engagement and loyalty. From the session on creating compelling customer experiences, both Alaska Air and Kantar had an interesting stat on reaching more millennials.
– 75% of millennials say they prefer to spend money on experiences rather than on material possessions, experiences are what connect buyers to brands.
BuzzFeed walked through a very specific exercise that they did to design a culture that their people wanted to be a part of. It included polling their people and asking questions about what mattered most. From this, they developed core values and created the why behind supporting the value.
"Practice internally what you express externally."
Day 2
The second day of breakout sessions proved to be as good as the first with L.L. Bean, Disney, Porche, and Patagonia capturing the bulk of my attention. Spoiler: Patagonia really touched me.
Dean Carter at Patagonia was genuine and very transparent while speaking of Patagonia and their employee experience mission. Like BuzzFeed, they ask questions to their people often, validate the feedback, and show just as much interest in those who are deeply connected as those who are feeling disconnected. It got me thinking about our own processes around 1:1's and our six-month and yearly reviews. Specifically, how we can make some changes to touch base out side of these times and be more meaningful. Thanks, Dean!
As I sat through the L.L. Bean session on what they did to re-energize their brand, I found a lot of similarities with our brand. For an agency, we are old, twenty years old and while L.L. Bean is a lot older they spoke about the importance of staying relevant and how to do that in an industry where every few months digital solutions are changing. For sure, it's definitely something we keep a pulse on but it was interesting to hear how L.L. Bean tackled brand growth.
"We were experimental with our brand, brave and, where marketing worked, we scaled that initiative. We didn't waste time on things that didn't work and pushed harder together on the things that did work. We are an old brand that needed to reinvent and stay relevant. We used data to inform where the market was going and how to be a part of it and because of that, we began growing again." – L.L. Bean
Thank you, Qualtrics.
I was inspired and given much knowledge to improve our CX and EX. Plus, that powder in Park City was soooo deep.
So much to be thankful for.