The term responsive design was coined by Ethan Marcotte in 2011 when describing the changing demands for web design and the need for flexible site foundations and layouts. This demand arose because of the ever-increasing number of devices with different screen sizes.
In a world where one can access the web using anything from a phone to a video game console, coming up with a static layout that fits the needs of every single device is impossible. If we were to place the same unreasonable demands on something else, such as auto design, imagine the mess it would cause; you would want to design and build a car that is small, efficient, economical, great for commuting, racetrack ready, equipped for off-roading with a family of eight with four dogs, and suitable for anybody in any situation. In the end it would look much like "the Homer" designed by Homer Simpson.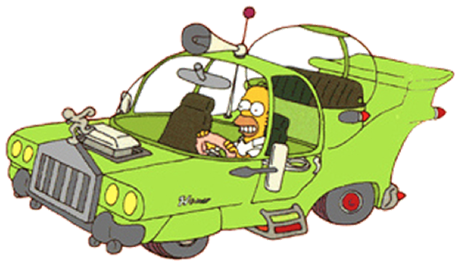 Fortunately, we're not dealing with as many physical demands when designing for the web. We are able to create something that can dynamically change to fit each user and platform.
Responsive design can also be used to re-prioritize content and create a more effective user experience. However, re-prioritizing content is more than a matter of resizing the content to fit the appropriate screen size – in some cases, it's even necessary to increase the size of specific buttons and sections of text. Strategic choices can be made as elements shift and reposition themselves so that the content becomes more effective, such as making the contact info and social media elements more prominent when a user is browsing on a smart phone, as smart phone users are often the most social media savvy.
With mobile devices, eliminating entire sections of content may be appropriate. Take, for example, the way some content and functionality has been removed on The Timbers Luxury Apartments mobile layout. Notice that the slideshow and interactive map have been removed to give a simpler experience that is appropriate for smaller screens.
So why does it really matter?
It's true that, in the case of mobile browsing, responsive design is not mandatory. People can just simply pinch, reverse pinch, and swipe their way through a site, thus transforming every site into a kind of "Where's Waldo" search for the desired content. Unfortunately, not all "contact us" and "read more" buttons are cleverly marked with red and white stripes.
If the goal of a site is to present appropriate content to targeted users in an intuitive way, then utilizing the power of responsive design is a must.