Originally Published: 11/16/2016
Updated 7/01/2018
Give your content more legs by thinking about its delivery strategy before you even write your first draft.
A big challenge for every modern-day marketing team is grappling with the staggering number of digital publishing and brand outreach channels available.
Write every available marketing channel down on a whiteboard in your next strategy session and you'll quickly run out of space and say, "You know what, I'll just post it on Slack." Facebook, LinkedIn, Twitter, Medium, Youtube, Vimeo, (deep breath), Slideshare, Instagram, Quora, Pinterest, Pocket, Tumblr, site blog, sponsored content on publisher websites, email, podcasts, webinars, and so on.
No marketing team has the resources to be active everywhere, so most pick and choose the most effective channels for them.
Let's say, for example, you're an online retailer selling Game of Thrones-style fur cloaks.
Based on your research and general knowledge of the cloak industry, you may decide to write a piece of content called Winter 2017 Fur Cloaks Buyers Guide in which shoppers can compare and contrast all the fur cloaks you sell. You write it, you publish it on the blog, you share it to Facebook, you share it to Twitter, and you mention it on Instagram.
Now, you wait for the pageviews to roll in, and, in turn, the money stemming from all this site traffic. But, curse the old gods and the new, your buyers guide is barely a blip on the Google Analytics traffic timeline.
What went wrong? Marketing teams have scratched the surface of this new era of content publishing, but many are not seeing the big picture.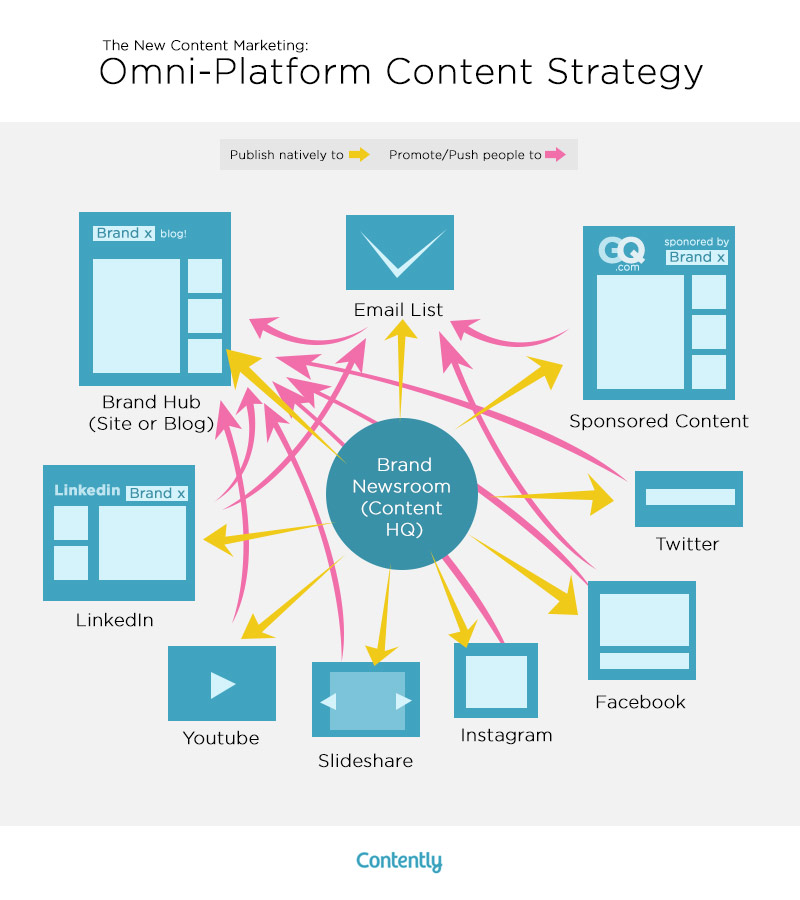 We're now, as Contently puts it, in the omni-channel publishing era. It's time give your content more legs and put it in front of audiences that matter, and it's time to be more intentional about the delivery of your content.
The conversation about where your content should be published doesn't start after you create the content. It should be a piece of the conversation before it's created. If you start envisioning how your content will look in an email inbox or whether it's better suited for Medium than your own site blog, you'll start maximizing its value.
There's also a second piece of strategy missing from many conversations: What's our delivery budget? Extending the reach of your content beyond your traditional digital following will require you to pay up, whether it's via sponsored posts on LinkedIn, sponsored content on publisher websites or via search advertising.
In our example, we may decide the Winter 2017 Buyers Guide to Fur Cloaks will be really effective in Canada, because, you know, it's cold. So we're going to purchase a sponsored content spot on globeandmail.com, where most Toronto people get their news. We're also going to boost our post on Facebook so it reaches 20,000 people between the ages of 21 and 34 living in a 50-mile radius surrounding Green Bay, Wisconsin, because a fur cloak seems like the sort of thing you'd see at a Green Bay Packers game.
In addition, we'll tap into Adwords to target Game of Thrones-related search queries and pay to place our buyers guide within search results.
(In a perfect world, your strategy is a little more research-fueled than this.)
Sure, this buyers guide will have legs beyond geographic locations, and it will be discoverable in organic search, but we have a clearer idea of where our content is going to live and we know who it's going to reach. Now, we're ready to create our buyers guide.
To recap, before you make your next big piece of content, ask yourself these questions:
Who is our audience?
Where's our audience, digitally speaking?
What will this content look like where this audience spends their time?
What's our budget for delivery?
This ensures a greater chance of success for your content than simply posting to your blog and then blindly posting to social media.