Competing Online
For better and hopefully not for worse, technology comes along and changes everything, right? Right. That's usually the case after a recession or at this time, a pandemic. Companies find solutions to challenges and adapt.
The fast food industry jumped on the "online delivery" train early and every joint from McDonald's to Taco Bell uses online ordering and delivery software. From the research I have done, unfortunately, all of our favorite local Mexican or Vietnamese restaurants still may not have a solution in place. Minority owned restaurants have not adopted the use of online delivery software as fast as the "American" restaurant. Hell, we're in the gig economy and there's an "UBER" for almost everything, people and animals alike, it's time to fix this.
Here are 3 key ingredients for online success:
Set up and optimize your "local listings"
Update your website
Sign up for an online ordering and delivery service
---
1. Local Listings
Optimizing your local listings with correct business information will boost your local SEO and help your business be found by more customers. If you haven't done this yet chances are a consumer has offered up information to one of these sites on your behalf with some user generated content.
Local SEO is impacted by review sites (e.g., Google or Yelp), online directories, and search engines.
Anyone? "Mexican food near me…"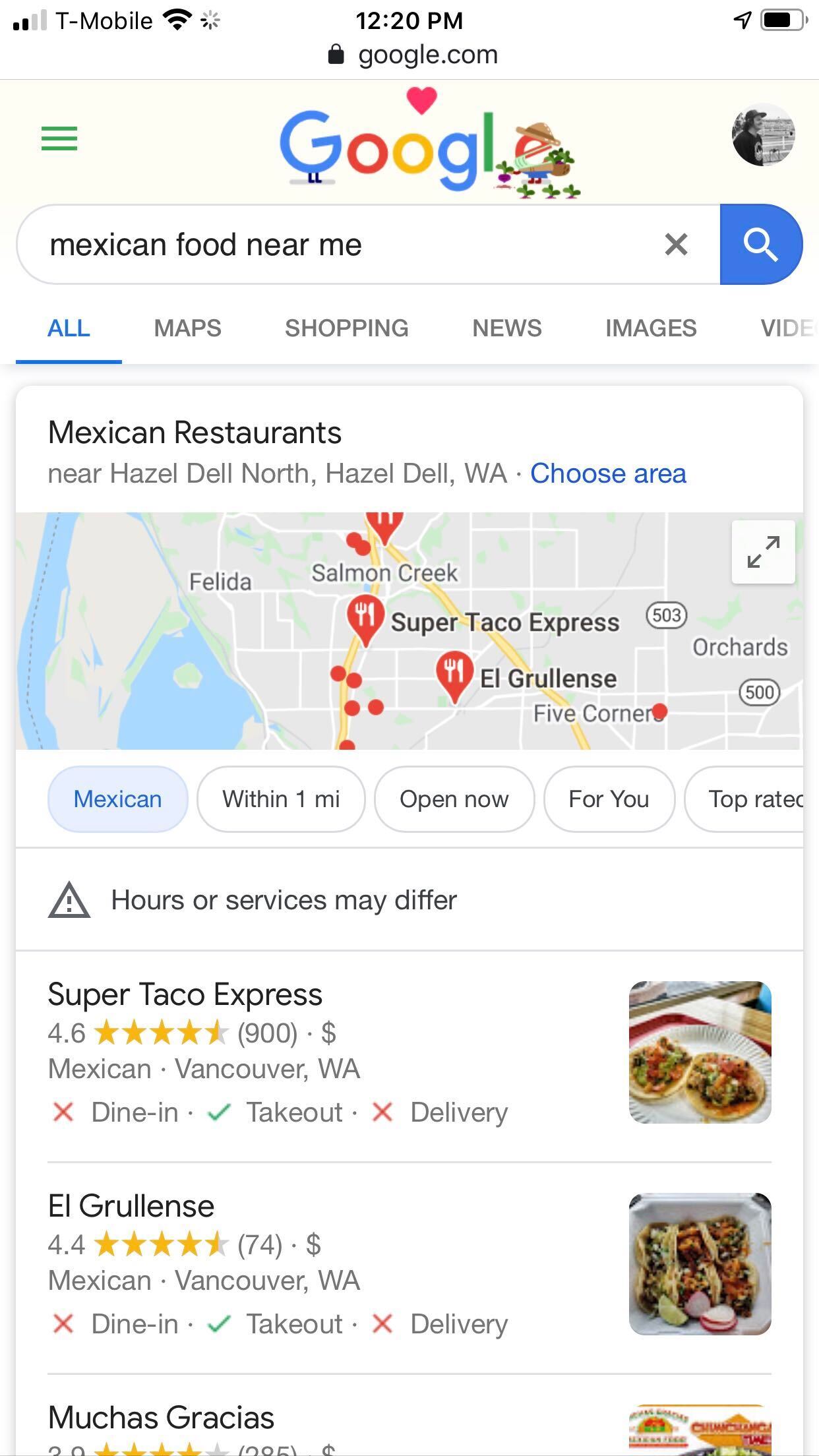 Optimizing local listings will boost local SEO rankings, increase online visibility, build citations, and help develop an amazing online reputation. Updating and optimizing each local listing isn't easy so consider using a tool such as BrightLocal.
Key takeaway: Optimize local listings by using BrightLocal.
2. Website
Customers visit your website for a couple of reasons:
To get directions and/or contact information, and;
To view your menu (photos too).
Updating your business website with your current contact information and your menu is a great step to support local SEO efforts and help customers easily find your business.
To further optimize your website's SEO, consider optimizing title tags, meta descriptions, and on page content with contextual keywords. If you are on WordPress or another Content Management System, chances are there is a plugin that can assist with this, such as Yoast.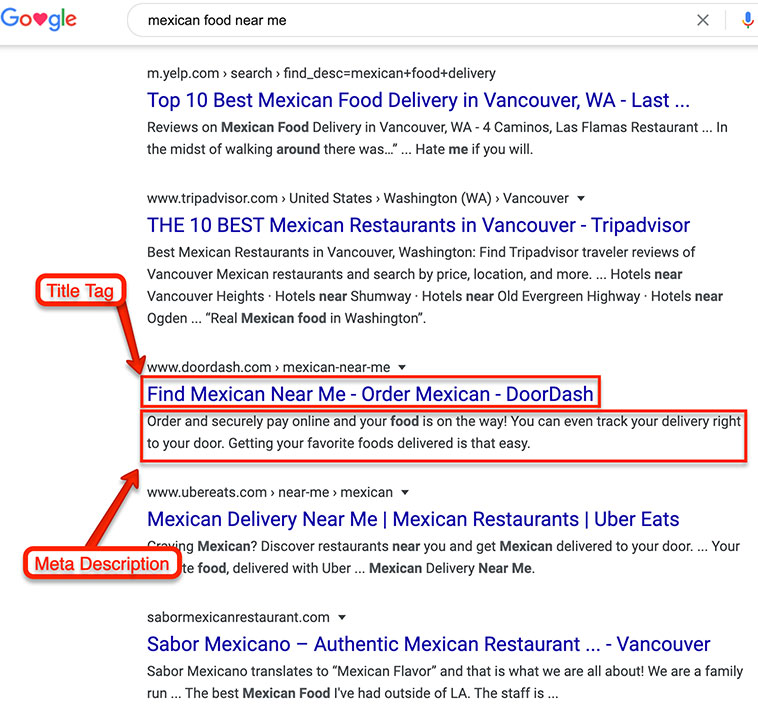 Key takeaways:  Get your menu and contact information on your website and update them often.
3. Online Order and Delivery Software
We all know where the future of dining paired with entertainment is taking us: our couches. If the current pandemic isn't a sign that your business needs to pivot and offer an option for your customers to order online (and have it delivered), you haven't hit rock bottom.
There are solutions as easy as online ordering only or solutions that include delivery. Here are a few we have researched and used:
Online Ordering
Cake – customers love the user experience (a Sysco product).
ChowNow – commission free!
Online Delivery and Ordering
Note: Most have customer facing applications for Apple and Android
DoorDash
Grubhub
Postmates
UberEats
Caviar (in select local markets)
When vetting online ordering and delivery software it's important to pay attention to the fees you will be charged. "Delivery Fees" are usually tacked on to the meal price at the time of checkout and paid for by the customer. However, there may be fees the restaurant is responsible for. Make sure the user interface is easy to update and your ability to easily add to the menu or add additional options is simple and flexible.
As we've been ordering food for our staff we've seen some restaurants on these platforms not include all of the options and haven't been able to fully check out. We hate friction in the user experience and in the below screenshot we couldn't actually purchase the item 🙁 because the restaurant didn't add salsa options to the "Mesa Burrito."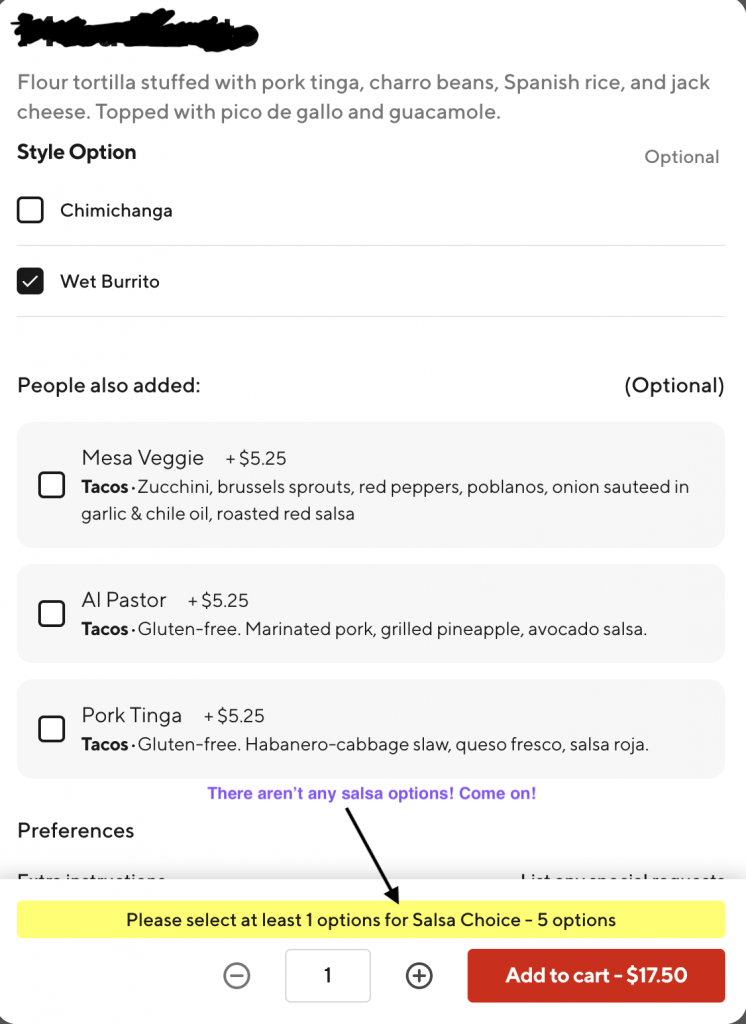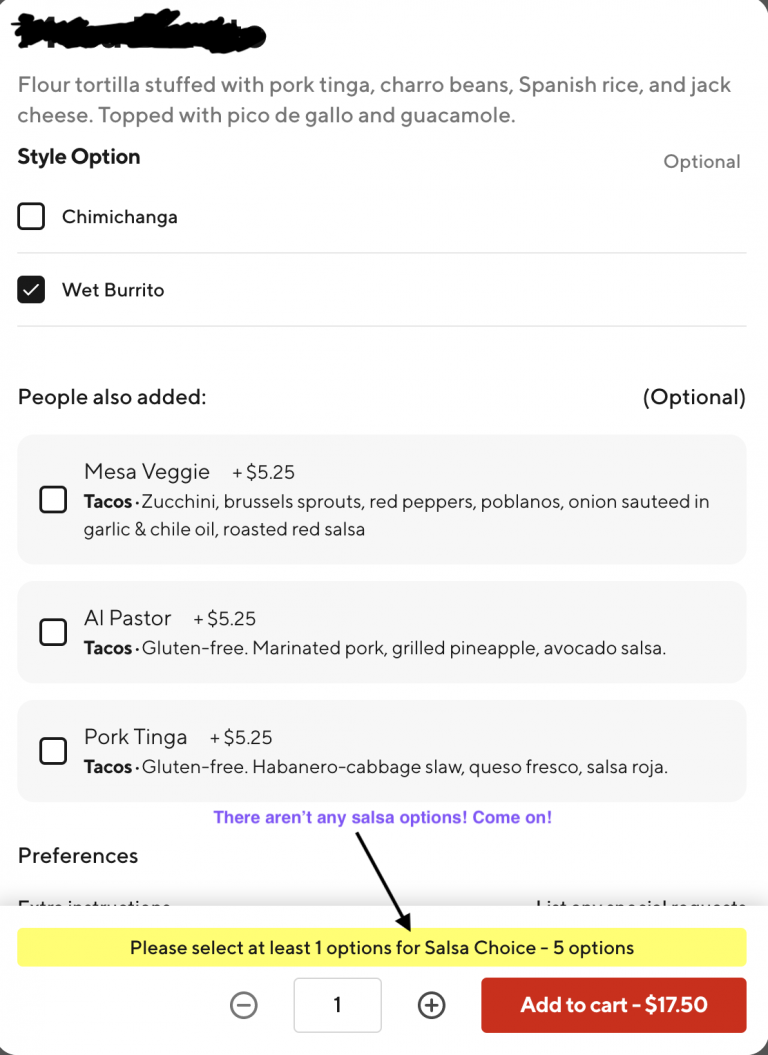 Key takeaways: Open up additional revenue streams with online ordering and delivery but make sure you finish setting up the service and test it thoroughly.
Time to compete!
There's never been a better time for local restaurants to outpace national chains, for minority owned businesses to shine, and for communities to come together to support their local economy. Online ordering and delivery software is one technology that can help bridge the gap between national chains and local restaurants. Add that to your overall digital presence and website and instead of hitting rock bottom, you'll be outpacing your competition.