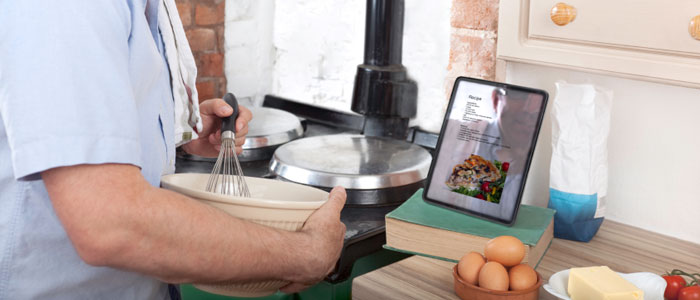 As the Holidays draw near, so does a new season of cookbooks. Julia Child's 50-year-old classic, Mastering the Art of French Cooking debuted as an e-book last month. With the print version measuring at 750+ pages, a digital copy would satisfy any cook's appetite for ease of use and portability, right?
Well, we're not quite there yet. Reviews of most e-cookbooks currently on market all seem to say the same thing: it feels like a squished PDF.  Plus, I don't know anybody who would agree that splattering marinara sauce on their iPhone is a good way to begin a dinner party.
The e-cookbook age will likely gain popularity soon. Celebrity chefs like Jamie Oliver and Mario Batali have recently introduced apps (applications that is, not bruscetta) and many publishers have started releasing digital versions of new cookbooks simultaneously with print.
Still, I don't see print cookbooks leaving the table anytime soon. They will likely become more traditional and less functional pieces of home décor in coming years. Like the trophies of a well-used kitchen.