If you were to browse the lifeless onslaught of travel trend blogs in the past few years, you'll notice that millennials are taking over the industry. According to a study conducted by the American Society of Travel Agents, millennials went on an average of 2.38 vacations in 2016—that's 38 percent more than Gen-Xers and baby boomers. Take that figure, and the fact that the travel industry contributed $7.2 trillion to world GDP in 2015, and it's easy to see why travel brands and destination marketers invest a lot of money to build a website people enjoy using.
Warning: We're going to use the eye-roll inducing demographic labels including, but not limited to: millennial, baby-boomer and Gen-Xer. Trust us, they make us cringe, too—but it's just the easiest way to categorize groups of tourists with varying travel needs. We're sorry.
"I'm researching all the time."
Okay, millennials are taking over and going on more vacations. But how are they searching and how can you be there during crucial steps of the buying cycle? First step, is to seize the micro-moments. A micro-moment (Google's term, not ours) refers to a quick spurt of research to answer an immediate need (usually turning to a search engine on our phones). Think about how you planned your last vacation—if you're anything like us we turn to our phones constantly to gather quick bits of information. "Snorkel trips in Maui" – "Highest rated restaurants in Seattle" – "Best places to rock-climb in the Gorge".
Savvy destination marketers and travel brands already recognize the huge opportunity to attract potential customers during these moments. Find out what your travelers are asking and answer their questions. Social media and Quora are a good start, publishing specific content on your website or within targeted gateways is better.
"I'm looking for more than a vacation."
Speaking of longtail micro-moment searches, we're seeing more and more travel searches steering toward adventure and responsible tourism. Upscale travelers are seeking active experiences in less explored areas and are willing to splurge on over-the-top journeys that seem exclusive and customized for their needs. But there's a catch. You need to inspire people—online. Destinations and brands willing to invest in a website and content that give potential tourists a taste of the adventure, while still giving visitors reliable and fluid user experience instills confidence in your offering—and drives business.
For example…
For example, a client of ours provides a cross-cultural community service journey for high school students seeking to make a difference on their summer vacation. We had the challenge of speaking to both students and their parents (who will be paying).  We created a site structure and content priority that feels natural to navigate whether you're looking to improve your college application or simply want to make sure your child is going to be safe this summer. Page information can range from spoon-fed storytelling to a pure information dumps—depending on your needs as a user—so we created ways to not only tell inspiring stories but also to provide a ton of details without overwhelming with walls of text.
Instant Bounce Guidelines
Looking to build a travel website that turns folks away immediately? We're not sure why you'd do that, but just in case—here's a checklist:
✓Slow to load
✓Boring, dated design
✓Dull, wordy, and/or stale copy
✓Disproportional
✓Lack of intuitive navigation
✓Shitty on mobile
✓Required registration
✓Poor legibility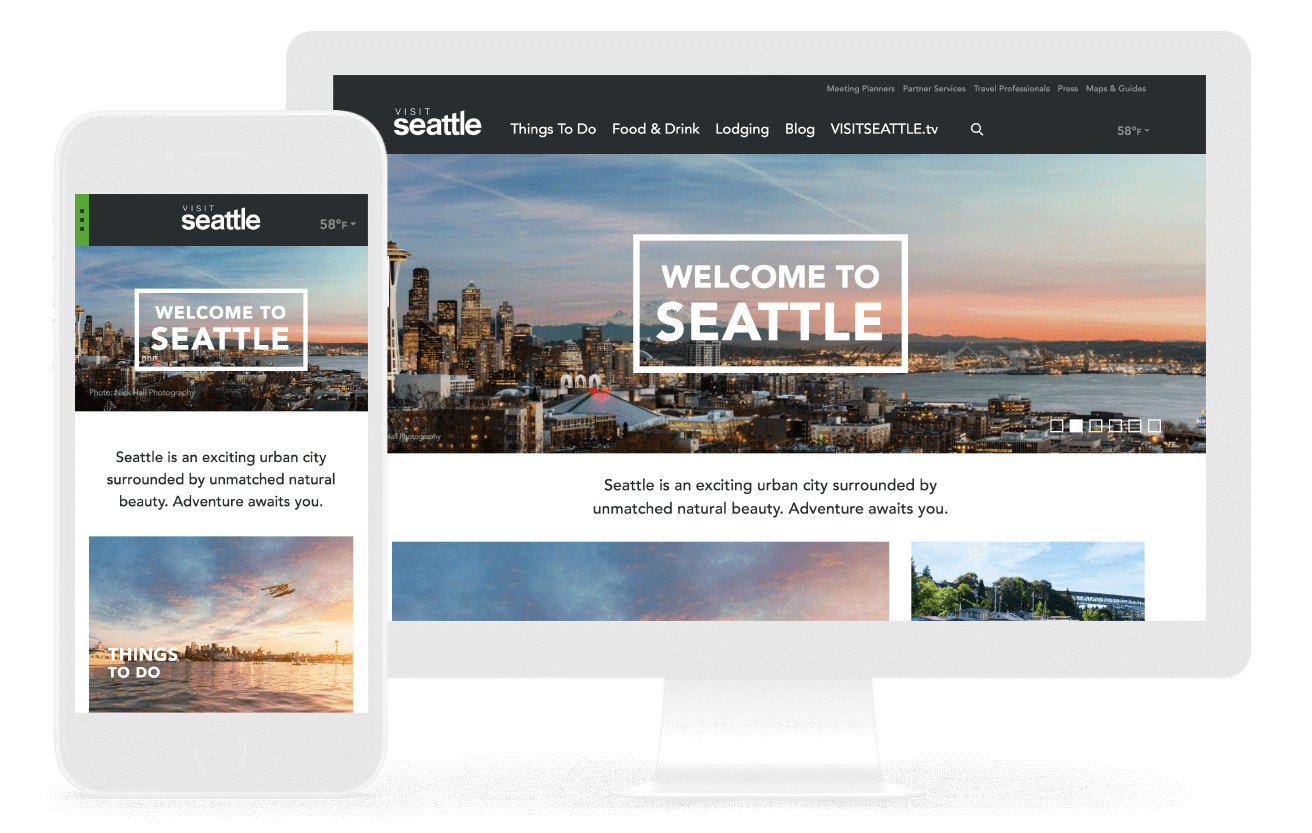 Visit Seattle
Explore the Pacific Northwest's Emerald Jewel
To visit Seattle is to experience a city of contrasts with a seemingly endless list of things to do, and a website representing the Emerald City not only required an intuitive user experience, but a strategy centered around meeting every visitor need and a powerful back-end engine to deliver third-party content across the site.
Case Study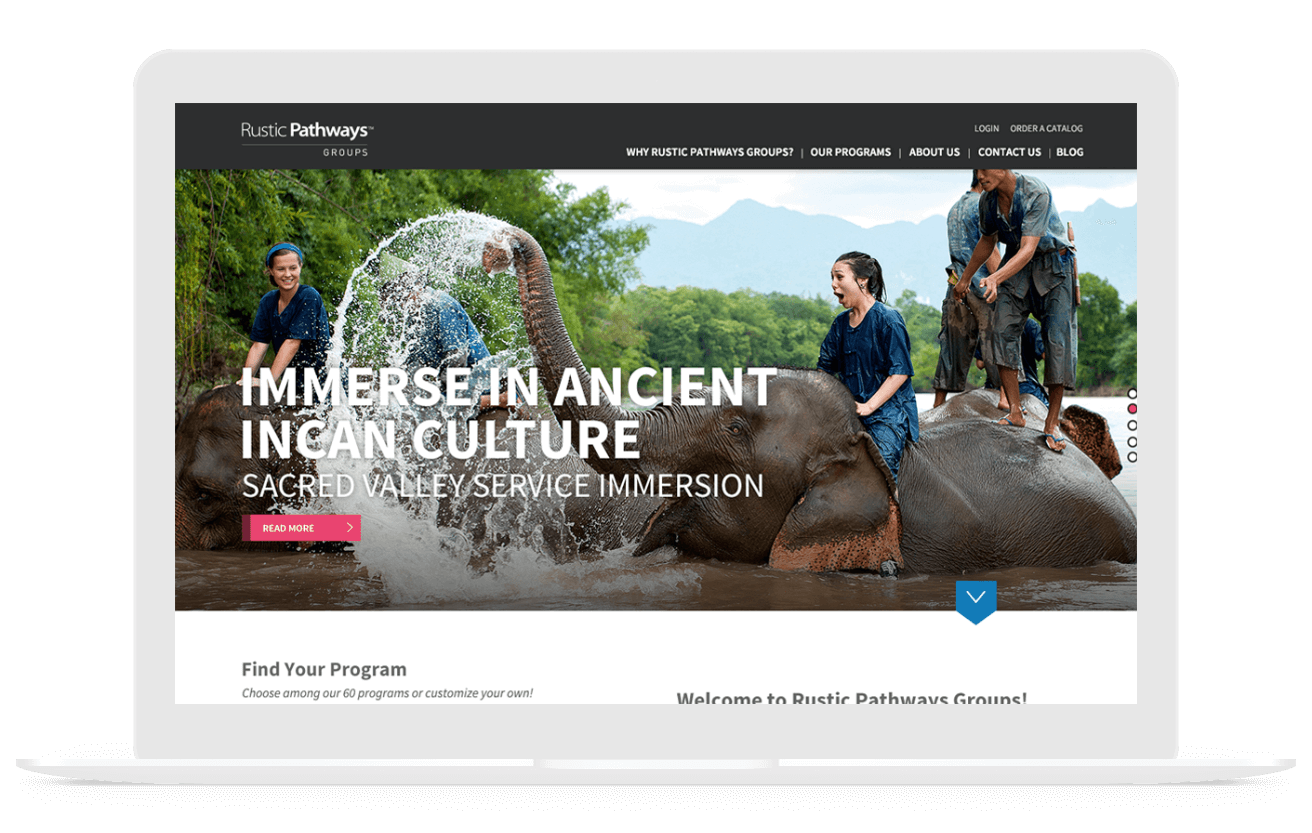 Rustic Pathways Groups
Imparting an Experience
Rustic Pathways Groups had a clear vision of what it wanted the website to accomplish and then let Gravitate iron out the details. The company trusted us and was not disappointed—lauding our work and the final site's clean, on-brand design and intuitive, custom-developed selection tool and web portal.
Case Study