The backend user experience is often forgotten, but an essential part of the way we develop websites here at Gravitate. As we move into the strategy, wireframe and design portions of our process, we start to think about what's important to not only the website visitor, but how you (the admin) are going to use the backend content management system in the future.
How do we customize the backend UX on your website? Everything action matters, and no functionality is included on the website without first giving some thought as to what the experience is going to be for every admin interacting with the backend of your website.
The Basics
What is UX?
User experience (UX) encapsulates all things that the user is going to interact with. Sometimes, this is referring to a front-end visitor to your website. Other times, UX applies to the interactive elements on the backend of a website. This may be menus, navigation, or logical groupings of related fields. Generally speaking, we make updating and maintaining a website easier and more streamlined.
What is the backend?
The backend refers to the behind-the-scenes, admin-only, area of your website. The backend handles anything server-side; including code and database calls that need to run on the server, rather than in the browser. The area that website admins interface with for managing content (content management system) could also be considered the backend of the website. For this article's purpose, we'll focus mostly on the experience of the user interacting with the website's protected login area.
What can I do to ensure a good backend experience for users?
Ensure good backend navigation
Having the perfect solution won't do you any good if you can't find where to change it. Just as we scrutinize your front-end website navigation menus for your users, quality backend navigation is a key item we focus on when considering admin UX. Solid UX ensures you can locate items quickly to easily to update them. This is generally referring to:
Left navigation
Top navigation
Options pages with field groupings for custom content
Custom post types for organization of content
Custom taxonomies for even further organization of content
Cross-linking in field areas to other areas that relate
Use form elements and fields that people already know and trust
There are many types of form fields we can choose from, but not all of them are suitable for every job. If you're selecting from a list of options in the backend, we may choose to use a checkbox, radio button, select dropdown, or multi-select. But if we only need one answer from you (as opposed to many), we would use either the radio or select fields.
To take it a step further, we will occasionally take longer (theme options) pages and break them out into several smaller options pages. If they're still cumbersome to use, we can create tabbed content within the individual options pages; allowing you to toggle the information you see to only show what you want. Essentially, we evaluate admin roadblocks and create customized solutions to improve back-end usability. We figure that if it's easier to use, you're more likely to keep your website fresh and maintained.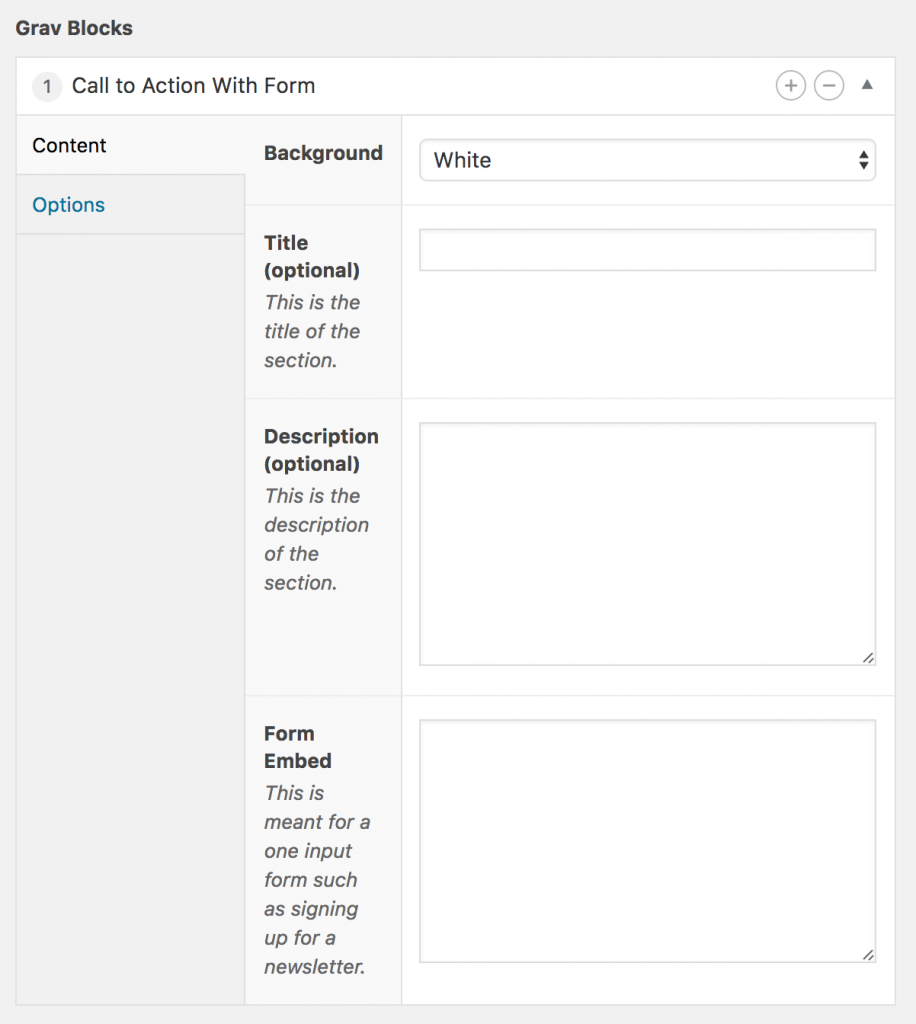 Group fields together that relate to each other
When building out the backend views that our clients and their employees interact with, we carefully consider how the fields you type into are categorized and positioned. Having a field or capability to change something can feel useless if you can't find what it is that you're looking for. To combat this, Gravitate web developers work with your account manager, digital strategist, and designer to make sure that options pages are clear and understandable; and that you can find what it is you're looking for.
Testing to make sure that new changes are bug-free
Before we bring any code changes into your production environment, we test everything. Gravitate has created an automated tester plugin that assists with our own internal checklist of things we look for. This includes common items, such as:
Checking for PHP errors, warnings and notices
Make sure that anti-spam honeypot is enabled on all forms for protection against bots
Confirm XML sitemap pages exist for your websiteChecking that your pages are valid HTML against W3C
Checking general pages for Javascript console logs on page load
Checking general pages for Javascript errors on page load
Make sure WordPress plugins are the latest stable version
Make sure WordPress is at the latest stable version
Make sure your production website is indexable by search engines
Be clear and concise
Everything should be easy to understand and locate. If you're needing something from the backend user, ask them for it in plain language or include instructions with your fields. Position items where they make the most sense within the system, instead of haphazardly adding as they come up. Try to keep it simple, and don't overcomplicate areas that you're building out. Do your best to think like a backend admin.
Gravitate takes your project seriously when considering how people will interface with our finished product, and we want you to love it. If you have any questions or feedback for us, please contact your account manager. We'd love to help!