404s – Page Not Found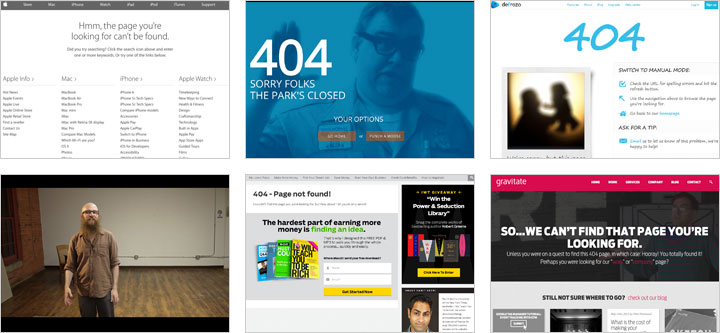 People land on your 404 page all the time. Don't beat yourself up about it—it just happens—usually when some unknowing admin deletes pages on your website without setting up 301 redirects.
Users land on this page because they're looking for something your website offers, but that information just doesn't happen to be on that particular URL any longer.
Most sites default to display a message that the page no longer exists. This is entirely useless and leaves the visitor at a dead end thinking, "well that didn't work; guess I'll try a different site."
At this point, they exit your website, causing your bounce rate to increase and other critical metrics to decrease, while skewing all your web analytics for the worse.
Instead, 404 pages need to offer options, including helpful resources, an internal search bar, even a sitemap so visitors can quickly find exactly what they are looking for. If nothing else, entertainment — like these top-ranked 404s from presidential candidates.
Different industries and different audiences will dictate what option works best. Below are some examples of 404 pages that are actually useful, or at that very least, entertaining.
Because most audiences have a great deal of crossover when it comes to the content preferences of a 404 page, these examples could work for nearly any industry.
Thank-You Pages

First, you need to have a /thank-you/ page of some sort set up to easily track your conversions in Google Analytics. There are other options with Event Tracking and Google Tag Manager that are great, but I still recommend setting up a page for conversion tracking as a backup measure.

Second, this is your chance to provide back-end sales offers, related downloads for list building opportunities, or useful resources related to the items they just converted with.

The easiest person to sell to is someone who's already bought from you. Why not take immediate advantage of this?

Other calls to action could include a list of related blog posts, video thank-you message from the president (or whoever), social media share options, or a survey to gather visitor feedback—anything to keep the user engaged and to provides value.

Below are some examples of successful Thank-You pages. I'll try to categorize these by Business-to-Business or Business-to-Consumer, but again, it honestly doesn't matter.

B2B:

B2C:

Sources:

http://unbounce.com/conversion-rate-optimization/7-thank-you-pages-that-take-post-conversion-to-the-next-level/

http://www.modgility.com/thank-you-page-examples/

http://www.bruceclay.com/blog/4-thank-you-page-examples/

http://blog.wishpond.com/post/104082746072/7-ways-to-utilize-thank-you-pages

http://webdesignledger.com/inspiration/creative-examples-of-404-error-pages