Construction Website Design Best Practice: Service Gateways
If you're like most construction companies, you have a website you built years ago. While it's not the most cutting-edge site out there, it doesn't need to be. Potential customers can find and review your services, past work, accreditations, and awards—but over the years it's mostly been used to locate your contact information.
Customers are researching and vetting businesses online now more than ever. According to Forrester, buyers might be anywhere from two-thirds to 90 percent of the way through their buying cycle before ever contacting a vendor. This means your customers could be attracted to a competitor who provides more information about services and builds their reputation online—and just like that, you lost a lead.
Let's think bigger. 
We can elevate your website to reflect the quality and attention to detail your business conveys in the field—and it starts with robust service-based landing pages, or gateways. Nearly every strategy we implement for a construction industry website redesign revolves around a foundation of keyword-packed, reputation-boosting gateways focused around your company's specialties. Your company gets to tout your featured capabilities while prospects and search engines gain a better perspective of your business. It's a win-win.
How gateways work
While there's a variety of terms and marketing buzzwords around the tactic, essentially a gateway is a cluster of content, either created from scratch or pulled from other assets or areas of your website, built-out into an alternate mini-website. The cluster targets sets of semantically related keywords to attract a specific audience (in specific locations) and deliver a catered experience while also contributing to the overall domain authority of your website.
How is this different than dedicating pages for each service your business offers? It's breadth and depth. Well, maybe a graphic will help us explain.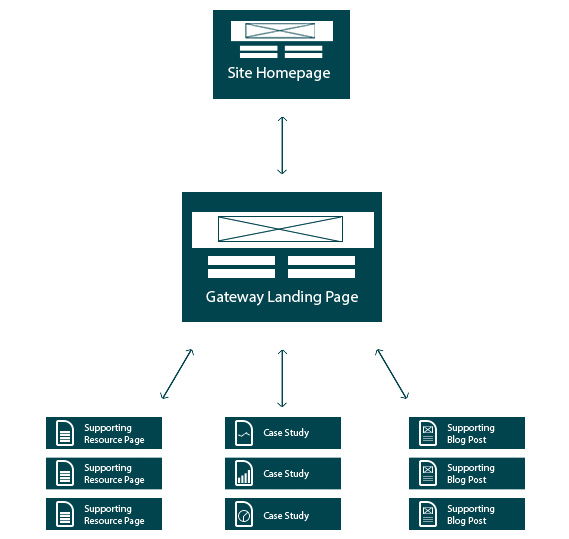 You see how a gateway isn't a single page, but a overview parent page followed by a set of nested children pages, all focused on driving traffic to the parent page and providing potential customers valuable information that not reinforces your credibility and expertise, but also appears at the top of search results.
Elements of successful service gateways
While the content details can change according to the service or industry your construction business is targeting, the structure remains consistent. The landing page, related case studies (projects), related supporting articles (longer, research-based content), and related blog posts.
Landing page
Content
The landing page (parent page) is the central hub of the gateway. It provides succinct, compelling information about the capability but doesn't overwhelm users with too much content. Quality landing pages typically include the following:
An overview of service and location (e.g., Premiere Kitchen Remodels throughout Dallas-Fort Worth).
Testimonials (former customers and/or current team members). More on client-testimonials here.
Contact information.
Links
Remember, don't try and fit everything on this page. We're building a cluster of targeted pages (that live beneath the parent page) to drive quality conversions. Calls-to-action should point potential customers to the following areas:
Learn more about previous related projects (case studies).
Read about how your company follows industry best-practices (resource pages).
Learn more about the latest trends (blog posts)
Form
Let's not ignore the primary conversion point. When it comes to on-page forms, we follow a few guidelines:
Limit the fields (and required fields) as much as possible.
Use a single column layout.
Label fields (sentence case).
Use client-side validation.
Restrict input format.
Apply smart default fields
Display dynamic 'tips' and 'help'
Use honeypot instead of captcha
Related Case Studies
Project case studies is the largest area of opportunity we see working with nearly every construction client. Often companies will post before and after photos of a recent project and move on without adding more than a name and date. While seeing the photos is a great start, this section of your website has an enormous potential to convert browsers into customers, so let's really put some thought and effort into your projects list. Project profiles and case studies are an opportunity to not only promote the final result, but also exhibit problem solving, industry expertise, and strategic consideration, throughout the course of the client-relationship.
Consider expanding your list of projects before/after photos to incorporate the value that communicates the client's goals and roadblocks and what your team did to overcome any obstacles. Even if you think you don't have enough to say about seemingly simple jobs, try to cobble together at least a paragraph (to accompany any photos) that outlines your team's problem/solution. A little explanation can go a long way.
This is where the investment in continual content creation and photograph can really pay off for your construction business. We suggest building your gateway with no less than three supporting case studies and try to add two a year, at least.
Related Blogs
Google loves fresh content and blogs are a relatively inexpensive way for you to churn out content that speaks to a specific audience and service. To start, we suggest building a detailed content calendar that incorporates the services/gateways you aim to reach, topic suggestions, and publish dates. While more is always better, we recommend writing a new blog (400-600 words) for each gateway at least once a month. Some blog topics for kitchen remodeling, for example, could be:
Pocket Doors for Your Pantry
10 Cabinet Designs You'll Love
Money Saving Tips on Your next Kitchen Remodel
Related Articles
Similar to blogs, articles are excellent ways to boost your gateway's domain authority. Articles are typically double the length of blogs (1000-1200 words), focus on more general topics, and are more resource-based than blogs, which tend to be informal. Facts comprise articles while opinions make up most blogs—which means you'll be sourcing a lot of content. While articles are more time consuming to produce, they don't need to be written as often as blogs. We recommend writing a new article every quarter. Some article topics for kitchen remodeling, for example, could be:
Kitchen Remodeling Pitfalls
2017 National Kitchen & Bath Association (NKBA) Code Requirements
Kitchen Remodel Planning: Best Practices
Want to See How We Can Grow Your Leads?
Ready to start a project or really curious about our process? Drop us a note or give us a call (888) 217-9502.
Work With Us