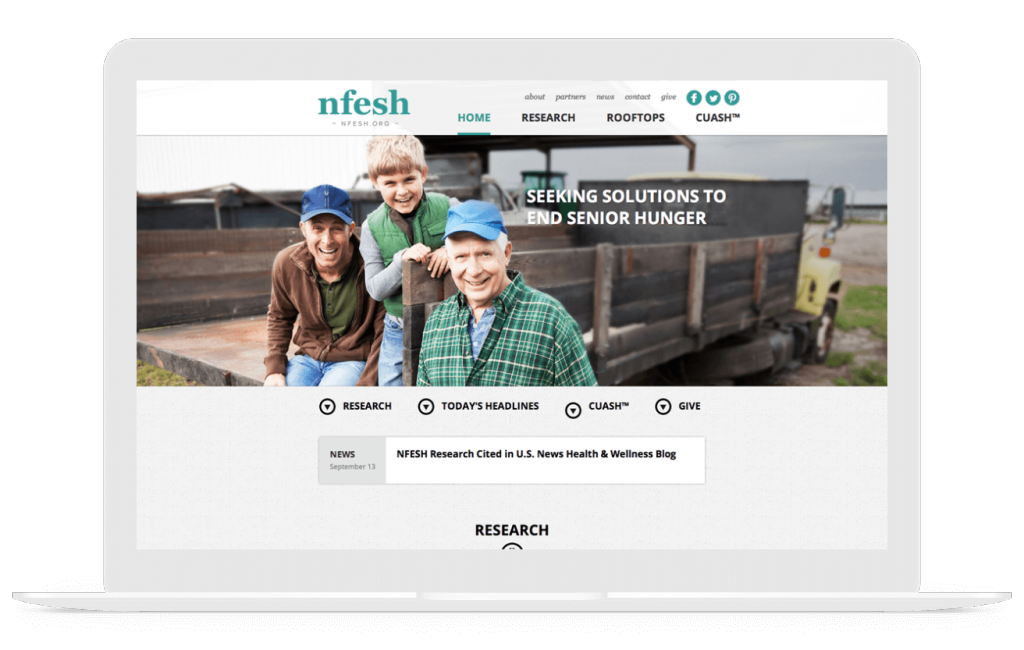 The National Foundation to End Senior Hunger (NFESH—pronounced neh-fesh), formally known as the Meals on Wheels Research Foundation, fights to bring senior hunger to the forefront of public discussions. With one in six seniors struggling with hunger and the numbers increasing annually, Gravitate was proud to design and build a website that clearly relays information and research as well as increases senior hunger awareness—all working toward long-term, sustainable solutions to end senior hunger.
Creating a blueprint
After lengthy discussions with the client and some research of our own, we developed the majority of user experience interactions and content architecture requirements during the wireframing process. Each page was laid out within a wireframe, reviewed, scrutinized, iterated upon to improve UI/UX, and presented and explained in detail to the client. Our in-depth, iterative wireframing process and attention to user experience established a clean, intuitive flow throughout the website.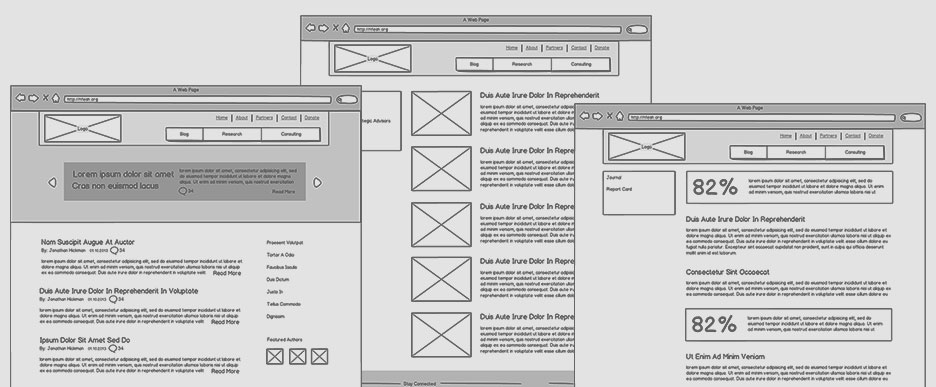 Establishing the look
NFESH expressed that the visual direction of the site should "allow content to be easily consumed and encourage simple interactions and discussion, without all the clutter." Keeping that in mind, we created several moodboards (not specific design elements but rather visual indicators of the site's tone and feel) for the client to review. NFESH was delighted with the direction in which we were heading in option two based on the bold typography and the bright, crisp feel.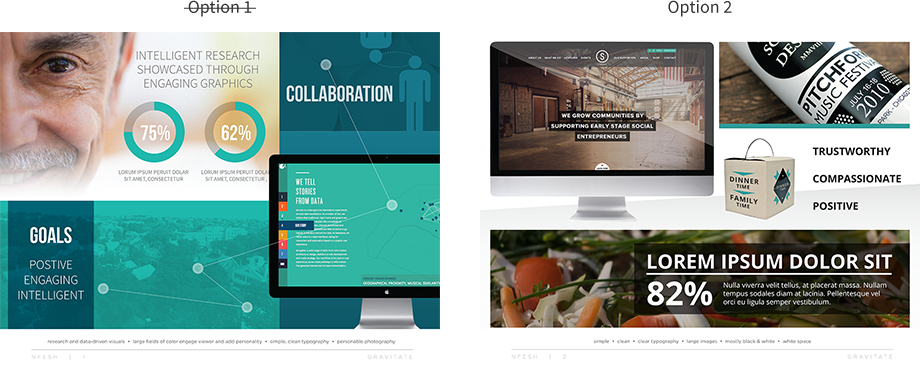 The homepage
Nonprofits have a great deal to say but often have difficulty only presenting crucial information on their homepages in an easily digestible manner. Our goal for NFESH's homepage was to include four well-defined areas of compassion and to present them clearly and concisely on the homepage—allowing users to scan the content quickly and click deeper into the site to learn more based on their areas of interest. In addition, we created a donation system that allows multiple contribution payment options without users being forced off the site.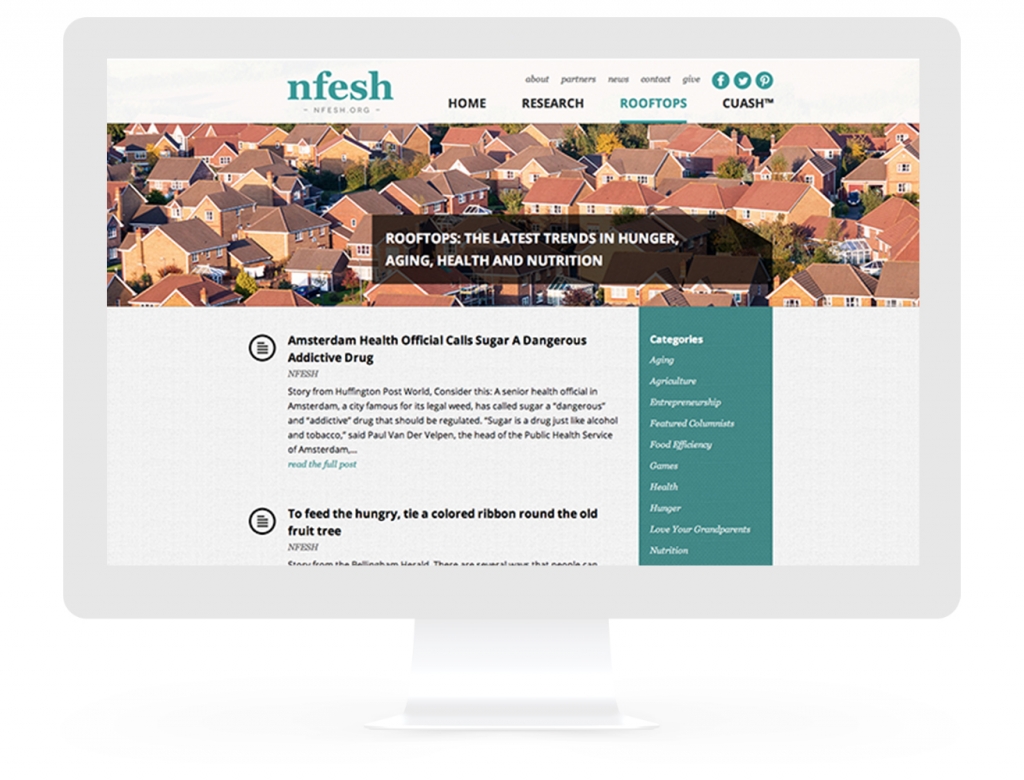 Driving a discussion
The blog was a primary component of the site build and one of NFESH's top priorities. While most of the attributes resemble that of a standard blog, Gravitate custom built several features that strongly encourage discussion and interaction. The blog also was stylized to give the authors a platform to be properly recognized and presented as the credible sources they are.
Nonprofits
The rate of senior hunger has escalated annually and the cause to eradicate hunger has suffered from not being part of the national philanthropic debate, leaving one in seven seniors struggling with hunger. NFESH identifies and addresses this challenge  by funding senior-specific research, fostering local collaboration, and engaging diverse partners—but an awareness issue still persists. Gravitate is proud to work with NFESH to not only increase public recognition through the new site but also to build a platform in which NFESH can work with the community and corporate partners to develop long-term, sustainable solutions to help end senior hunger.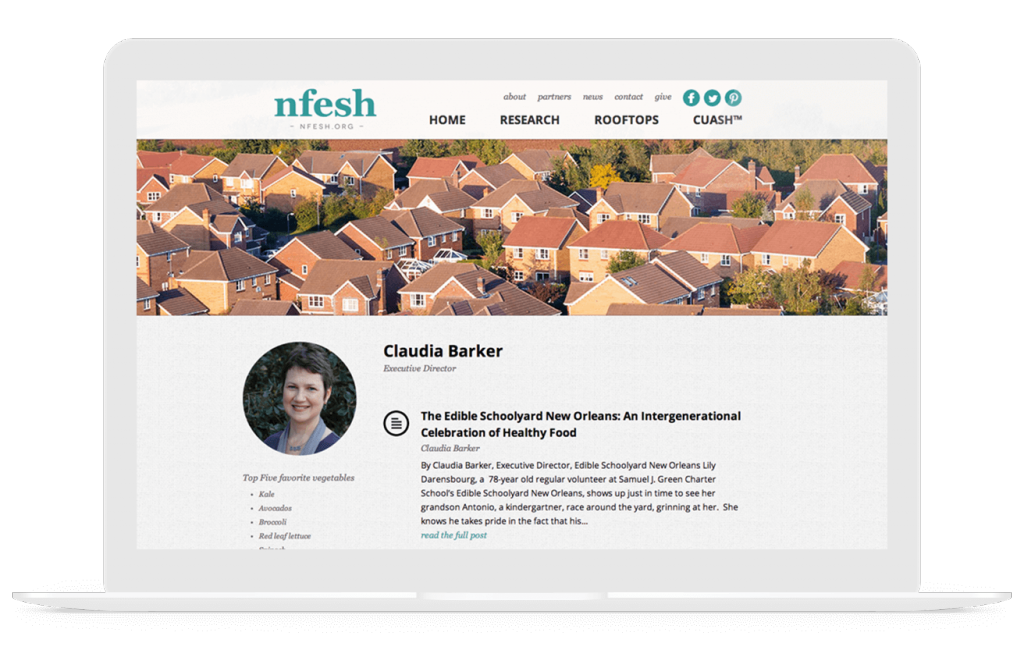 The Result
Both the client and the project team involved with this project are thrilled with how everything came together. The website demonstrates how aesthetics and intuitive functionality can work to engage and interact with the user while intelligently directing those interested in donating or learning more about senior hunger. A combination of the client's goals and our own ideas produced a distinctive blend of intuitive iconography, whitespace, and pronounced typography, which not only serves as a resource for users but also screams "Hey! We need to confront the issue of senior hunger today!"
"At the National Foundation to End Senior Hunger, our work is serious business. Therefore, the selection of a web design firm was also serious business to us. The Internet is a crowded place these days, so capturing and keeping the attention of visitors is difficult. But we knew that was what we needed to do to accomplish our mission—that, and creativity, technical know-how, and a firm that would take time to learn about us and our goals. No formulas, no off-the-shelf templates, no grey jargon when we had questions, and no push back when we asked for changes were all our requirements of a serious web design firm. We were looking for a firm that respected us for us and for our cause. We found that firm in Gravitate. We found a firm that we, in turn, could respect and admire."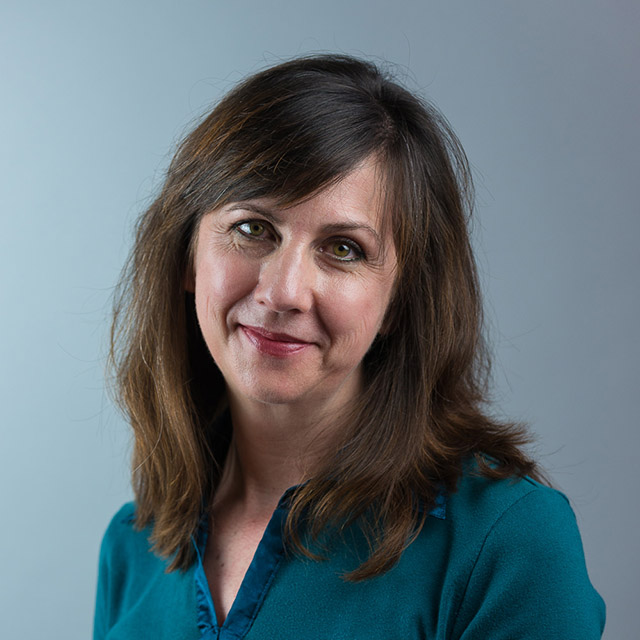 "I'll never forget the first time I spoke with NFESH. They'd called Gravitate regarding a new website, and needed it immediately. We only do custom work, so we just couldn't accommodate that short of a timeline and deliver the right quality. I said, regretfully, we wouldn't be able to work with them. Less than an hour later I got a call from NFESH President and CEO Enid Borden, who insisted she wanted to work with us, and we figured out a way to make it happen. That woman is a force to be reckoned with! I have no doubt that she, Matt, Marley and the rest of the NFESH team will indeed end senior hunger. Uniting our passion for compelling design with such a worthy cause resulted in a project of which I'm immensely proud."