We went to Design Week Portland (DWP) – here's what we thought…
Jason
Eli Schiff (@eli_schiff) had some interesting thoughts and concerns about flat design. Although his views might not be shared by most, I do agree with a few of his key points. Things have gotten so flat and spare that some major usability staples (like knowing what's clickable) have taken a backseat. That said, I'm not trying to bring back the yellow-ruled background to my notes app.
Stefan Sagmeister's talk "Design and Happiness" was easily the highlight of my week.
He was extremely entertaining and inspirational. One of my biggest takeaways was how much an unfinished personal project affects your happiness. Since the talk, my interest in a couple of projects has been reignited.
I also made it to the University of Oregon architecture thesis exhibition. I've always been interested in architecture, and these students have developed some amazing concepts. I made it to a couple of open houses as well, where I often find myself more interested in their space than anything being presented.
Jessica
Phew! That was a whirlwind. Is it already over? My week overflowed with big ideas, practical solutions, guzzles of inspiration, smart tools to make our jobs easier, others' illustrating my tweets, incredible people, and buckets of free notebooks. You can never get enough. right?
Here are a few thoughts and experiences I came away with.
Embrace the "big picture." We're on a planet earth consisting of water, rock, and molten lava flying through space. WTF.
Embrace being human. You can't say everything all at once. The most important thing is to focus on a single sentence. Build a world around it. Figure out which mediums will best tell that specific part of your story–and build strong client relationships because that leads to the best work.
Hey, do you look at the internet on your phone? Thought so. So does everyone else.
Mobile is not new, but how we use it is.
We use it everywhere. We wear it on our wrists, backs, and heads—you name it. Design has become the fabric of our connected experience. It bridges the physical and digital in ways only Minority Report could predict.
We're entering the age of invisible design. Think of it as frictionlessness, seamless design. We don't just design for breakpoints. There is no dark nowhere land and no perfect size to view it in.
Design has woven itself into every facet of our lives, and as creators of this design, we must keep the user-facing interaction simple. The backend is where complexity should live. So get to understand your users, know the medium, and think systematically. I love the quote the presenter (@dianadianadiana) from R/GA shared: "Any sufficiently advanced technology is indistinguishable from magic." -Arthur C. Clarke. Magic? Hell, yeah.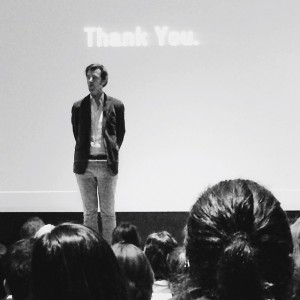 In conclusion, one name: Sagmeister (@sagmeisterwalsh). This was perhaps one of the best talks I've attended, period. Was it specifically about design? Not really. Did it connect the gap between happiness, inspiration, science, and the creation of lovely things? Big time. Things that can make us the most happy can be found in the most unexpected nooks and corners. For instance, by traveling the previously unexplored without purpose, it's the lack of purpose that makes all the difference—or making a full art exhibit out of a utilitarian product that's intentionally useless but absolutely gorgeous. Did I mention he closed with a group sing-a-long? And I don't think there was an unsmiling face in the crowd.
"Life begins at the end of your comfort zone." Let's all go and seek some discomfort.
Miranda
At this year's design week, I set out to learn and experience as much as possible. There was something unique about each open house I attended, and I took away something meaningful from each event.
The Humanist Interface meet up caused quite a stir among some designers. The talk was an argument that flat design has gone too far and that, as designers, we need to revert to a more skeuomorphic approach to our designs. The opinion presented was that when users interact with such flat UI elements they can no longer tell UI elements apart from one another, such as buttons, links, or other types of interactive elements. It was quite a bold move to stand in front of an audience of designers and say that Google, Windows, and even Apple are doing it all wrong. There were certainly some interesting points brought out in the presentation, but in the end, there is no evidence to prove that this design direction provides a bad experience to users or that it confuses them in some way. There will always be naysayers, and perhaps flat design will soon be replaced by the next great trend. However, as things now stand, the proof is in the pudding.
Stephen
This week offered several chances to participate in lectures, classes, presentations, and art shows. One of it's most important offerings however, was a series of open houses. This is where design agencies and creative departments throughout the city open their doors to the community. Aside from the obvious chance to rub elbows and show off incredibly crafted works spaces, It offers an important opportunity for creatives of all ranks to share in the communities design culture.
Melanie
Design week is like the ultimate holiday season for designers and creative minds alike; it's a time of intense anticipation, preparation, gathering with old and new friends, shelling out money, and partaking in a myriad of awesome events and parties. There was even a group sing-a-long—no joke.
Although there were many interesting and educational topics presented, much of my enrichment stemmed from listening to the individual speakers' musings and life lessons. Aaron Rayburn began his talk by showing one of the first color photos of Earth taken from the Apollo 8 in 1968. He explained how his boss would catch his clients off guard by starting client meetings with this photo and the letters "WTF" underneath.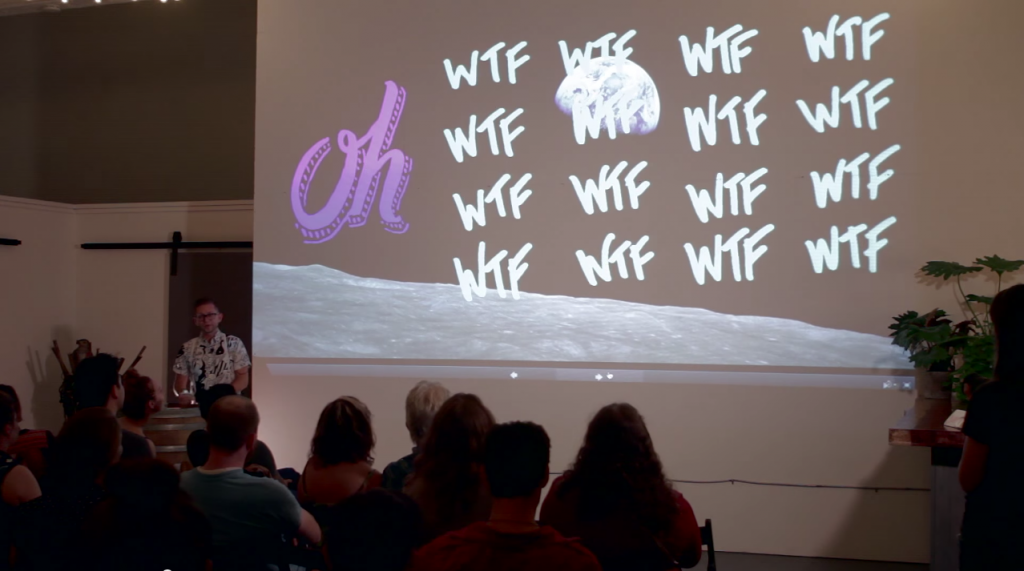 The slide seems random, but Aaron explains why it is so incredibly relevant. Sometimes we can't see the relevancy because we're so focused on the here and now and can only see what's right in front of us. It's kind of funny to think that the clearest vision of ourselves is not in the mirror, with our reflection two feet away, but through a photo shot hundreds of thousands of miles away because that allows us to see how small we are. We can see how we are a part of something huge. We're on this huge rock moving at 800 miles per second within a galaxy that's one of 100,000 galaxies in one of 100 million superclusters.
Needless to say, I became introspective as he continued to talk about influences in his life (I was proud to be wearing my gold spiked boots as he mentioned Alexander McQueen) and why it is important to look for inspiration beyond ourselves.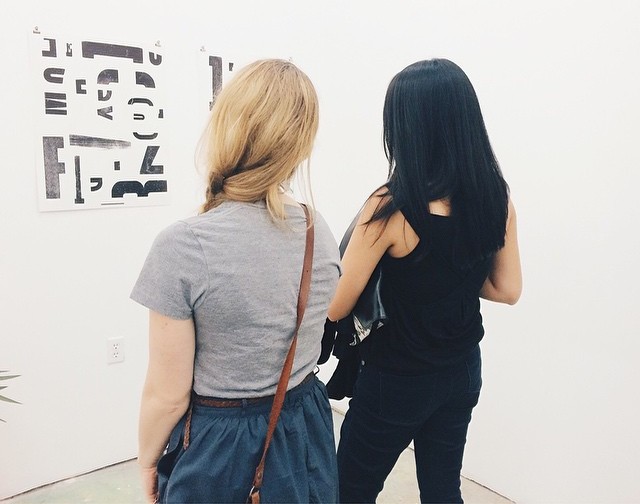 The other notable speaker I was swooning over all week had been on my radar since I first began to pursue a career in design. If Design Week is a holiday, then Stefan Sagmeister (@sagmeisterwalsh) is freakin' Santa Claus, and every designer in attendance waited for that event like a giddy six-year old on Christmas Eve.
Though the title of the event "Design and Happiness" might have seemed trite to the casual observer, Sagmeister's talk did not lack substance: it offered both compelling emotional discoveries and technical research. One interesting point is that among the most recognizable emotions expressed via facial contortions—anger, surprise, disgust, sadness, and joy—only one is distinctly positive. He went on to unpack the idea of "happiness," its limitations, and how best to achieve it through various methods—both practical and experimental.
For those in the audience who were not too keen on the idea of experimental happiness (and yes, it pretty much sounds like what it is), he offers some simple advice:
At the end of the day, think of three things that have worked
Practice thankfulness and humility
Don't leave anything unfinished—complete what you started to avoid having your unfinished goals stack up
Engaging and entertaining, Sagmeister did not disappoint, and at the end of the event, we all left much . . . wait for it . . . happier than when we had walked in.
After numerous events with design celebrities and big parties to open and close the week, there's much to think and reflect on. I thoroughly enjoyed many of the headlining events, but what I feel makes Design Week in Portland so special is the numerous open houses that occur throughout the week. The fact that businesses will literally open their doors to competing players within the industry for friendly and supportive conversation is not common, but 158 studios, agencies, galleries, and museums decided to participate. Hospitality was top notch with photo booths, games, food, and swag for days. Portland brought its A game and continued to prove why Design Week is the most wonderful time of the year.
Talks referenced throughout the post:
A Conversation with Aaron Rayburn
Design for Nonprofits by Leopold & Ketel
Death of the Design Comp: Down with the King by eRoi
The Future of Mobile by Diana Frurip of R/GA
Design & Happiness by Stefan Sagmeister