We're all familiar with one of the best holiday pastimes out there: settling inside during those cold wintery nights watching classic Christmas movies. Like that one with the leg lamp, or the one where those two singers visit a dried up ski lodge owned by the former Army General . . . What was the name that movie again? Christmas movies are a special part of the season. We watch them, we quote them, we love them—but how well do we really know them?
Check out our series of holiday movie icons and see how well you know your favorites and share them with your friends.
[masterslider id="2″]
 (the answer key is below)
So now that you've realized you're a holiday movie expert, one question remains. Which holiday movie is the best? That's exactly the question we're answering during this year's Best Xmas Ever 2014: Movie Edition. This year's holiday fundraiser will be your chance to vote for the greatest holiday movie while at the same time raising donations for Vancouver's local schools. The contest started Dec. 1 and blasting through our social channels so be sure to follow us and pick your favorite in each round to make sure one of YOUR top flick wins. To vote now, go here: Best Xmas Ever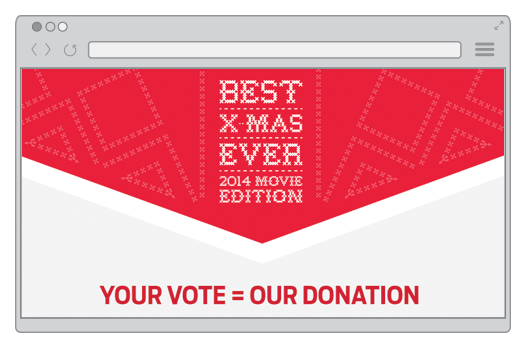 ---
Answer Key
1. Dr. Seuss's How the Grinch Stole Christmas
2. Elf
3. It's A Wonderful Life
4. The Nightmare Before Christmas
5. Home Alone
6. Scrooged
7. White Christmas
8. The Santa Clause
9. A Christmas Story
10. Love Actually
11. How the Grinch Stole Christmas (2000)
12. Die Hard
13. Rudolph the Red Nosed Reindeer
14. A Charlie Brown Christmas
15. Bad Santa
16. National Lampoon's Christmas Vacation
How many did you get right? Leave a comment with your score and be sure the share the post with your friends!