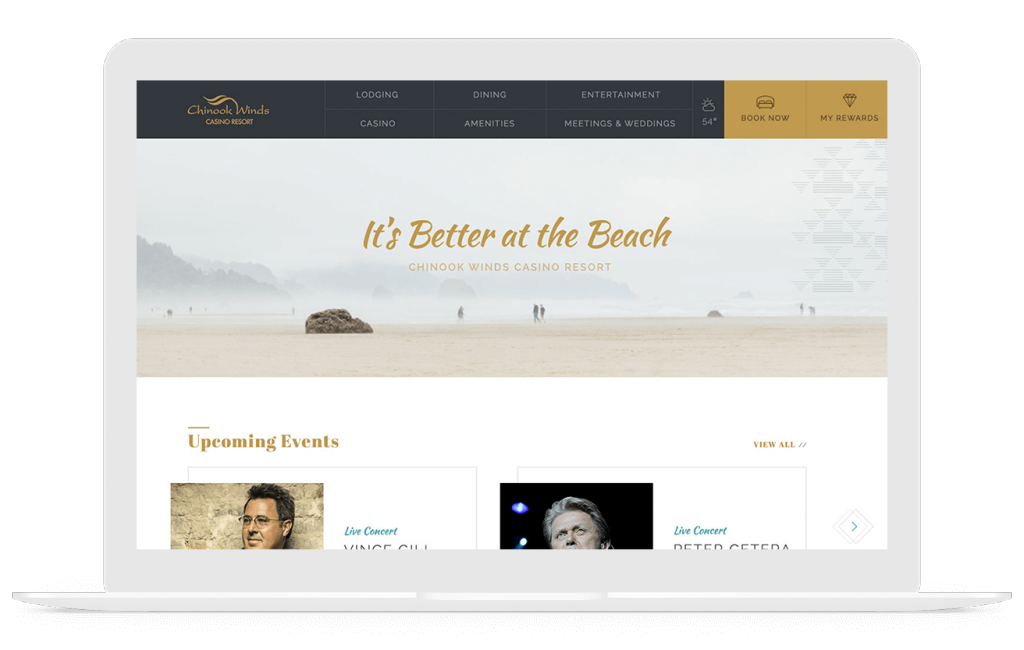 Historically, the travel and gaming industries typically aren't on the cutting edge of marketing—and that's a problem. Today's tourists are not as swayed by traditional advertising as they once were and need to be engaged and informed long before they pack their bags. Chinook Winds Casino Resort (CW), only a few sandy steps from the Oregon Coast, recognized its opportunity in the digital space and partnered with Gravitate, not only to increase hospitality reservations and loyalty club growth but also to elegantly portray CW as a full-featured destination resort where having a great time isn't a crapshoot.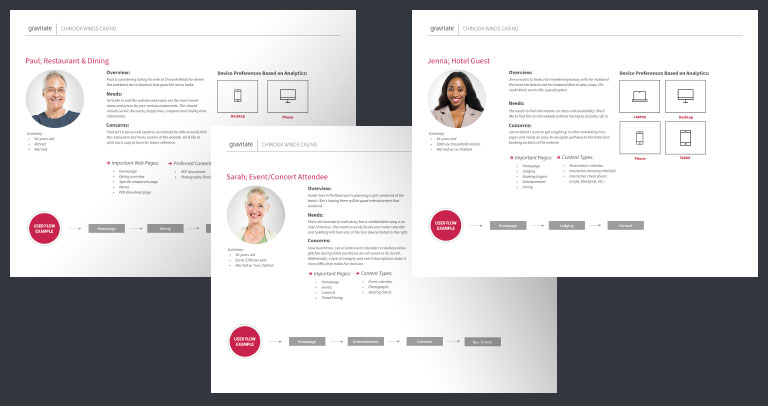 Content Strategy
There's a lot happening at Chinook Winds, and the word needs to get out. Potential guests should be able to quickly find information about the gambling, dining, golf, events, promotion, tournaments, awards—in addition to booking rooms, tee times, tickets, and reservations. We worked with the team at CW to understand their audience and audit, prioritize, and organize the plethora of information. From there, our strategists and UX designers mapped detailed user flows to begin funneling target personas to applicable CTAs. This process greatly informs the sitemap, information architecture, navigation, CTAs, and ultimately the wireframes of the website.

Navigation
With so much content, it would be easy to get lost in a dropdown menu scrolling through lists of pages. We simplified the navigation options, exposing only six top-level landing page links, which serve as an information hub for any particular offering (e.g.,the casino hub allows users to quickly find information on slots, table games, keno, poker bingo, promotions, etc.). It's a guided experience for the website, similar to how CW's concierge service would advise you in person at the destination. The alternative is seen on many other casino and resort websites—a cluttered mess of information to sift through when all you want to find is the operating hours of the buffet.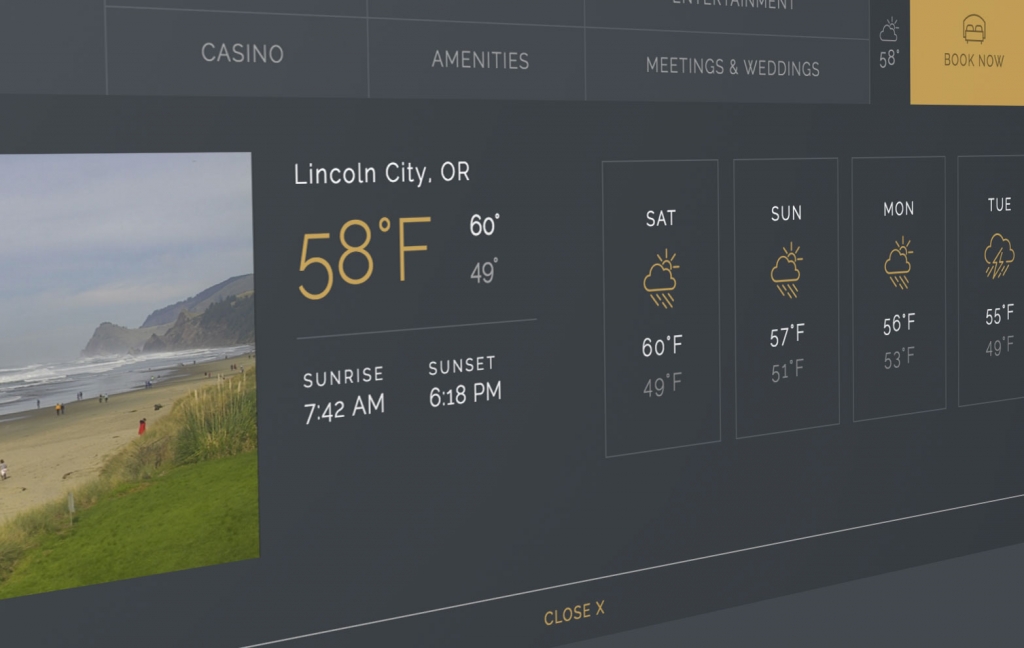 Setting the Scene
When you're planning a trip, especially to the mercurial Oregon Coast, it's important to check the weather. Instead of opening a new window and searching for the forecast, we embedded a robust weather API behind an elegant animation—all within the top-level navigation. Check the five-day forecast, current temperature, highs and lows, and sunrise and sunset, and even take a look at how the beach is looking through a continually updated still image.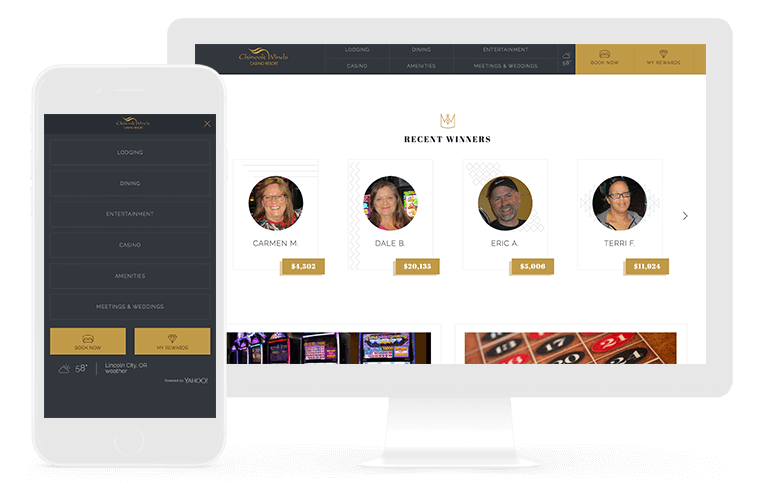 Design
Noting the lackluster, cluttered designs proliferating the tribal gaming industry, marketers at Chinook Winds challenged us to raise the stakes. To start to get a feel, we stayed overnight at the resort, walked the windy coastline in our bare feet, and even lost a few bucks playing slots before we came back to the office to get to work. We quickly realized that the challenge would be to communicate the allure of the laid-back Oregon Coast lifestyle while also revealing the excitement of casino nightlife. The result is an approachable, open design that balances the beach and nightlife while also paying respect to the Confederated Tribes of Siletz Indians of Oregon.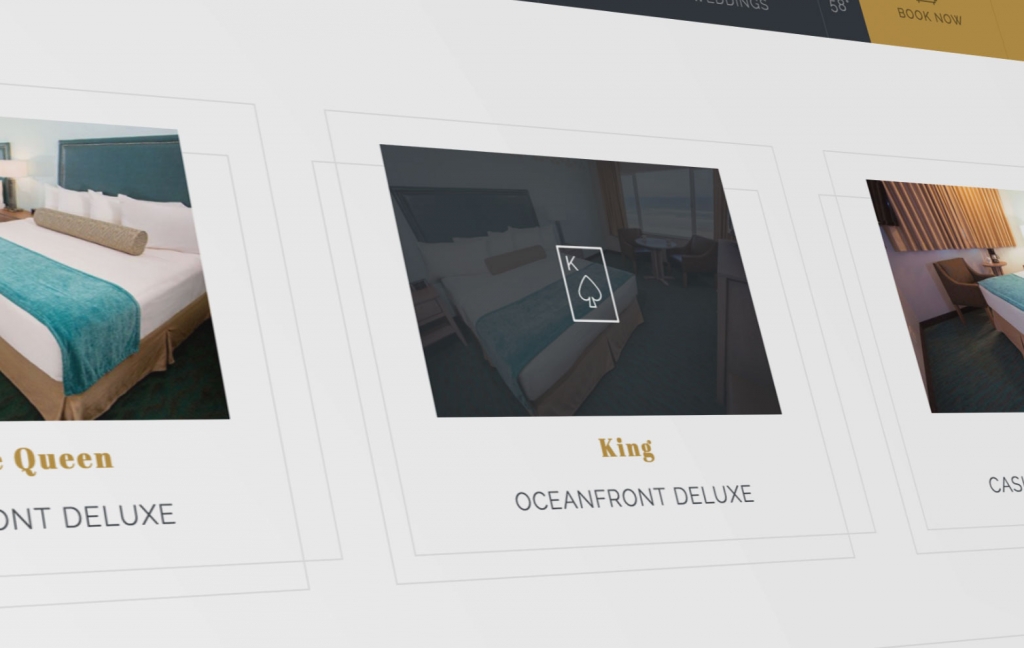 The subtle touches
Take a closer look and you'll notice a lot of little details that take the website to a new level. From clever hover states and font treatments to how certain elements overlap to resemble playing cards fanning out—we spent the extra time to ensure that every element of the design reflected the level of commitment and attention to detail that Chinook Winds extends to their guests.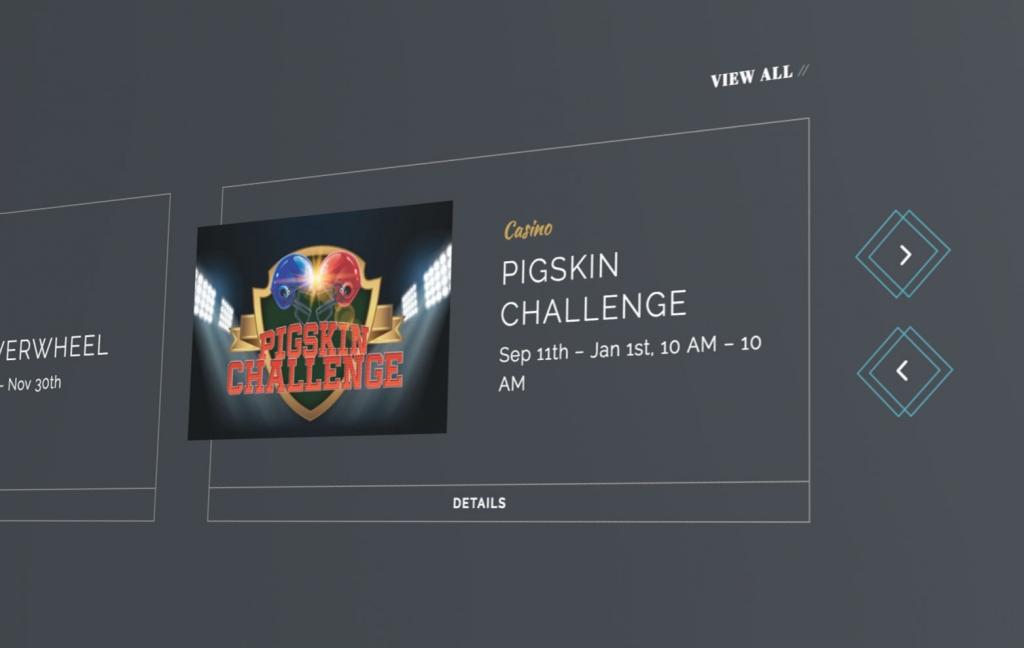 Making everything fit together
Each day, Chinook Winds produces a ton of content. How do you make sure all the promotions, announcements, and advertisements—all designed by different marketers with different styles and priorities—appear on-brand and natural when uploaded to the website? We created elegant containers that force each disparate graphic into the predetermined theme of the site and specific page. Now an MMA cage-match promo feels just as on-brand and natural to the website as the Wayne Brady tour announcement.
Development
Slick designs and intuitive sitemaps don't mean much if the site isn't functional or easy to manage. We took the time to understand exactly how Chinook Wind's marketers will manage and update the site to build extremely detailed global, dynamic content blocks and custom post types. This essentially allows staff with little technical knowledge to add, edit, and remove content from the site easily, in a single location, and have it populate dynamically populate across the website. Need to update the Winner's Circle that appears on a half-dozen pages? Don't update each page; just fill out a few fields, upload an image, and the Winner's Circle is updated across the site.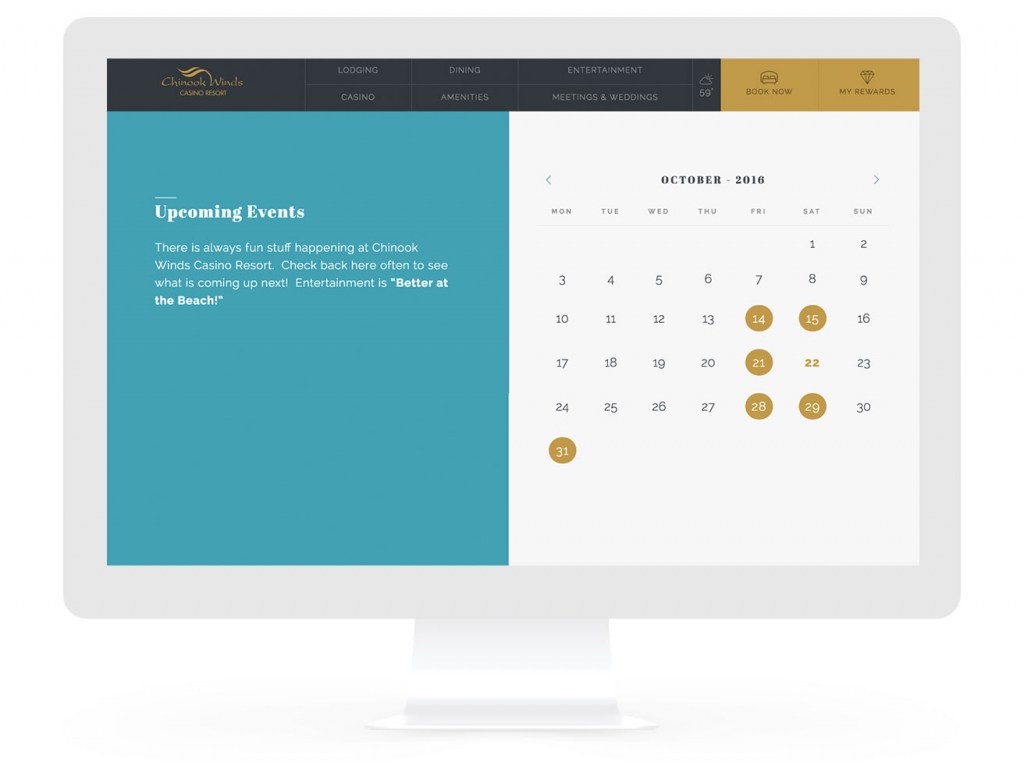 Events Calendar
Chinook Winds is the definition of bustling. Events are constantly starting, recurring, and ending and guests need a way to quickly grasp what's going on, where, and when—not to mention find out more information or purchase tickets. With all that going on, figuring out a way to display specific information in the correct order became a conditional logic challenge, to say the least. However, after careful planning, some trial and error, and a few cases of Red Bull, we developed a solution that allows Chinook Winds to easily drop, extend, and pull events with a series of guided dropdowns and fields.
The Result and Ongoing Marketing
Gaming may be Chinook Winds' industry, but gambling certainly isn't its business model. The coastal resort and casino invested in us in late 2015 to set a new direction for its digital marketing, and we delivered—increasing organic traffic 44 percent in the first year alone. We not only set the bar for Chinook Winds' own marketing going forward but also raised that bar for all other tribal resorts throughout the Pacific Northwest.
Going forward, we're working to make Chinook Winds even more dominant with seasonal campaigns, heatmap testing to influence navigational elements, A/B testing of adword and page copy, and more.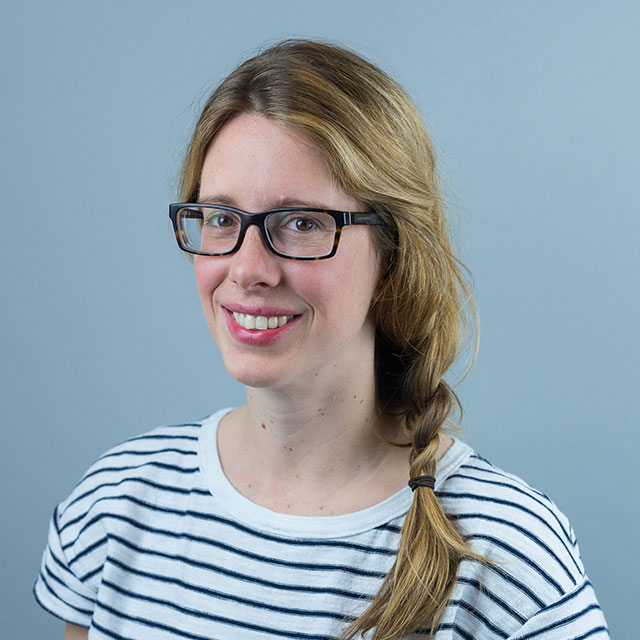 "Visually speaking, the juxtaposition of the beach vs a casino was a huge design challenge. It was essential to capture the charm of the Oregon coast, while adding hints to the excitement of a casino nightlife. The resulting design speaks uniquely to the Chinook Winds Casino. All the overlapping subtle details came together for a big win. "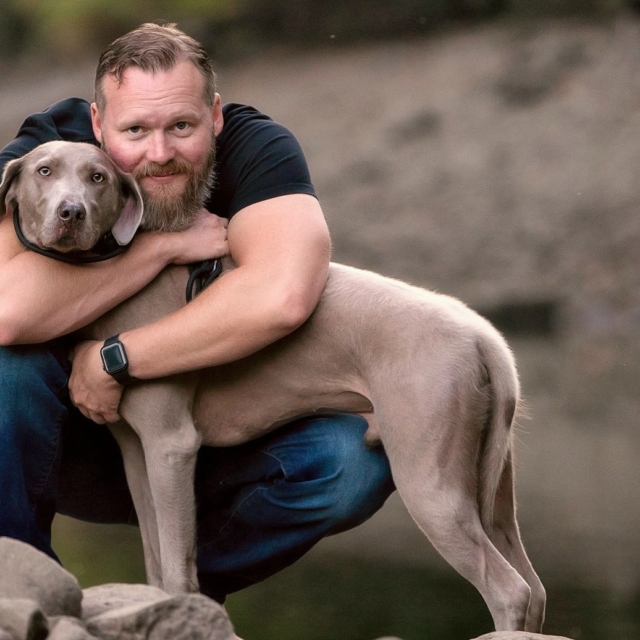 "Chinook Winds was a fun client for me because of their diverse audience. We had to understand the digital preferences not just for the gambler, but for families looking for a trip to the beach, weekend getaways with friends, locals curious about dinner options, upcoming concerts and so much more. Providing an experience that satisfied so many unique needs was challenging but very rewarding."
"Lodging, entertainment, promotions, dining, amenities - oh, and the casino. You name it, they have it. The challenge for building out the back-end for Chinook Winds was figuring out how to allocate all of their assets into a cohesive system that would be intuitive enough for the client to use, but robust enough to encompass everything they needed without inundating them with options. At the end of the day, their CMS is very much a reflection of their business; tons of amazing options, but a clear direction."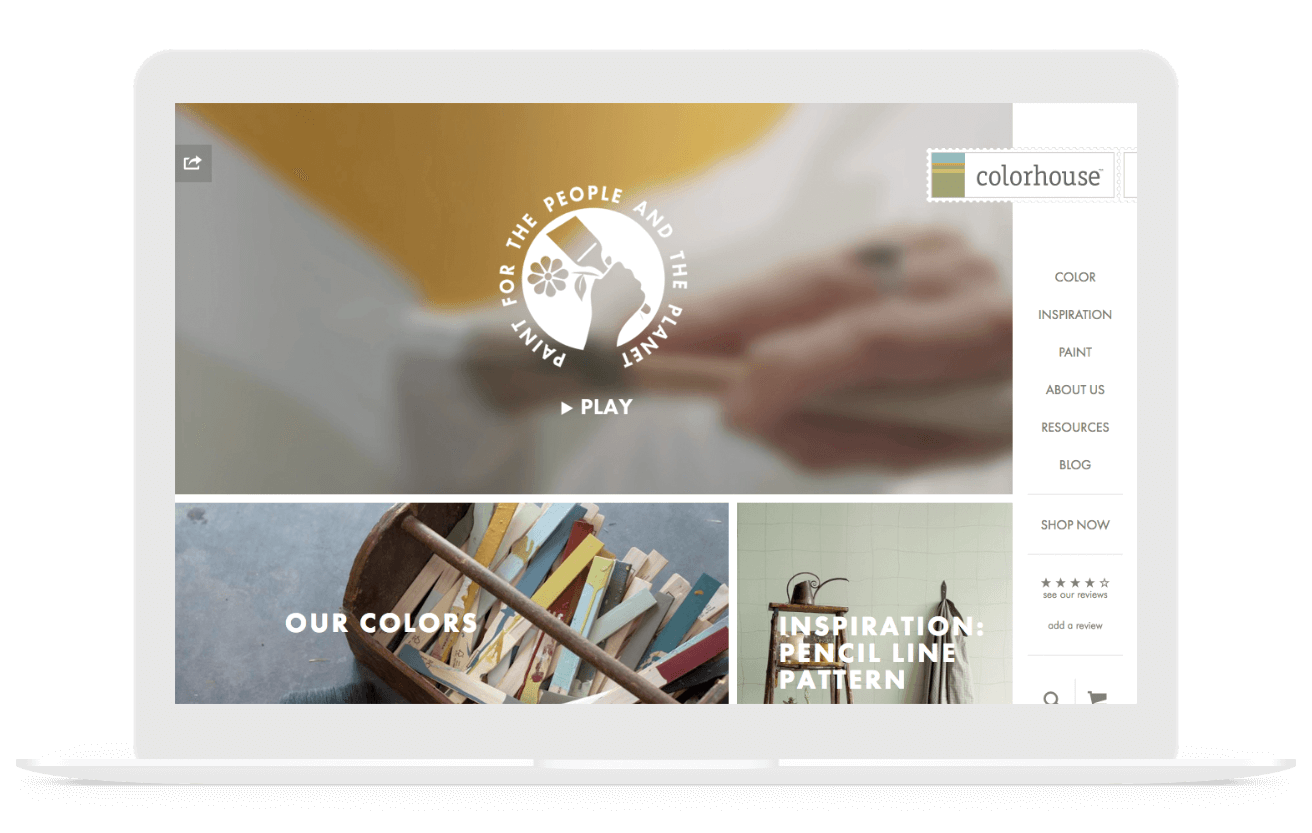 Colorhouse
Inspiring Confidence and Creativity
Everyone from moms to millennials can use this website to envision the artist-crafted palettes throughout their homes, make informed choices, and purchase their perfect eco-friendly color online.
Case Study