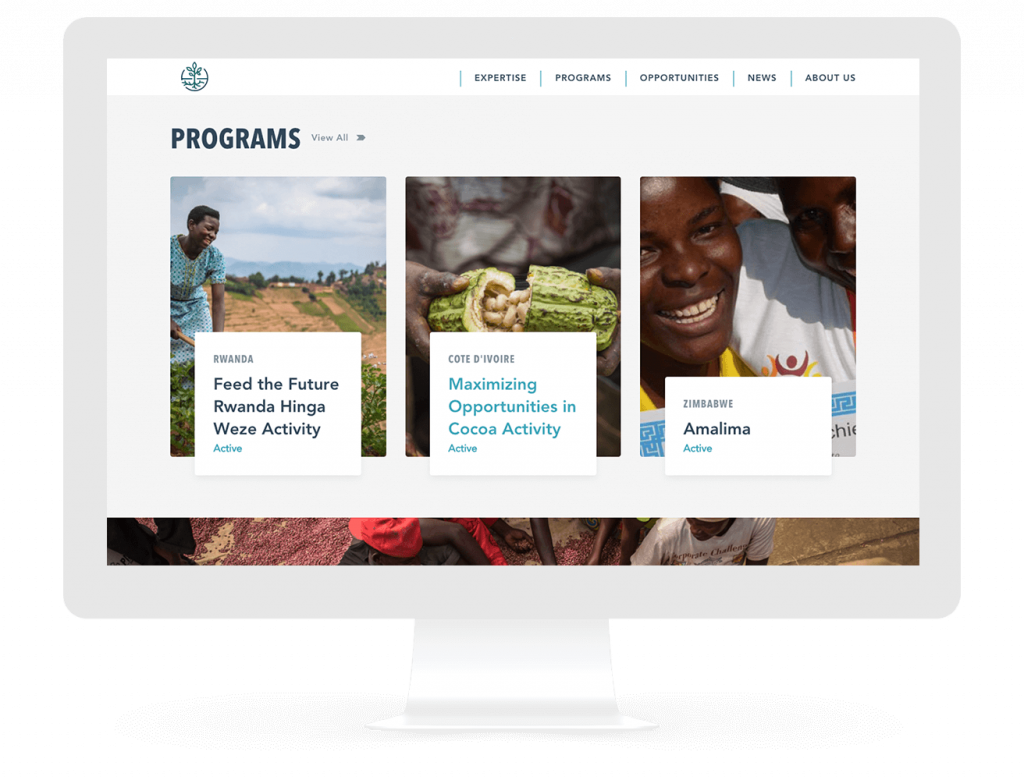 Meet the Client
The world's growing demand for food is shaping agricultural markets and our environment. With populations booming, how do we feed everyone without overwhelming the planet? Cultivating New Frontiers in Agriculture (CNFA) is a nonprofit agricultural development organization working to build sustainable, enterprise-based agricultural initiatives. With offices in 15 countries, CNFA works closely with businesses, governments, and communities to build customized local and global partnerships that meet the world's growing demand for food.
Building on Our Own Foundation
In 2015, we worked closely with CNFA's marketing team to update their brand, rethink their digital strategy, and redesign the website. Since then, CNFA has grown and drastically amplified both their capabilities and how they describe their value. With leadership's wishlists in hand, the new marketing team reached back out to us to talk about their goals and issues with the current website.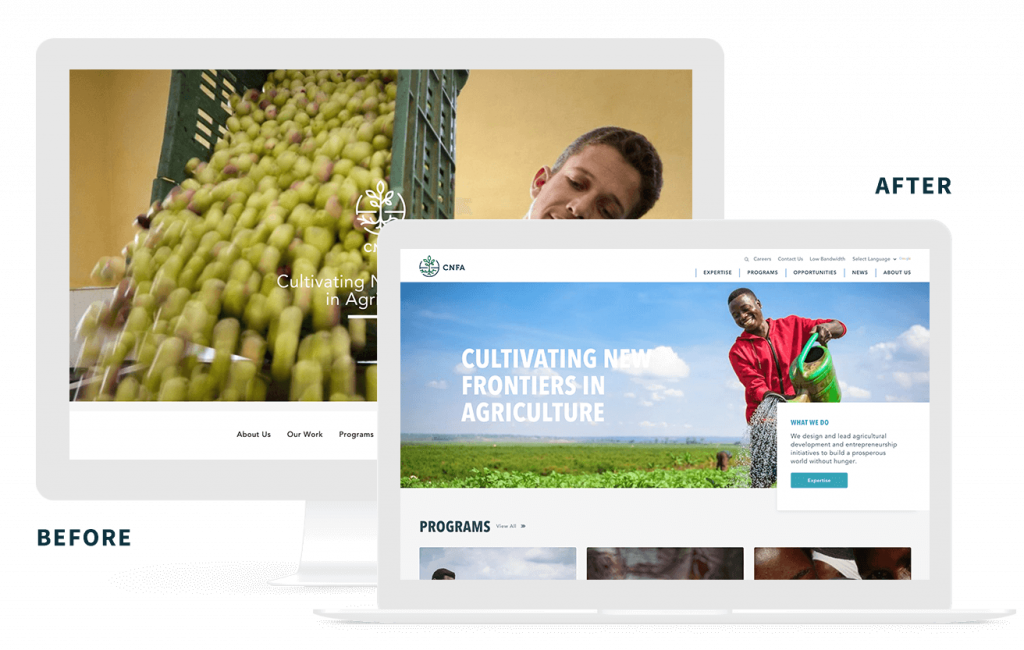 Should we start from scratch with a full redesign?
Nope.
Considering the typical lifespan for a website is 3-6 years, we expected some changes would be needed to keep the organization relevant. Luckily, we built a solid, flexible foundation for CNFA in 2015. Our audits revealed that the site has actually aged quite well, in terms of performance and accessibility—and even search (more on that below). This allowed us to put all our focus into CNFA's needs around offerings, messaging, and crafting a more well-rounded journey through the organization's full value.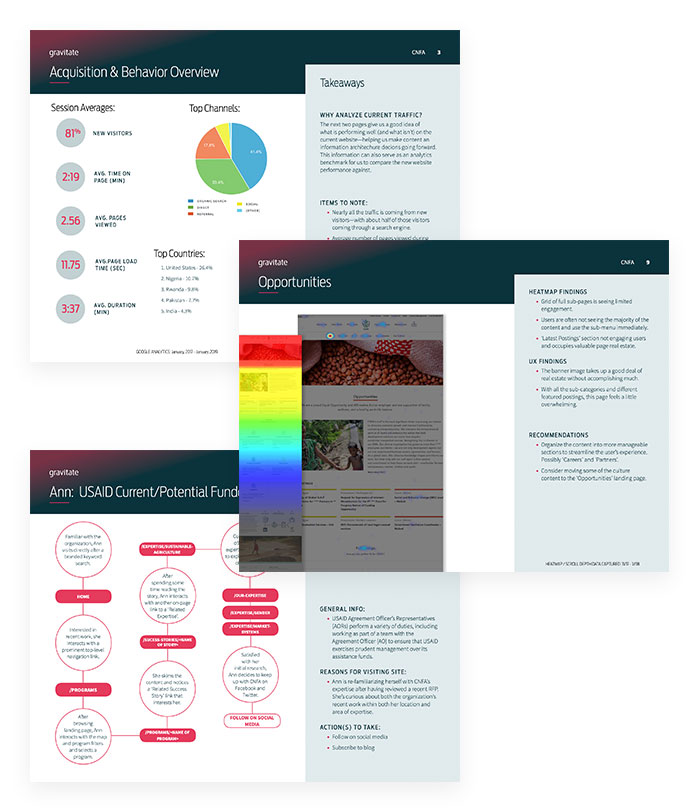 But First, Let's Audit
Bleh, audit. What a dry, pecuniary word to describe our (quite cordial) scrutiny of a website's performance and engagement. Should we call it something else? Anyways, to kick-off, since we were going to be building on the existing website, we dug into the data tracking we originally set up and examined how users are arriving, what content and pages keep users' attention, and where folks seem to be losing interest. The fancy audit terms are listed here, but essentially this process just puts our team in the position to make highly informed content and information architecture decisions going forward.
Acquisition & Behavior Overview
Top Performing Page Analysis
Keyword Acquisition & Maintenance
Scroll-depth and Heatmap Analysis
Design / UX Audit
Content Click-Through Audit
Development / Site-Speed Audit
Prioritize the Journey
Armed with the knowledge of how users are currently behaving, we began to reconsider how each audience flows and digests information and they explore the site. Although CNFA's audiences all share similar messaging needs, the routes they uncover information, credibility reinforcement, and thought leadership can vary dramatically. So, we got to work updating and testing new navigation structures and key page layouts until we landed on something both teams agreed reflected CNFA's current value proposition and global impact.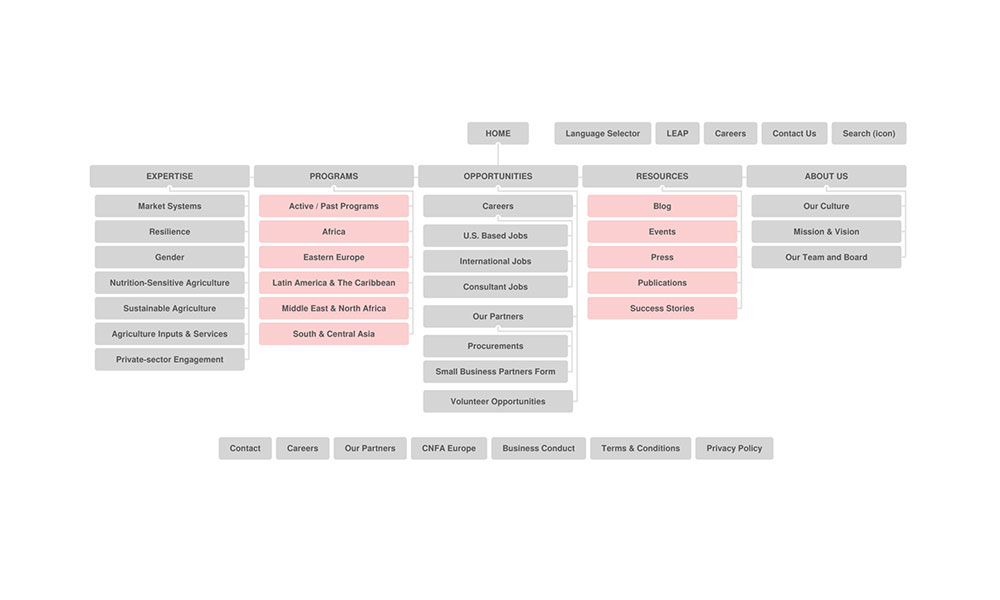 Simplify the structure
One key takeaway from the audits revealed users are forced to dig around a little too much for the most compelling information. Once on the page, users ate up the content but were having a difficult time traversing a web of sprawling content and hub pages that have been added to the site as CNFA has grown through the years. We designed a new sitemap to showcase previously buried content and intuitively organize pages and information as CNFA continues to evolve.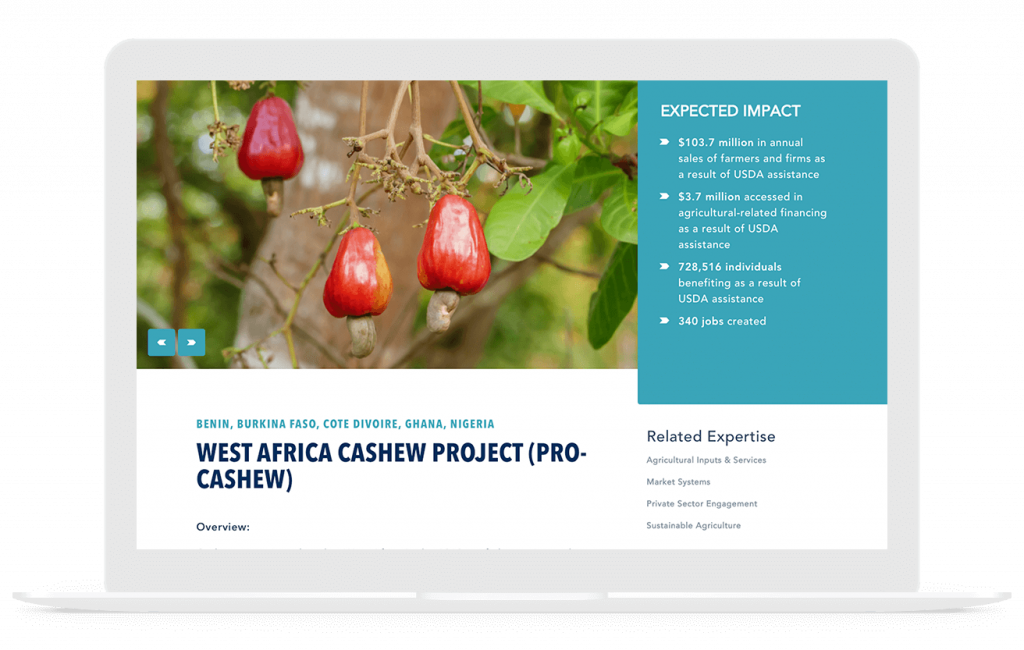 No dead-ends
After reorganizing the sitemap, we redesigned pages to both accommodate new capabilities and allow for natural exploration around associated content. Pages should "talk" to each other and allow fluid transitions between relevant areas of expertise, programs, resources, and opportunities.
Update visuals
To accompany the new sections and structure, we refreshed the design to address our audit recommendations, update the look and feel, and conform to ADA best practices. The result is familiar yet reinvigorating to match CNFAs own approachability and passion.
Results
Marketing priorities and budgets vary drastically across our nonprofit client base. In order to keep pace, some organizations continuously work on their digital properties, while others (CNFA in this instance) only require fewer, more dramatic overhauls. We're proud to have built a foundation flexible enough to allow us to jump straight into strategy without worrying about if the site could handle our new ideas around user engagement and flow.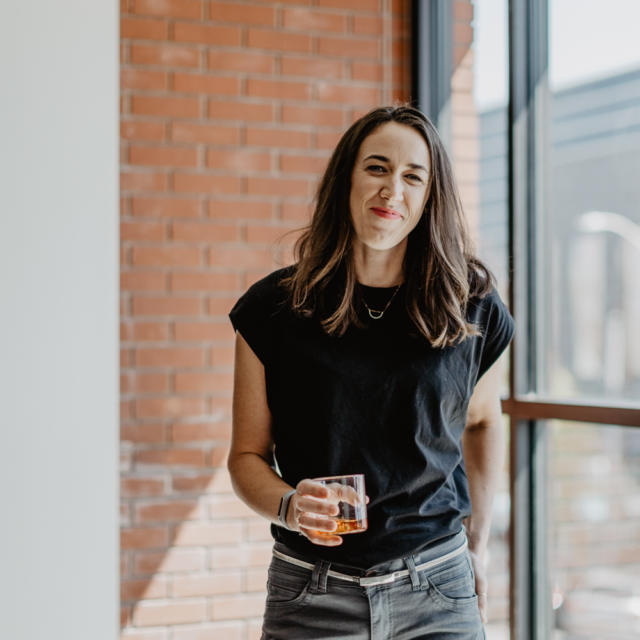 "This project had it all—familiar faces and a familiar framework! We relish the opportunity to re-engage with clients on their digital presence, especially those with a partner-focused, altruistic core mission as CNFA. With this site refresh, we were able to leverage foundational knowledge from our previous engagements to quickly identify the 'low-hanging fruit' to re-align the website structure with CNFA's evolving needs and campaigns."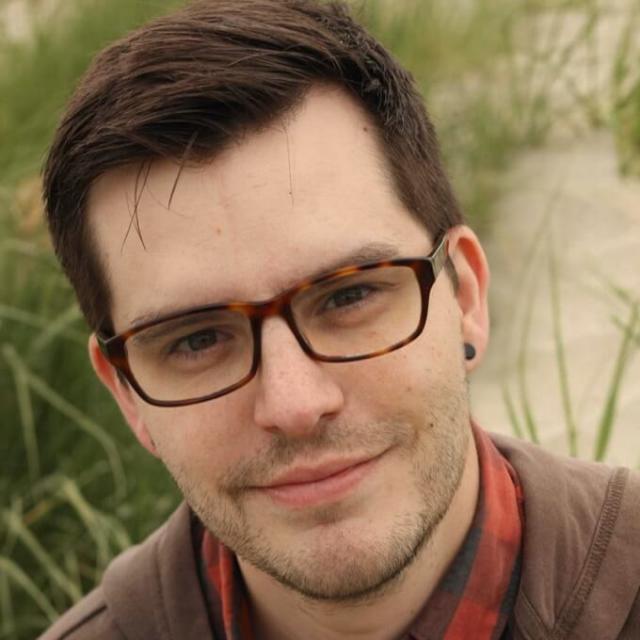 "I always appreciate an opportunity to improve upon our work, even if it's years later. The CNFA site held up pretty well but there was definitely room for improvement. It was nice reconnecting with the non-profit to learn how their needs have changed and how we could update the site to meet those new goals."