WordPress is a powerful, flexible platform for building websites, but with those advantages come some responsibilities to keep your site secure and functional once it goes live.
A significant part of WordPress's flexibility comes from the thousands of third-party plugins and themes available on WordPress.org and across the web. But plugins, themes, and WordPress itself need to be kept up to date to ensure your site is stable and secure. Making these updates on your live website can be a bit daunting, and there are specific aspects that really should be handled by a developer. There's always a risk that even a small incompatibility between your active plugins, themes, and WordPress itself can disable the site entirely.
Below we'll cover how to update and maintain your WordPress installation safely, so you can avoid unnecessary headaches and keep your site functioning for visitors.
How do I know when to update my site?
Generally, it's good to run updates monthly. However, your site may be fine going longer. Updates are easier to complete the more often you do them, as more significant updates equate to more chances for a plugin or theme to be incompatible with other plugins added to the site, and cause an error.
You can check the status of your site updates in a few different places in the Admin Panel of WordPress. They appear in both the top menu bar, and in the sidebar under Dashboard, and you can see the total number of available site updates including all Plugins, Themes, and WordPress itself.

Clicking either link will also take you to a page summarizing all available updates: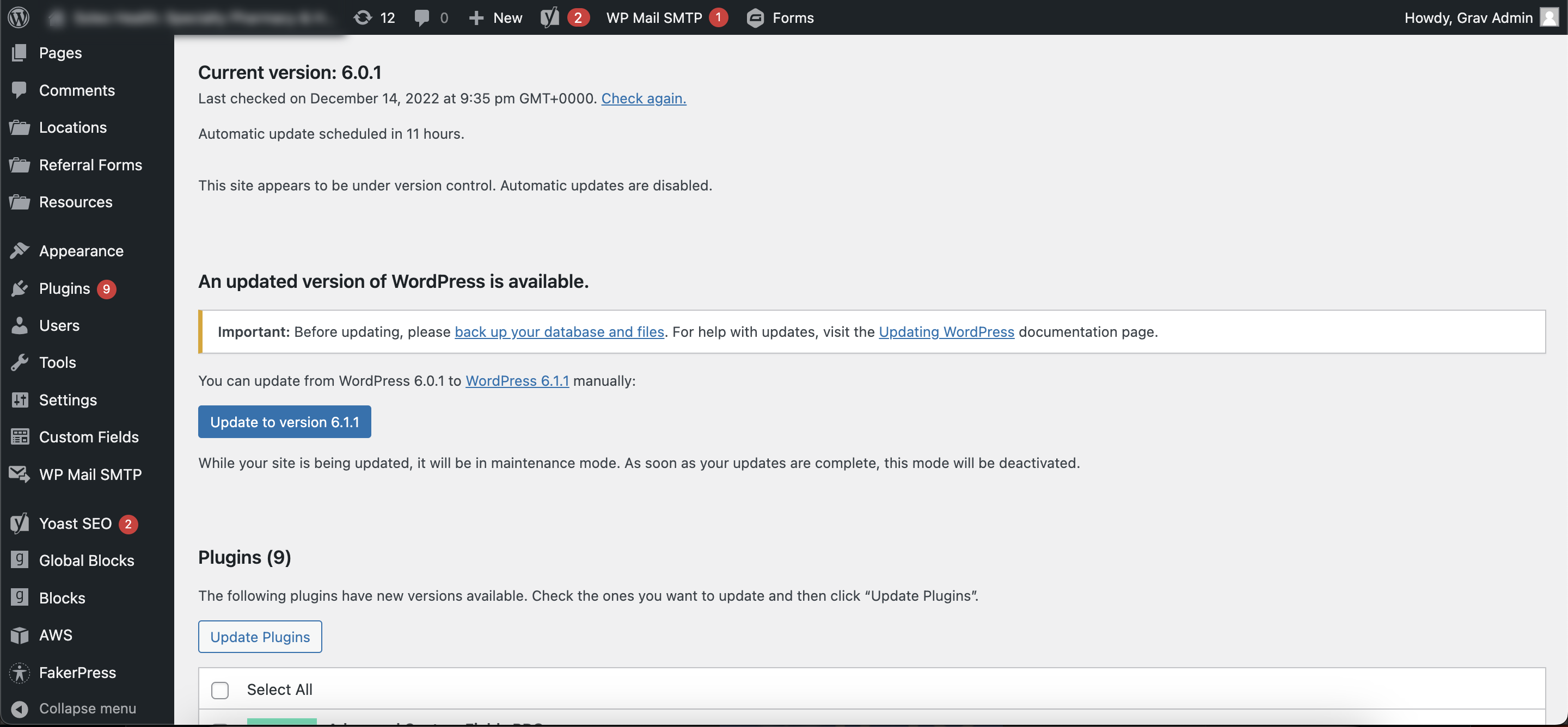 Before we actually run any updates there is one crucial step you'll need to take first.
Creating a backup ensures that even if something goes awry while installing updates you can revert to your saved version and get your site back online right away. The method you use to create a backup will vary depending on where your site is hosted. Since your hosting provider actually stores the data associated with your site, they're the safest bet for creating a full backup. Services like GoDaddy, WP Engine, Siteground, Dreamhost, and more have their own processes for creating and restoring a site from backups.
Plugins require the most updates on any WordPress website, as plugin developers are constantly improving and optimizing them for newer versions of WordPress.
WordPress can be set to automatically update plugins, which is great to keep your site up to date, and save yourself time and effort. The only drawback is that if an update causes an error, you won't necessarily know your site is down if the updates run without you. The easiest way to counteract this risk is by running scheduled backups via your hosting or a plugin like BackWPup. Run backups at least the day before your other updates are set to run and you'll always have a safe point to revert the site to.
Timing updates is important to consider, not just to align with any automatic backups but to make sure you're actually available to respond to any issues that might arise as a result. There's nothing worse than coming back from a long weekend only to discover your site went down on a friday night because of an update gone awry.
Automatic updates for a plugin can be enabled by navigating to the Plugins page in the admin panel and selecting the Enable Auto-Updates link in the top right corner of each list entry:


Updating Plugins Manually
If you choose to update plugins manually, you can run all available plugin updates from the Updates page we took a look at previously, but doing so can be a bit risky. Updating all the plugins at once can cause the same issues as updating them individually, but you won't necessarily know which plugin caused the issue. Updating one plugin at a time while periodically checking the front end of the site for any bugs or errors is the safest, if a bit more time-consuming, method. To update plugins one at a time we can navigate to the Plugins Page: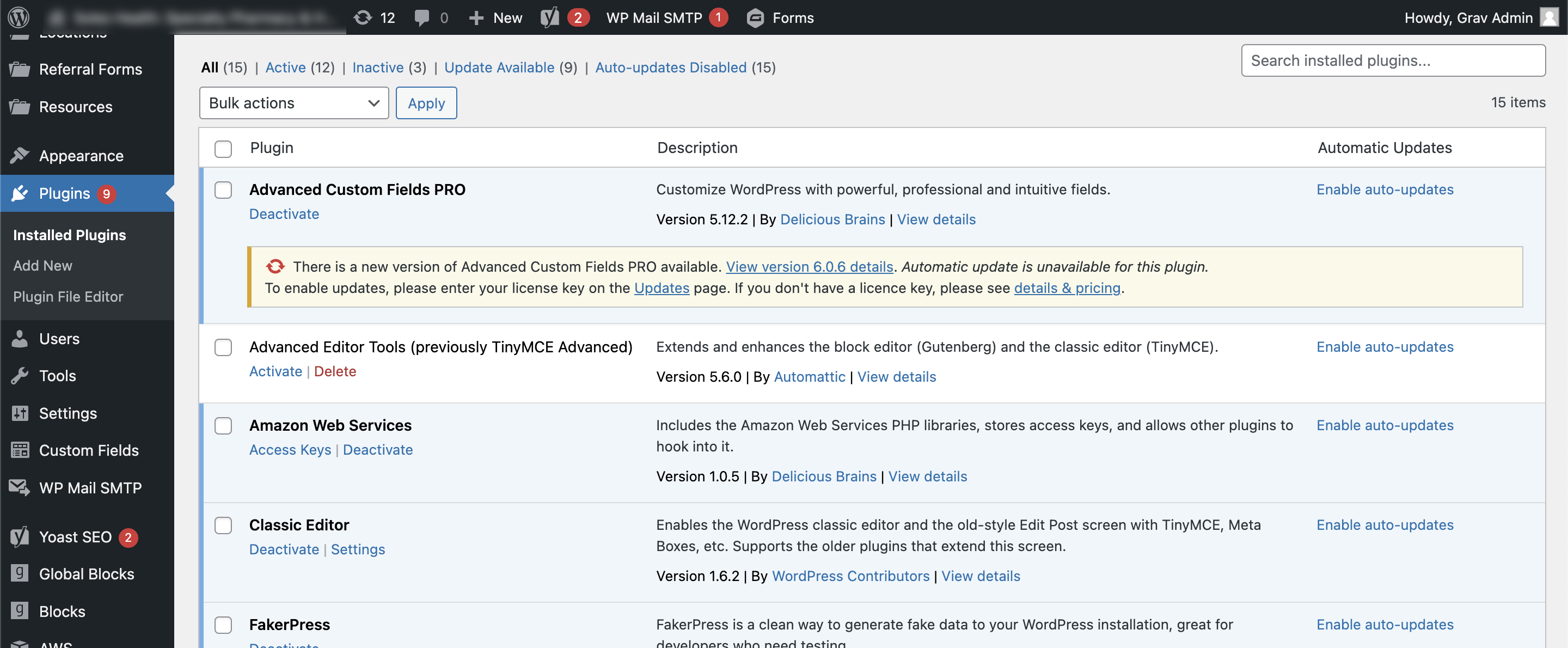 Plugin entries with a blue background and red deactivate link are active plugins. All plugins include a short description, a current version number, and a link to the developer's profile or website. You'll see on each entry in a pale yellow information panel if an update is available, including a link to read about what's been updated, a link to run the update for that plugin, and sometimes additional notes about compatibility with WordPress versions or warnings.

Each plugin entry here is a plugin that's installed on your site, but may or may not be currently active (side note: it's also valuable to remove inactive plugins on a regular basis, because they can also cause issues with your site). Plugin entries with a white background and a blue Activate link under their name are currently inactive, and won't have any effect on your site if you update them or not.

Some premium plugins will require you to manually update them, or require a current purchase code or key to enable updates:

To manually update a plugin, first download the updated plugin in a .zip file from the developer. These are usually located on your logged-in account page on the developer's website under a Downloads or Licenses section. Then on your WordPress admin panel navigate to the Plugins page and select Add New from the top of the page or the admin sidebar: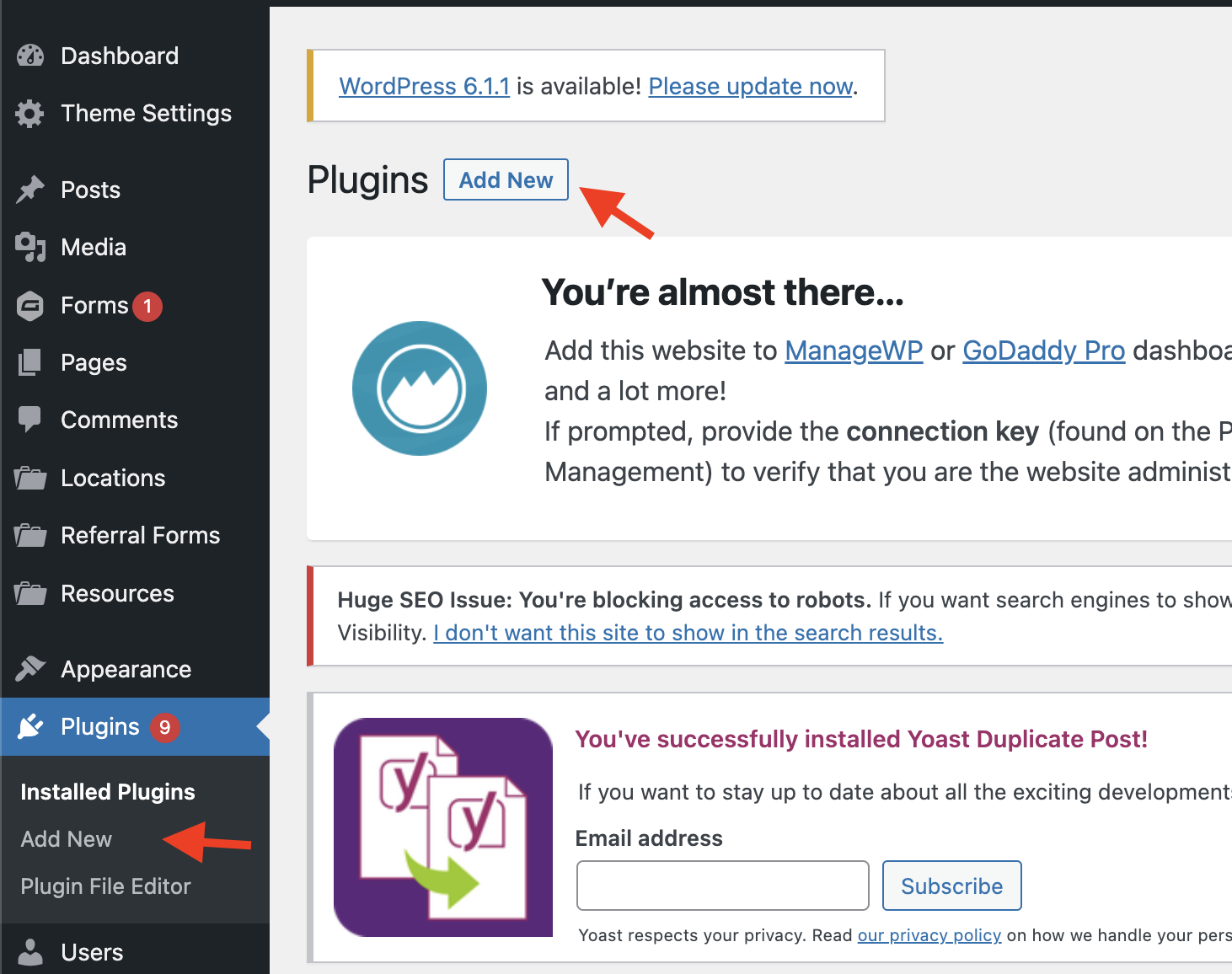 On the next page, select the Upload Plugin button next to the page title and a Choose File button will open up just below any notifications on the page. Here you can select the plugin .zip file you downloaded in the previous step and click Install Now.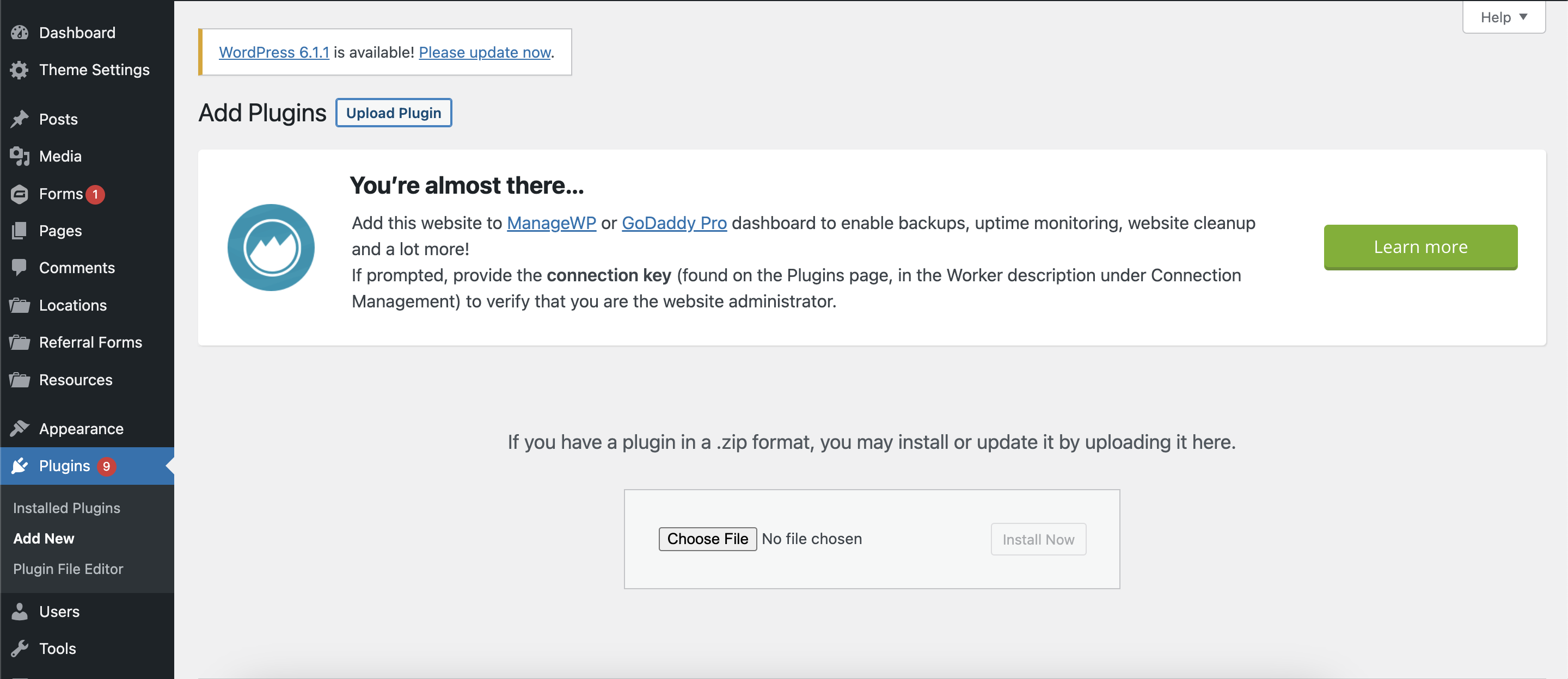 If all is going to plan you should be directed to a page letting you know the plugin you uploaded is already installed, and asking if you want to replace the current plugin with the one you just uploaded. Click the blue button to confirm and you'll be taken to a confirmation page letting you know the plugin was successfully updated.
If you run into any issues while updating a plugin you can often reach out to the developer and enter a support ticket through their website and get assistance. This is especially true of premium plugins which tend to offer more comprehensive support. Restoring from the hosting backup you created earlier is the most reliable way to recover from any errors that completely disable the site.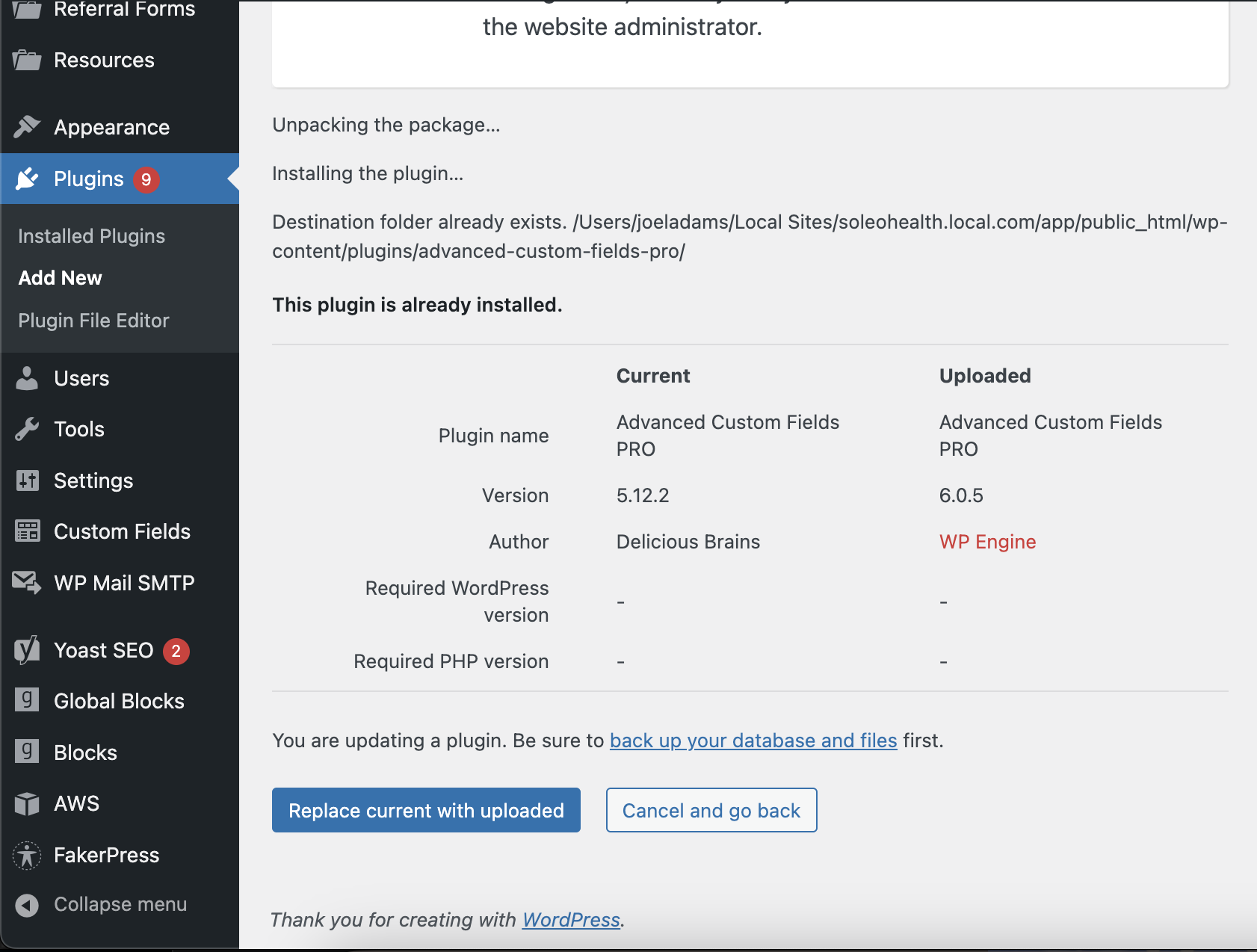 Your WordPress theme dictates a lot of how your site looks and functions, so keeping them up to date is important. Fortunately, this is also one of the easier maintenance tasks to accomplish since you will have only one active theme on a site, so only one thing to update. You can find your installed themes in the admin panel:


Your active theme will be the first on the list with a blue Customize button, with any other installed themes following. If a theme has an update available, it will have a pale yellow notification area at the top of the preview image with an Update Now link. Click the link to update your active theme, you can also update inactive themes at your own discretion.
We've updated plugins and themes, but what about WordPress itself? WordPress developers are constantly churning out new features for plugin and theme developers to utilize, and patching security vulnerabilities. It's worth noting one of the major benefits of using WordPress is that their community identifies security issues quickly, which makes it incredibly valuable. to keep the site's main core WordPress installation up to date.
You'll see notifications on almost every page in the admin panel if an update is available:


Click the Update Now link in that notification, or navigate to the Updates page to find your current WordPress version, a summary of the available update, and a blue Update button:
After clicking the update button your page will load for a while as the update runs. And eventually, it may take you to a status page showing some information about the installation. If everything runs smoothly, after the update is complete you should be redirected to a success page with some highlights of the newly installed version of WordPress:
Now you have the tools you need to keep your WordPress website up to date! Your organization's site is the cornerstone of your online presence and no matter how much you advertise, if your site isn't functional you will miss out on business. Regular, careful maintenance is the best route to keeping your website secure, performant, and accessible for today's technology-minded clients and customers.