Local SEO for Medical Offices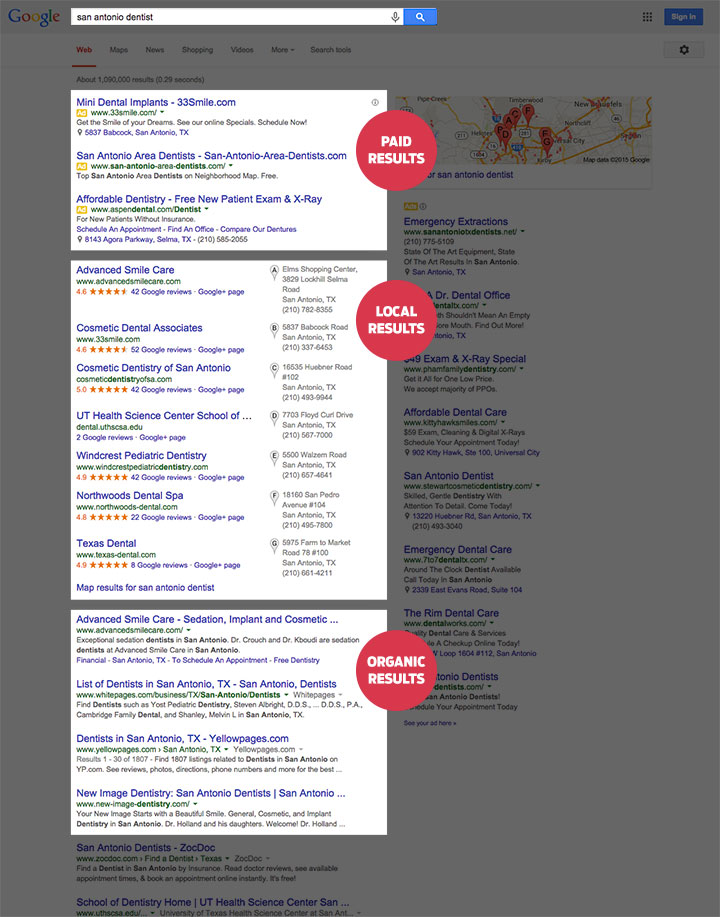 A beginner's guide to attracting patients through local search
There are a few introductory steps to local SEO for your healthcare office or clinic that can ensure your business listing populates when potential patients begin to search for you on Google. Whether you're setting up a business listing for the first time, auditing an existing marketing campaign, or simply displeased with your current search rankings, we can help you set up a solid foundation that will immediately boost your local rankings and allow you to use more advanced SEO tactics in the future.
Is this guide meant for me?
You're in the healthcare field and would like to establish or improve their local online business listings to attract more patients. You know your way around the Internet, but you're far from a marketer or digital strategist. While it helps to be savvy with SEO from the start, even the first-timers will be able to complete these introductory steps to market their medical office or clinic online.
 Step #1: Google My Business
Before Google released Google My Business last summer, managing local listings and content across Google's properties was confusing, even for experienced marketers and savvy practice owners.
The Setup
Does your office already have a listing set up? You can find out by visiting Google+ Local and searching for your business name. If you notice multiple listings you didn't know about, go ahead and remove duplicate entries if you, or your client, is the owner of the listing. If you don't own the listing, here's how to transfer ownership of a listing. You can also add managers (other admins) to the listing by following this tutorial. Keep in mind that changes made to your Google My Business page may not populate in search engine result pages (SERPs) for up to three days.
When setting up the listing, ensure the following:
The Google My Business login email is on the customer's domain (e.g., pete@gravitatedesign.com vs. pete@gmail.com) as well as the email address where customers can contact you
The correct business name, address, and phone number (don't use 800 numbers) are listed
The page is verified (when you log in to your dashboard, you'll see whether the page is verified and the method(s) of page verification—usually by phone or postcard)
The page has accurate, relevant category associations
the introduction description is unique and well written (minimum of 250 words, but shoot for around 400)
The business hours are filled in correctly and completely
The page includes images of the clinic, both inside and out
The profile is 100% complete
Step #2: Website Optimization
Now that you're officially set up on Google My Business, let's move on to some quick local SEO best practice tactics for your website.
Are your hours easily visible?
Potential or current patients who arrive at your website organically may just be looking to see when you're open. Never list your hours within an image, as crawlers from search engines won't be able to read it. If you do have your hours within an image, ensure the ALT tag of the image includes your hours of operation. Lastly, make sure the hours on the website match the hours listed on your Google My Business page.
Is your site structure set up well?
Some of the structure basics include:
The most important content is included in the primary navigation
Every practitioner and service has a dedicated subpage with at least 400 words of well-written, unique content and images
The homepage forms the core of the site, includes the most important value statements for potential patients, and links to every relevant subpage (e.g., /staff, /services, /contact)
The blog is on the same domain as the rest of the site
For multiple locations, each location has a dedicated landing page, and the URL structure includes the location of an office/clinic (e.g., com/locations/dallas)
The site is mobile-friendly and displays the most pertinent information to patients on the go (e.g., contact information and specific location(s))
How well is your content optimized?
The written content is far simpler to optimize than the structure of a website. Some best practices include:
Important information (keywords) cross-linked within the page content
Contact information (phone number and address) is featured in the header and footer of every page
Structured, direct headlines are used throughout the content to allow for quick skimming
Every page has a specific goal or direction (e.g., establish credibility, encourage clicking a call-to-action (CTA), or fill out a form)
The name, address, and place (NAP) match the listing on Google My Business
Step #3: Citations
What are they?
Beyond a Google My Business listing page, search rankings are affected by citations, which are simply a mention of your medical office/clinic with other supporting information, such as your website, phone number, address, or a combination of the three. The clinic owner or staff typically creates citations, but they can be automatically generated from a phonebook listing or data aggregators. While the SEO value of citations seems to be diminishing with every update to Google (especially Pigeon), they still play an important role when you're trying to move up the rankings.
Building citations for local SEO campaigns is a very time-consuming process, and we don't recommend it for amateur marketers.
Citations for beginners
Local listing information feeds from four primary sources—all of which need to be verified to have accurate information for each location. These four sources (along with Google My Business and a few others) supply all the major secured business listings sites with your medical office information (e.g., yellowpages.com, citysearch.com, superpages.com, bbb.org, dexknows.com, and others).
Getting a little more technical with schema markup
Schema is a type of markup, or code, that is added to your website to make it easier for search engines to categorize and identify important information. Schema works to generate optimized rich snippets and improve overall ranking in search—it can even show potential patients extra information in the search results before your link is clicked, such as business hours, testimonials, and detailed information about your location(s). To learn more about schema and how to set it up on your own website, visit our blog entitled Local Search for Businesses.
Step #4: Reviews
A constant flow of positive reviews is vital to the success of any medical office, no matter the size. In fact, review quantity, velocity, and diversity play roles in both in Google's overall ranking factors, as well a major piece of the research-decision process.
How do I generate more reviews?
Consider create printed collateral to be given to the patient during their visit, listing where customers can review you or your medical office—review diversity is good for both patients and search engines, so be sure to offer a variety of places online where patients can review.
Link to your review profiles from your website
Instruct staff to encourage patients to review the clinic after they've been treated
What are popular healthcare-related review sites?
Check these popular practitioner review websites:
Healthgrades.com
RateMDs.com
Vitals.com
Ready to Get Started?
Ready to start a project or really curious about our process? Drop us a note or give us a call (888) 217-9502; we're happy to answer all your questions.
Work With Us