SEO Is Simple, but It Sure Is Difficult.
If you are a part of a SaaS startup and this isn't your first rodeo, then you know just how important SEO can be for a successful digital marketing strategy. If you know how important SEO is to a digital marketing strategy, then you probably also know that it's not easy. For real.
But why is SEO for B2B companies so hard? Is it because it's hard to write content? No. Is it because of resources? Probably not.
We've been a digital marketing agency since 1999 and have been fortunate enough to work with dozens of SaaS companies that have done SEO the right way and have reaped the benefits for years after implementation. There are several approaches to B2B SEO out there, in fact here is our favorite webinar on SEO Tactics for Lead Generation. With that being said, the following content strategy has worked for our own agency and many of our clients.
What are winning startups doing differently with SEO?
From our perspective, it really boils down to two things:
Commitment to creating content consistently for a long period of time.
Clarity on what they are creating, how they are creating it, and why it matters
1. Commitment: B2B SEO Strategy Basics
Getting buy-in from your company to commit to content creation and SEO during your infancy can be tough. No startup can afford to waste valuable hours in marketing, so it's important that leadership understands the context of how SEO and content creation play into the broader B2B marketing playbook.
In a typical B2B strategy, SEO will mostly serve as a top of funnel traffic driver that you will convert to a gated asset and eventually nurture to your highest value conversion (likely a free trial or demo request).
Check out this graphic below for an idea of how organic search plays with other digital marketing tactics in the ecosystem.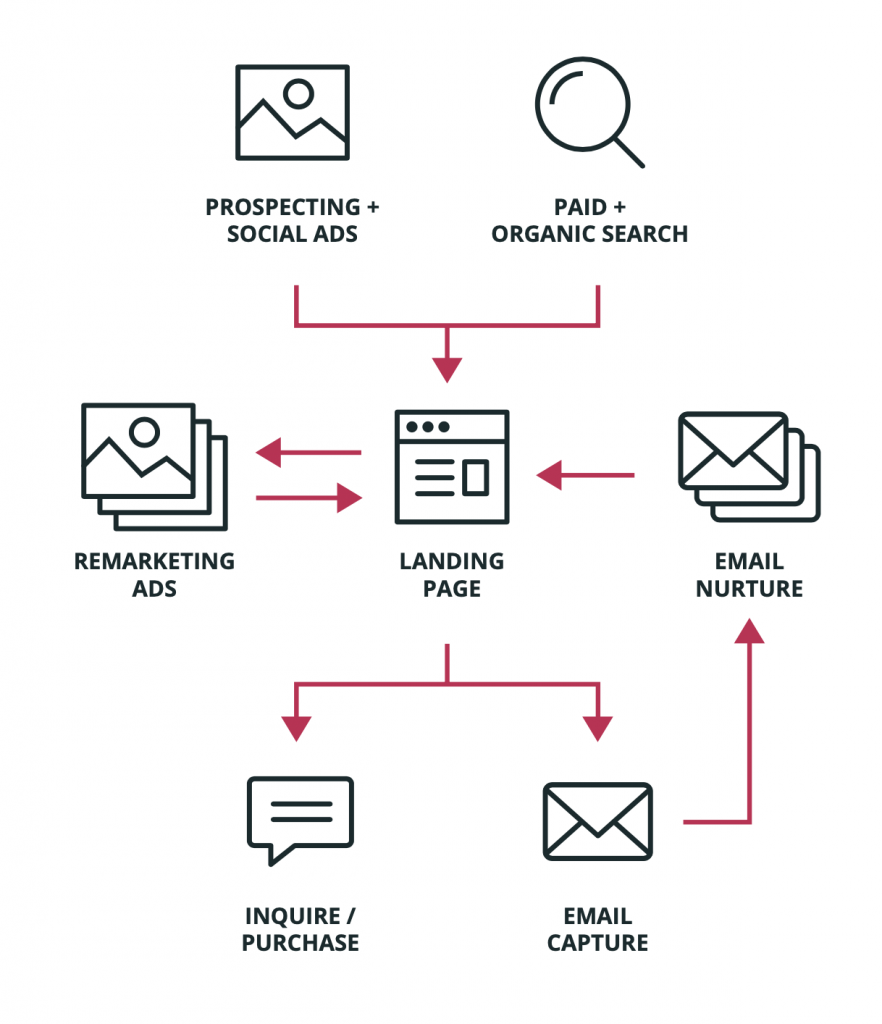 2. Clarity: The Winning Content Strategy
While we could immediately dig into personas, competitive analysis, and keyword research… all of these tactics should follow a broader strategy. In addition, all of the research will go to waste if proper resources and processes are not in place to support the content pieces being recommended.
To keep things simple, we think that any piece of content that's created on the website can probably fall into one of these three buckets:
Blogs & Baby Pages
Gateways
Gated Assets
---
Blogs and Baby Pages
Blogs and baby pages are longer tail content pieces that are important to driving site traffic and authority so the site can rank for the broad terms that matter most. You can think of this category as our catchall for anything that is not an evergreen primary service or solution page (gateway). Blogs and baby pages extend into your secondary personas and should be in the ballpark of your industry or offering. Blogs are usually more topical or opinion based while baby pages are typically evergreen micro-content pieces.
Check out this graphic to get an idea for how blogs and baby pages support our primary gateways:
See below for examples of content objectives, types, and what will drive traffic to these pages:
CONTENT OBJECTIVES:
– Drive Volume for Remarketing
– Establish Authority
– Nurture to Gated Assets
CONTENT TYPE EXAMPLES:
– Topical Insights
– Thought Leadership
– Niche "How To" Guides
– Announcements + PR
– Research Findings
– Gated Asset Overviews
TRAFFIC DRIVERS:
– Long-Tail Organic Searches
– Newsletter
– Social Media
---
Gateways
Gateways are high-value evergreen content pieces that center around your core offerings, verticals, and industry terms. These pieces of content can be longer form and are often supported by related blogs, baby pages, and gated assets. The primary goal of these pages is to rank for competitive and often broad search terms, bringing the most qualified organic traffic to the site.
CONTENT OBJECTIVES:
– Drive Organic Traffic
– Nurture to Gated Assets / Demos
CONTENT TYPE EXAMPLES:
– Educational Pages
– Hub Service Pages
– 101 / Overview Content
– "What is ______?"
– Verticals
– Personas
– Industries
– Tools
TRAFFIC DRIVERS:
– Broad Organic Searches
– Internal Navigation + CTA's
---
Gated Assets
While gated assets don't often rank in search engines, they are an important part of the overall SEO strategy. Calls to action should be sprinkled across our blogs, baby pages, and gateways to lead users to a relevant gated asset.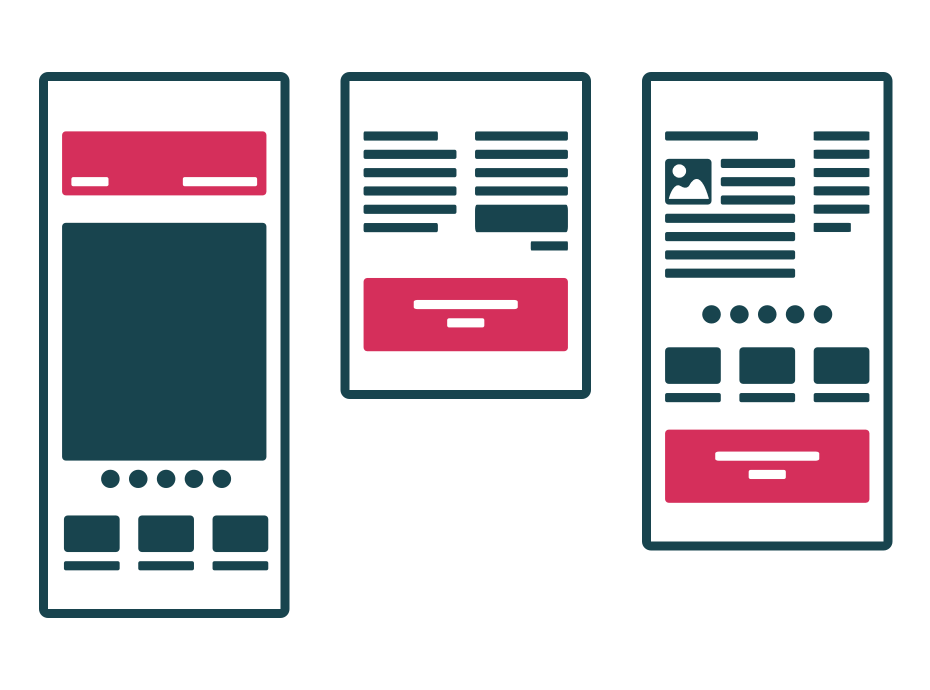 This is often considered to be a mid-funnel conversion that can be nurtured through email and remarketing, eventually leading to your highest value conversion of a demo or trial.
CONTENT OBJECTIVES:
– Build CRM
– Gather Emails
– Nurture to Demo
CONTENT TYPE EXAMPLES:
– Research Reports
– Guides
– Checklists
– Templates
TRAFFIC DRIVERS:
– Internal CTA's
– Remarketing
– Performance Campaigns
In closing
Software-as-a-service startups need to operate lean, being efficient, and effective in their marketing efforts to be successful. In our experience, a solid content strategy with the right SEO tactics implemented is the right way to go for sustainable inbound leads and site performance.
With that being said, you can take a shotgun approach with your content or you can take a research-backed approach that will allow you to create a fraction of the content with the same results (or better). We prefer the latter.
Many B2B companies are fighting an uphill battle against the competition in the search results and will require additional care with on-page, technical, and off-site SEO considerations. SaaS startups should commit to a content strategy, make strategic decisions about what to write first, and implement SEO best practices to knock the ball out of the park. Sometimes this means finding the right partner, drop us a line, and let's discuss how to take your SEO initiative to the next level.
FAQs
Our favorite SEO tool for content strategy is SEMRush for keyword research and competitor analysis. In addition, we'd be remise not to mention Moz for backlink research and of course Google Search Console for technical maintenance and performance.
If you are in startup mode with your business – SEO may be newly on your radar. If you're a non-marketing executive, it probably isn't even on your radar. At the end of the day, a well-executed SEO content strategy drives more leads. Period. Demystify SEO with your executive team and create a winning content strategy for your SaaS startup. After all, if it didn't work, this blog post wouldn't exist. (-:
In our opinion, there is never too early of a time to start with SEO. In reality, marketing needs to have priorities, especially in the startup environment. With that in mind, start with SEO when your product is ready to be commercialized and you know at least one of your target customers very well.