Google rolled out another new feature in December 2015 called Smart Goals that was aimed at helping to improve conversion tracking. Now that users have had a few months to learn it and form an educated opinion, it's clear that Smart Goals is even more useless than "Active Users."
Google's Inside AdWords blog pitches Smart Goals as follows:
The Smart Goals feature applies machine learning across thousands of websites that use Google Analytics and have opted in to share anonymized conversion data. From this information, we can distill dozens of key factors that correlate with likelihood to convert: things like session duration, pages per session, location, device, and browser. We can then apply these key factors to any website. The easiest way to think about Smart Goals is that they reflect your website visits that our model indicates are most likely to lead to conversions.
It sounds fancier than it is. This new feature is only useful for advertisers who can't figure out how to:
set up goals in Analytics,
enable event tracking in Analytics, and/or
import Analytics goals into AdWords.
As Greg Finn discusses in his article on Marketing Land, anyone with any type of sophistication should not use Smart Goals—it's simply the "better than nothing" option.
It sounds like Google's goal was to help small businesses, brick-and-mortars, or local shops without contact forms or e-commerce. However, session duration, pages per session, and bounce rate can often be too vague to pinpoint true conversion behaviors.
If you want to check out Smart Goals for yourself, you need to have an AdWords account connected to Google Analytics with at least 1,000 clicks in the last 30 days. There are two options for accessing the feature:
Activate Smart Goals from the Admin panel under Goals : 

Preview your Smart Goals data before enabling in the Reporting panel under Goals: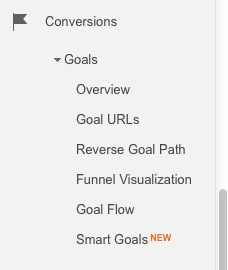 Meanwhile, popular issues like fighting click fraud or finding a simpler way to perform multi-session analysis remain unsolved.