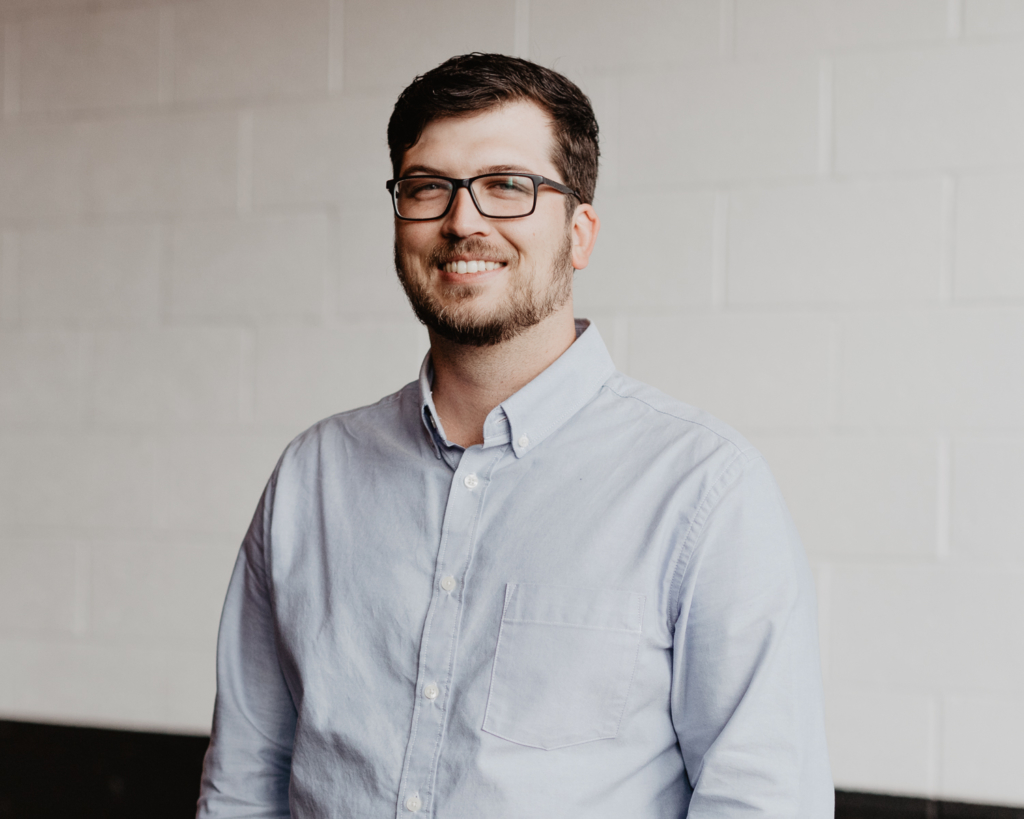 Welcome Austin!
Austin is a PDX transplant from Mississippi. He is a tortured Ole Miss fan and loves good food. He became a dad in 2021 and immediately began reading books about polar exploration and military history. When he's not reading a book, watching Survivor, changing a diaper, or quoting the Office, he is helping clients crush their goals and keeping everyone aligned.
With over five years of digital marketing experience under his belt including both in-house marketing and agency experience with B2B SaaS, higher ed, and dealerships, he's helped build websites, e-commerce stores, and digital marketing strategies while wearing copywriting and account management hats.
He takes his coffee black and his whiskey neat unless he's ordering a pumpkin cream cold brew or an old fashioned.
The team asked, Austin answered.
When you're not at work, what's your favorite way to spend your time?
I love spending time with family and friends over some great food or coffee.
What's your favorite show? What do you like so much about it?
The Office. I feel like I grew up with it and my sense of humor was really shaped by it. Its smart and funny and real. Hate Scott's Tots though, such a rough episode. I think the episode when Michael grills his foot is the perfect episode.
If you could have an unlimited supply of one thing, what would it be and why?
It's a tie between patience, time, money, or coffee. I'm a dad.
Who influenced you as a child, other than your parents?
Siblings, friends, mentors, teachers, coaches, and our church. I'm thankful I had great ones across the board.
How do you proceed when there's no right answer?
Wow. Didn't expect a question like this but I love it.
You may not use this but I want to play along without weirding anyone out.
I'm not a pure utilitarian or consequentialist. The ends don't always justify the means and my ability to understand outcomes is limited. Scenarios without a right answer hopefully mean I have multiple good options instead of several bad ones. I lean on wisdom from other people and make the best choice I can. If it can make something unpleasant go by quicker or limit unpleasantness for myself and others, I'll choose whichever path that accomplishes that. If it's several good things, there's usually something I'm more drawn to or excited about than others.
After lots of talking, my wife is usually right and we go with the thing she said originally.
Tell us about your most recent obsession.
I got obsessed with perfecting homemade red beans and rice for a college football watch party. I think I nailed it. The trick was pork jowl bacon.
Describe your "perfect meal."
The perfect meal was on my honeymoon in Hawaii three years ago. We ate at Moana Surfrider on Waikiki and got the best table with an amazing view of the sunset. I had an incredible ribeye steak and an old-fashioned. They gave us dessert on the house for our occasion. It was the conclusion to the day we drove a jeep around the island with the top down. It was epic.
If you could teleport anywhere in the world, where would it be and why? 
I would teleport back and forth OR to MS so my kiddo could see his grandma.
How long would you survive in a zombie apocalypse?
I would probably be the one who unknowingly kicks it off.
Tell us two truths and a lie: 
I was on the bass-fishing team in high school.
I was on the archery team in high school.
I was on the golf team in high school.
Okay, now tell us which one of those was a lie and how you came up with it: 
The bass-fishing team came after I graduated and I wouldn't have been good enough for it anyways. I wanted it to match/hide my archery one which is true.
Name something super overrated. Why?
Hiking. It's just glorified walking.
Now- What do you think is under-rated?
Hiking. It's so much more than just glorified walking.
What's on your bucket list?
Going back to Italy and showing my wife around Rome.
Starting that food truck finally.
Writing a book.
If you could replace your arms with other objects for a week, what would you pick?
Robotic arms? Winter solider arms? Wings? Idk, arms are hard to do better than.
What's the most useless talent you have?
Probably more like useless knowledge/ability to quote the Office.
Now what about your most useful talent you have?
I got in trouble for talking in physics class and the teacher said, and I quote, "Austin, can you stop? Okay, I understand you will probably not get paid to do physics. You'll get paid to talk and probably a lot of money. But, can we just focus on physics right now?"
She wasn't right about the money thing but right about the talking thing.
What do you do differently than most?
I think I was brushing my teeth incorrectly for 24 years.
Tell us about your new role – what are you most excited about?
I'm an account manager. I'm excited to keep growing in client-relationship management and digital marketing skills. I'm even more excited about learning the project management portion of website development.
What is your favorite part about your role at Gravitate?
If I do my job well, my coworkers and clients look great. I like the working-for-other-people's success thing.
Any parting quotes, thoughts, or lines of poetry?
I'm nice
I'm smart
I take things to heart
From MS to PDX
I try to bring my best
IMC is the degree
Account Management has been the journey
Digital marketing feels like home
Website development looks like the next stone
Meetings and notes
Clients and jokes
Quoting shows
Memorizing orders
Anecdotes
From B2B in house
To higher ed up town
Through a B2B agency
At Gravitate finally
Hotty Toddy
Parks and Rec
Downton Abbey
Diagon Alley
From the shire
To the mountain
Back again
The office was where it all began
It was on my helmet as a kid
As a joke for my friends
All in all
Now I see
A self-fulfilling prophecy
Tater I was
Tater now I am
My name is Austin, the new AM