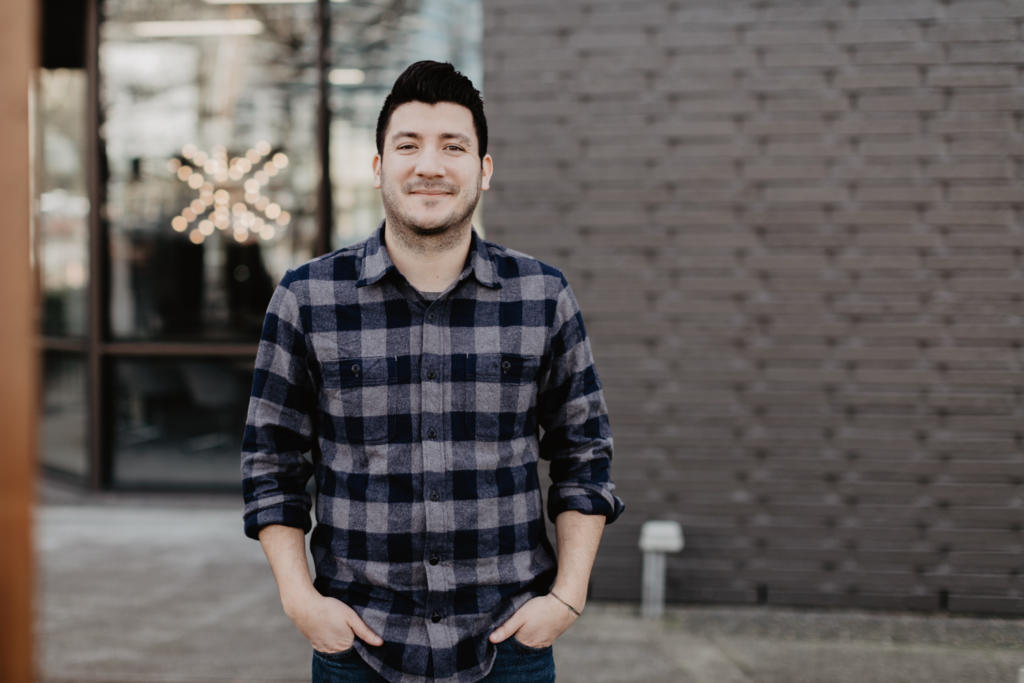 Welcome (back) Chris!
Join Chris on a walk downtown, and you'll find he's stranger to few (seriously – allot extra time in your java run to account for all the waves and neighborly life updates). Chris is also no stranger to Gravitate, having sported both the Project Manager and Web Producer roles for four years on staff. The outside experience Chris has since garnered with B2B and B2C clients bolsters the [already] deep pool Chris draws from to lead teams month over month with calculated and contingency plans. Expect a splash with him at the helm, and expect to have a darn good time along the way.
The team asked, Chris answered.
When you're not at work, what's your favorite way to spend your time?
I love spending time with my wife and daughter, doing yard work / house projects, playing soccer, camping, and socializing over an ice cold beer.
What's your favorite movie? What do you like so much about it?
This is a toss up between Bad Boys 2 and Big Daddy. See Flynt Johnson for reasons why.
If you could have an unlimited supply of one thing, what would it be and why?
Shrimp. I feel like there can never be enough shrimp.
Who influenced you as a child, other than your parents?
My cousins. My cousins were my best friends growing up. We were always there for each other, encouraged each other, laughed and cried together.
How do you proceed when there's no right answer?
Explore my options and look for the best possible outcome.
Tell us about your most recent obsession.
My daughter. I've been obsessed with her first 11 months and look forward to being obsessed with everything she does from here on out.
Describe your "perfect meal."
I'd say a thanksgiving meal. I forget that you can make mashed potatoes, brown gravy, and green bean casserole anytime of the year but there's just something special about that time of the year. I get so excited about those specific items. You can hold the stuffing and cranberry sauce. No room.
If you could teleport anywhere in the world, where would it be and why?
Oaxaca. I've been fortunate to see a lot of Mexico but have always wanted to go to Oaxaca. They are famous for their food, markets, and most important, Mezcal.
How long would you survive in a zombie apocalypse?
Really depends if we are talking Romero's Dawn of the Dead zombies or the remake.  I'd like to think at least a little while either way.
Tell us two truths and a lie: 
I've eaten 14 burgers in five days.
I've eaten 27 jumbo coconut shrimp in one sitting.
I finished 3rd in the Clark County Fair hotdog eating contest.
Okay, now tell us which one of those was a lie and how you came up with it: 
I did not finish 3rd in the Clark County Fair hotdog eating contest.
Name something super overrated. Why?
Hazy IPA's. Why ruin a good thing. They are to beer as Migos is to rap.
Now- What do you think is under-rated?
Appreciating that some people don't like jumping right into cold bodies of water in the summertime. The Pacific Northwest is filled with some of the most beautiful rivers and lakes but just because it's hot outside doesn't mean that the water isn't ice cold. Some of us need a little more acclimating time than others.
Fire, 3 interesting facts about you?
I was born in Mexico City
I have no known allergies
I can still land a 3 flip after a lot of attempts
What's on your bucket list?
Travel more and get better at playing music.
If you could replace your arms with other objects for a week, what would you pick?
I'd like to explore why Cosmo Kramer would have liked shoehorn hands. That or Spiderman arms with web capabilities.
What's the most useless talent you have?
I can find a Seinfeld quote for just about any situation.
Now what about your most useful talent you have?
I can make a friend out of anyone.
What do you do differently than most?
I find that I can learn a lot about strangers in a short period of time. I love to meet new people.
Tell us about your new role – what are you most excited about?
I'm extremely excited to be back at Gravitate and working with such a talented team specifically with our growth accounts.
What is your favorite part about your role at Gravitate?
Getting to know the people that make up an "account." Learning about them, their business, their goals. Supporting them month over month with a calculated plan and any curveballs they throw my way.
Any parting quotes, thoughts, or lines of poetry?
"I hate when people say 'those were the days'; Well what are these then?"
Dr. Dog