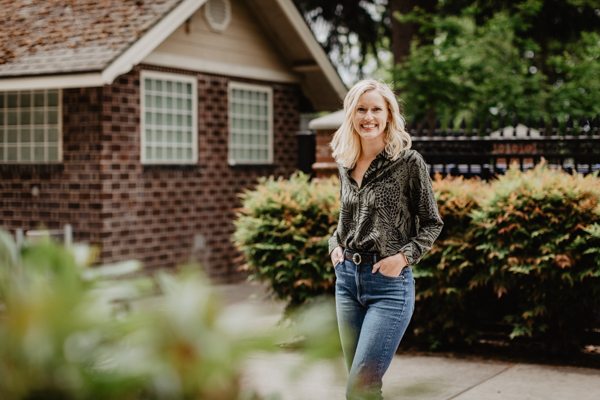 Welcome Julianne!
Ask Julianne what she's reading, where she just traveled, and where her dog (Harry) just traveled, and you'll get a fresh response each week. She keeps her mind sharper than Tillamook cheddar with an unquenchable appetite for trying new things, and only a fool would challenge her to a note-taking duel.
The team asked, Julianne answered.
When you're not at work, what's your favorite way to spend your time? 
I love to spend time in the outdoors – hiking, swimming, golfing, paddle boarding – you name it! Last year, I adopted my dog named Harry and he goes with me on almost all my adventures.
What's your favorite movie? What do you like so much about it?
There are so many good movies out there! I'll say 'When Harry Met Sally.' The movie highlights love in a way where friendship is built first, and then their romantic love forms over a longer period of time. They use humor as a way to connect, have ups and downs just like the rest of us, and throughout their journey, they build trust and love.
If you could have an unlimited supply of one thing, what would it be and why?
This is a tough one. Right now, I'd like an endless supply of a service that cooks a fresh breakfast of my choosing every morning and also cleans my kitchen after I cook dinner to give me more quality time with my loved ones.
Who influenced you as a child, other than your parents?
My sisters – who are everything to me. A huge part of who I am is due to their sparkling and hilarious personalities along with their patience with me, and their wisdom. My aunts and uncles also influenced me heavily – I was really lucky to grow up with aunts and uncles who were all very different, but all made a point of spending time with me and helping me learn about the world in their own ways. They are all so creative, funny, and very interesting! They all make me feel like I can do anything.
How do you proceed when there's no right answer?
If possible, I try to bring someone into the obstacle who can help me with their own skills that I can't bring to the table. If that doesn't work, I lead by being transparent about the issue at hand and go from there. The goal is to be solution-oriented and collaborative.
Tell us about your most recent obsession.
Hiking with my dog on the beautiful trails here, and purging my home of things I don't need anymore in a sustainable way.
Describe your "perfect meal."
My perfect meal is made of food that's right from the area where I'm eating that meal – like tasting blueberry pie made with blueberries from the farm down the street, trying fish caught right in the harbor I'm sitting in, or gumbo spiced with peppers grown by the staff.  I love trying food that's made with local resources and flair.
If you could teleport anywhere in the world, where would it be and why?
Right now, I'd love to visit the Great Barrier Reef – aqua water, warm air, but also incredible sea life to swim and float with. It would also give me an opportunity to see Australia – I've never been and I'd love to visit.
How long would you survive in a zombie apocalypse?
Based on what we have already packed for any camping trip, or natural disaster – i.e. water, gear, food – probably at least a few weeks.
Tell us two truths and a lie: 
1. I was born in Los Angeles, CA.
2. I'm a certified Scuba diver.
3. I ran a race in San Francisco dressed as Wonder Woman.
Okay, now tell us which one of those was a lie and how you came up with it: 
Many people think I was born in LA because I'm from there, but I was actually born in San Francisco, where my parents met.
Name something super overrated. Why?
Reality TV shows
Now- What do you think is under-rated?
How important creativity and imagination are when learning the fundamentals of business.
Fire, 3 interesting facts about you?
I've been skydiving and bungee jumping. I'd do only one of those again.
I started a book club in 2019 with classmates from my MBA program and we still meet monthly even after 3 years.
For one month, I lived in the wilderness where I spent two weeks kayaking down Desolation Canyon (Utah) and then rock climbing to different sites in Wyoming. It was a guided trip with a group I didn't know at the beginning, but knew very well at the end of that month.
What's on your bucket list?
Too many things to count! I'll narrow it down to three:
Drive across the USA and visit some of our National Parks and major landmarks.
Visit Africa – more specifically Kenya where I could see animals like elephants, lions, giraffes and more in their natural habitat.
Go on a trip/retreat or start a venture that helps a cause I care about – build a farm for an underprivileged community, start an organization that advocates for women's health, save a specific kind of animal species, the list goes on.
If you could replace your arms with other objects for a week, what would you pick?
Right hand: paint brush. Left hand: tray of different paint colors to use with the brush.
What's the most useless talent you have?
I'm good at remembering birthdays, but this includes many people who aren't in my life anymore – people from my high school, old coworkers, etc.
Now what about your most useful talent you have?
I'd like to think I can talk to anyone about (almost) anything.
What do you do differently than most?
I make an effort to listen and engage with people that are very different from me – in backgrounds, beliefs, and ambitions when given the opportunity. It's important to me that when I have a conversation with someone they feel heard.
Tell us about your new role – what are you most excited about?
I'm the newest Account Manager here at Gravitate. I am most excited about getting to know the talents of my fellow coworkers, and also learning more about Gravitate's diverse set of clients. The onboarding process here has been about getting to know the team and I love how much Gravitate values that. I'm also excited to learn more about all the parts of web/tech/entrepreneurship/small business that I don't know about.
What is your favorite part about your role at Gravitate?
Learning about new businesses and the incredible ideas that are out there in the world right now. I love that my day as an Account Manager here at Gravitate is always learning about something new. There are some incredible companies out there we get to work with, and with leaders who are brave enough to start an enterprise they're passionate about. We get to help them make it the best it can be. Plus there are so many different types of businesses out there. Learning about these ventures is a great way to learn about the world as well.
Any parting quotes, thoughts, or lines of poetry? 
"Imagination is at the heart of everything we do. Scientific discoveries couldn't have happened without imagination. Art, music, and literature couldn't exist without imagination. And so anything that strengthens imagination (reading certainly does that) can help us for the rest of our lives." ~Lloyd Alexander