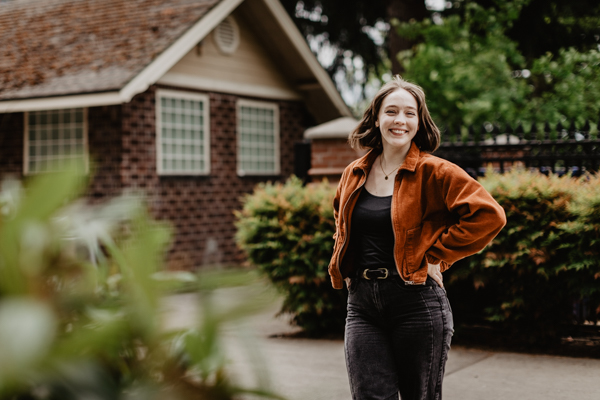 Welcome Rachel!
Catch Rachel hanging from the ceiling while practicing her moves during an aerial exercise class on the silks or lyra. She has a passion for all things K-pop, Lady Gaga, dance and her Siamese cat, Sammy. Not only is she nimble, but has also dabbled in powerlifting (double the protein in her Chipotle bowl). Don't worry, there's plenty of balance displayed during working hours while she nimbly supports both paid search and paid social efforts for clients.
The team asked, Rachel answered.
When you're not at work, what's your favorite way to spend your time?
I like to play video games, spend time with my cat, and take care of my axolotls.  I am also a (very) amateur aerialist, so twice a week I get up in the air and practice aerial silks and aerial hoop. For me, it combines my favorite aspects of dance, strength, and flexibility!
What's your favorite movie? What do you like so much about it?
My two favorites movies are Coraline and Spirited Away. I've loved both of them since I was young. As a kid, I resonated with the main characters, and loved watching their coming-of-age journeys. They now both hold a lot of nostalgia for me.
If you could have an unlimited supply of one thing, what would it be and why?
Nectarines! They're my favorite fruit, and they're only in season for a short period of time. I take full advantage when they're available, but I wish I could have quality nectarines all the time.
Who influenced you as a child, other than your parents?
This was more into my teen years, but my dance coach made a big impact on me as I was figuring out who I was. She struck a perfect balance as a leader – she expected a high level of commitment and dedication, but she was also someone I felt comfortable learning from and going to for life advice. Even when we were winning and getting trophies, she constantly reminded us to have humility, and that nothing is guaranteed without hard work behind it. She taught me the difference between being cocky versus being confident. Even though it's been years since I was a competitive dancer, I still think about her often and apply what I learned to my everyday life.
Tell us about your most recent obsession.
"Stardew Valley" on the Nintendo Switch! It's a relaxing game where you run a farm, get married, and befriend the town. It's just the coziest way to spend some free time.
Describe your "perfect meal."
Pasta always has, and always will be, my favorite meal. I love cheesy pastas, but I am lactose intolerant. My perfect meal would be a delicious cheesy pasta that doesn't hurt my stomach after.
Tell us two truths and a lie:
I have one younger sister.
I've never been on a cruise.
I've lived in Portland my whole life.
Okay, now tell us which one of those was a lie and how you came up with it: 
The first one is a lie! I am the younger sister. I have one older sister, she's almost six years older than me. I'm bad at lying so I just said the opposite of a truth.
Name something super overrated. Why?
Top sheets. They are just too thin, cold, and move around too much. Now I have a stack of top sheets that came with my bed sets in my cabinet that never get touched.
Fire, 3 interesting facts about you?
One of my closest friends is from Australia, and we met on Tumblr in 2011 because we both had Disney-themed Tumblr blogs.
I broke my nose when I was 11, and it stayed broken for 10 years until I got corrective rhinoplasty at 21.
I have double-jointed elbows.
What's on your bucket list?
I would love to see the pyramids and the Parthenon in my lifetime. Even as a kid, I was always fascinated with ancient studies, I'd love to spend some time in both Greece and Egypt to just hang around in museums and walk around ancient sites all day.
What's the most useless talent you have?
I have weirdly flexible shoulders, so I have never needed anyone's help in zipping up a dress. I don't wear dresses with zip-up backs often, but when I do, I got myself covered.
What do you do differently than most?
I get a lot of satisfaction from making lists and charts for myself, even outside of work. For certain video games,  I'll make my own checklists on how to finish the game with 100% completion. I made a weekly calendar to display in my bathroom that mapped out which skincare products I was supposed to use on which days. When times get chaotic and uncertain, these lists make me feel just a bit more grounded.
Tell us about your new role – what are you most excited about?
I am coming on as a Digital Coordinator and helping out with digital advertising! I am most excited to learn about facets of digital marketing I haven't worked in before, and continue to develop my skills that I already have a foundation in.