A common goal for marketers and CEOs is to increase traffic to their website. However, all too often, digital marketing efforts follow the path of traditional SEO strategies.
But traditional SEO strategies suck.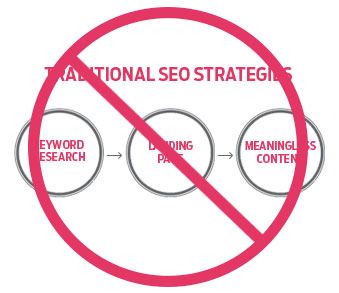 It is still important to select keywords with a high average monthly search volume, have a targeted page, and include the keyword in certain on-page elements. But just creating a page with meaningless content to please web crawlers (part of traditional aka ancient SEO tactics) is no longer an effective tactic for marketers who want to see positive results in traffic and search result positions.
Strategies need to be enhanced by creating valuable content that users want and by creating content that converts. This requires marketers to understand user intentions and know what types of content the user is looking for. This information will enhance any keyword strategy or digital marketing campaign.
What Is User Intent?
User intent simply refers to the information that users are looking for. If a user was searching for "plants," he or she might be looking for information about what plants grow in the shade, or where to buy plants locally, or for a library of plant species. Generally, a user goes to Google with the intention to:
Learn something.
Do something.
Go somewhere.
The content to support each of those searches would be very different. If the page has been designed without an understanding of the user's intent, the right content may not be included, causing users to leave the site unhappy.
This means that when planning what keywords to target in your digital marketing campaign, you want to be sure to ask the following questions:
What content would best address my users' intent?
What content will my users find the most useful/interesting/sharable?
How to identify User Intent
There are a few different ways to identify user intent. One way is to use Google itself.
In order for Google to maintain and increase its revenue, it needs users to use its search engine. But users will only continue using Google's search engine as long as Google produces accurate results that answer or address each user's question or intent.
Google's Matt Cutts states that Google generally updates its algorithm once a day in an effort to provide a great user experience and provide users with accurate and useful search results.
To use Google as a tool for understanding user intent:
Identify which is the best keyword to target.
Perform a Google search for the targeted keyword.
Review at least the top five results and look at the content on the pages that rank high.
Record the results; note what types of content most commonly appear at the top of Google's results for that keyword.
This will give you a sense of what content users are looking for when they search for a particular keyword or phrase.
For example, a user searching for informational content may search for "best plants for the shade" and find results that include a library of plants that can be planted in the shade, with photos and supporting information.
On the other hand, a user who wants to know how to plant might search for "best ways to plant plants," and would find step by step instructions about planting, with supporting photos.
Google is not the only tool available to you when you are trying to identify your user's intent. You can also:
Browse your help center or industry-related help center.
Browse industry-related FAQs.
Talk to your client-facing team members, especially the sales team, because they face the most common questions.
Set up a site survey.
Once you identify the user's intent, brainstorm different types of content that you and your team can create that will be better and more valuable to your users than what has already been created.
Remember that the content on the website isn't for you; it is for your audience.
Example of Keyword Strategy with User Intent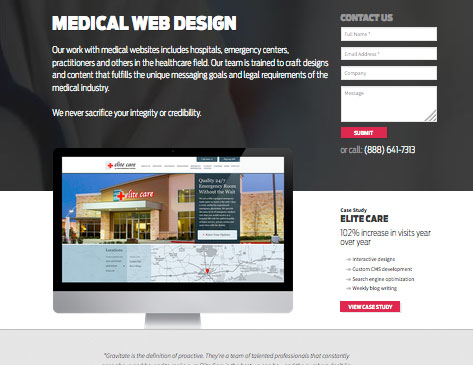 When Gravitate wanted to break into a new industry, we created a gateway to our website targeting the medical vertical. This gateway included a keyword focus landing page targeting the search term, "medical web design." When we searched for this term on Google, we found results that included multiple medical websites featuring medical information and case studies, making this more of an informational search.
This told us that users were looking for examples of medical web designs, possibly to inspire trust and/or inspiration. We wanted to be sure that we included this kind of informational content on the site, but felt that this content would only live in the awareness stage of the buying cycle.
We then made sure to include supporting content that addressed the user's search for a service and added content to guide the user through all the stages of the sales cycle (research, comparison, selection).
Since launching this gateway, we've seen our rankings increase to page one, and often to the top two positions, depending on search term that is used. We've seen both an increase in traffic and an increase in medical-related leads. We've also continued adding content and related articles to generate new internal links for bots to crawl and for users to see as they read that content.
To learn more about this digital marketing case study, click here: How We Used Vertical Marketing to Enter a New Industry.
Please share this post, and, if you have any questions, leave a comment below.