If you're a nonprofit marketer—or just wear a lot of hats at your nonprofit organization—you know that budgets and resources are constantly stretched thin. It can be difficult to engage with your audience online, let alone drive traffic and donations to sustain and grow your organization. We're also betting that you know about the huge opportunity Google Grants can provide. While the adwords program comes with a few limitations, following best practices and a few tips can help you use that monthly $10,000 budget effectively to recruit more volunteers and attract more donation.
And yes, you read that right. The grant is effectively worth up to $10,000 a month in free ads for your organization, but the average nonprofit only manages to utilize a little over $300 a month. Let's not only figure out how to use the program—let's figure out how to use it more effectively.
Google Adwords explained
To understand Google Grants, you need to have a grasp on Adwords in general, so let's start there. Google Adwords is a program that gives anyone an outlet for online advertising. Businesses create text-based ads and select related keywords they wish to rank for within the search results (SERPs).
For example, PJ's coffee shop in Portland, Oregon might want its ad to appear when folks search for "cold brew coffee." PJ's could then bid on the ad space that appears when someone searches these terms. Since ad space is sold to the highest bidder, and bids are made on a cost per click (CPC) basis—this results in the most in-demand keywords being the most expensive.
PJ's would be better suited to select more specific variations, such as "best cold brew coffee in portland." These long-tail keywords will not only drive more qualified traffic to your site, but they're also typically much cheaper than generic terms. While simplified, this example is essentially why targeting the perfect keywords in your Adwords account is so vital (more on that later).
Google Ad Grants explained
Google Ad Grants makes up one-fifth of Google's suite of nonprofit management tools. Essentially, the program gives qualified nonprofit organizations $10,000 USD of in-kind advertising credit every month. Now the pressures are lifted from nonprofit marketers attempting to keep operating costs low while advertising effectively online.
GOogle Ad Grants: Quick Facts
Bids are capped at a $2.00 cost per click, which  means you need to keep your keywords extremely targeted. Building a strong list of audience-specific terms and long-tail keywords is very important to the success of each ad.
Google will only allow a maximum of $329/day—which means it's intended to be a long-term boost to your online presence, not to be used for ramp-up marketing or promoting special events.
There's no saving up credit, or carry over, month to month.
Ads can be changed at any time, and there is no cost for creating additional alternative ads. This way you can experiment, measure, and learn—quickly and effectively.
Ads are text-only (no display or "banner" ads).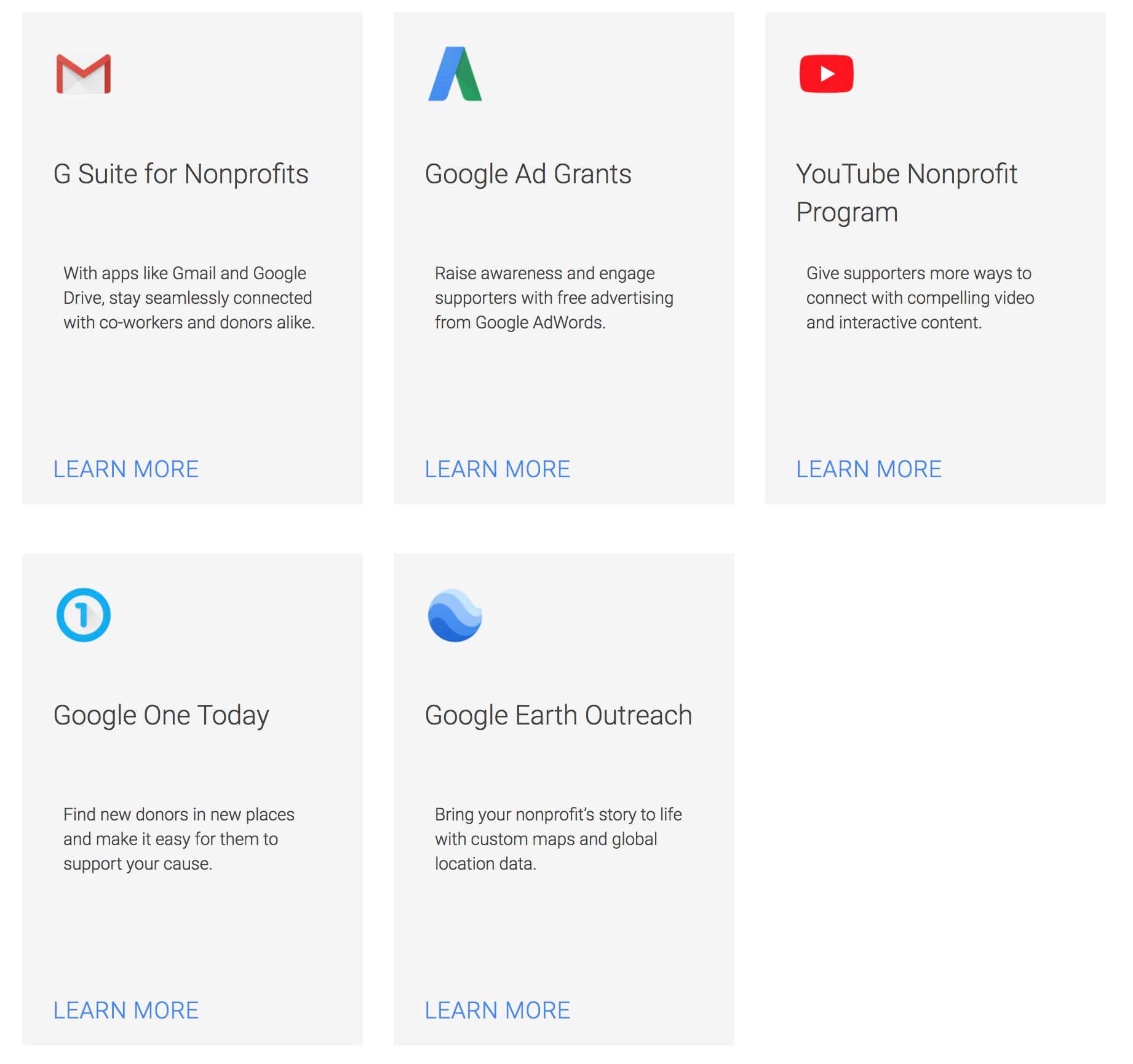 Who qualifies for Google Grants?
Although most nonprofits are ideal candidates, there are a few limitations as to what kind of organizations qualify for Google Ad Grants.
For approval in the United States. . .
Organizations must be recognized by the IRS as tax-exempt 501(c)(3) organizations formed for charitable, educational, religious, literary, scientific, or other tax-exempt purposes.
Organizations, such as churches, that are automatically considered tax-exempt under group exemption must still obtain recognition of 501(c)(3) tax exemption from the IRS to qualify for the Google for Nonprofits program.
Organizations must be currently registered with TechSoup.
Fiscally sponsored organizations are not eligible for Google for Nonprofits.
How to build effective PPC campaigns
To simplify the campaign development process, we've broken it into four steps.
Set specific, measurable advertising goals. Each goal aligns with a campaign.
Develop a robust keyword list for each campaign.
Write and polish ad copy.
Direct each campaign to a targeted landing page.
#1 Set measurable goals
Don't advertise for the sake of advertising. Set specific, measurable goals that could be addressed with an AdWords. General awareness and engagement campaigns ads that direct users to the homepage are fine to get your feet wet, but, in general, it's best to create specific campaigns and answer direct questions from your core personas. For example, perhaps a portion of your audience is looking for local volunteer opportunities. A campaign could be labeled 'Recruitment' and build to target specific keywords. The campaign would require a robust keyword list and polished ad copy to drive clicks to a webpage that speaks directly to the benefits of volunteering.
From there, considering AdWords and Google Analytics obviously work well together, you can set initial baseline numbers and directly attribute AdWord performance to specific goals on your site. This way you can know exactly which ads are generating the most interest and which ads may need to be modified.
#2 Develop a robust keyword list
Considering your ads will only appear when their related keywords are a good match for Google, keyword selection is incredibly important to the success of each campaign. The best place to start your list is Google Analytics. Analyze organic search traffic keyword phrases and begin to correlate words with your goals list.
From there, begin creating extended keyword phrases (long-tail).  As much as we love Google Keyword Planner, it's pretty terrible at coming up with unique, long-tail keywords. A good, no-brainer tool you can use to seed the planner is Google's search results. Search for a generic, related keyword, scroll to the bottom of the SERP, and look at the section called, "Searches related to…"
Occasionally, you can find some great ideas here because Google doesn't simply display simple variations of the keyword you entered, it can also reveal related keywords you may haven't even considered.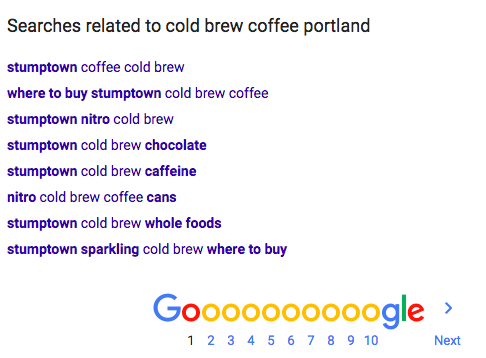 Quick Tip: Copy and paste one of the keywords from the "Searches related to…" area, drop that into Google, and check out the "Searches related to…" results for that keyword. Rinse and repeat until you have a huge list of keywords that the Keyword Planner doesn't come close to uncovering.
Although your first few attempts will more than likely be using existing marketing material to create general awareness ads, it's much more beneficial to create messages customized for each audience's needs and goals (more on this in step #4). Remember, your ads only appear when somebody Google's a particular question or problem—often searching specific information. Use these hypothetical searches as a basis to plan your keyword research and write ad copy.
Quick Tip: What about broad-match versus exact-match keywords? Well, if you happen to work for an organization that is frequently misspelled or confused with another entity it could be useful to identify those common errors and plan for those within your lists.
#3 Polish ad copy
The value of this step is typically underestimated—and I'm not just saying that because we're copywriters. Most assume their ad is skimmed and that the message isn't as important as the context and format. We'll be the first to tell you that through our PPC experience and ongoing testing for each campaign—a refined, direct message that speaks to central audience goals is the primary engagement driver.
So, what comprises a good nonprofit PPC ad? While we could go into detail on each of the following PPC ad writing techniques, here's a good place to start.
Try to have at least one of the following:
Does your ad focus on a specific end goal?
Does the ad create a sense of urgency? (here's a quick countdown timer tutorial)
Is the ad current and specific to the offering?
Does the ad feel personal?
Does the ad feel local?

Anatomy of the paid ad
The reality is, there isn't a lot of space to work with here.
Headline 1: 30 Characters Max
Headline 2: 30 Characters Max
Path 1: 15 Characters Max
Path 2: 15 Characters Max
Description: 80 Characters Max
Various Extensions
Paid ads also have the option to include a number of extensions to the search result. These range from sitelink extensions, which can provide a list of landing page links to your site, to a number of other review and contact extensions to streamline potential donor interaction.
#4 Build a targeted landing page
This isn't traditional advertising. The people who will see your ad didn't drive past a billboard, they searched for a specific phrase or question—that alone indicates more than a passing level of interest. They're ready to learn more and maybe even get involved. The problem is, too many nonprofits focus on targeting their ads and forget about what happens after the click. A common mistake is to send those users to your homepage, leaving it up to them to search through your site for the information they want.
The answer (and best practice) is building a "landing page" for every AdWord campaign. This way, each query is answered with content that speaks directly to the needs. Rarely will you build a PPC landing page that caters to more than one audience, so take this opportunity to review target persona's, their drivers, and the language that resonates with each. Optimized, targeted PPC landing pages have been shown to dramatically increase engagement and drive conversions so it's well worth the time it takes to develop landing pages for each campaign.
Ongoing PPC management
This isn't Ron Popeil's marketing. There's no 'set it and forget it' for PPC marketing, in fact, it's quite the opposite. To build effective PPC campaigns, whether you're driving traffic to a nonprofit or a  Fortune 500 company, requires constant updates and maintenance. Every week (and even on a daily basis at first), you will need to find out which campaigns are driving traffic and which need to be reconfigured. It's important to understand the different metrics so that you'll be able to gauge whether your campaign is effective or not.
Hey, why not get our help?
This is where an agency partner can be useful. With our knowledge and experience, we save nonprofits a great deal of time researching keywords, designing targeted landing pages, measuring results, and tweaking campaigns. We understand tight budgets and tight schedules and can help you capitalize on the huge opportunity Google Grants provides nonprofits.