From small businesses to enterprise-level clients, there is one common mistake that I see across the board time and time again: Marketing teams aren't campaign-driven with their digital advertising.
A campaign-driven approach means you're taking your customer experience into account, from the first ad they encounter to the messaging on your website, all the way down to the experience after they leave your website (remarketing, emails, exit popups, etc). To take this a step further, you should be testing your campaigns to learn more about your audience and what motivates them to take the action you want—from filling out a form to making a purchase.
Think About it Like a Brick and Mortar Store
One of my favorite ways to put this into perspective is to view your digital advertising campaigns the same way you would advertise your brick and mortar store. Imagine you have a huge bright sign stating "Blowout sale – 50% off select cameras!", but when a customer walks into your store, there is no signage of the sale. To make things even worse, the first thing they see when they walk in is a sign showcasing your TV selection, then a sign bragging about your customer support, and then the newest Dyson fan (this is the store equivalent of your homepage slider by the way).
Let's take this back into perspective of your digital advertising and your website. What do we mean by being campaign driven? Luckily, we created this nifty graphic for you.
Break Down Your Digital Campaign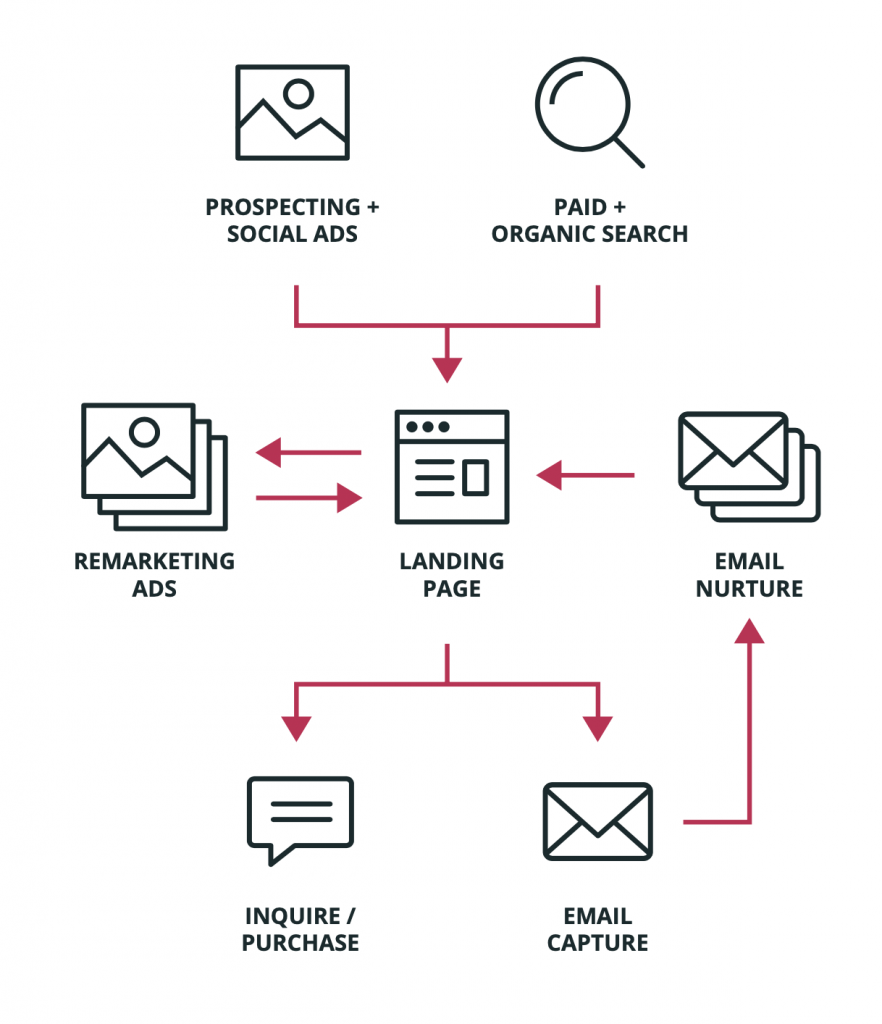 By breaking down each aspect of your digital campaigns in to digestible pieces, it's easier to take the time to understand what your customers care about and create a full user path for each one of your audiences. The more you can connect with your audience, the better your chances are of potential customers into paying customers.
Although the graphic above touches on email nurturing ( a topic for another time), let's focus on the primary pieces to a simple digital campaign: audience, the ad creative, the landing page, and the remarketing ads.
Define Your Audience
When building your ads, you need to consider each of your target audiences. Ask yourself a few questions.
Who are you targeting (age, location, interests, etc.)
What would they care about with my service/product?
Where is the best place to reach them?
For example, if you're advertising your mattress selection, you're likely constrained to your delivery radius, as well as the knowledge that customers travel up to 15 miles to your location for the best deal. Your target audiences are parents shopping for their families and older adults that are more likely to splurge on the newest model (and highest margin for you) mattress. You can break these audiences out and target them with individual campaigns.
Audience 1: Parents
Location: 15 miles of store
Demographics: Parents of kids ages between 3-17
Audience 2: Adults
Location: 15 miles of store
Demographics: Age between 28 to 45, engaged or married
If you think through each target customer individually and take into account how you can best reach them, it'll be easier to narrow down how to best target them.
Personalize Your Ad Creative
The goal with ad creative is to discover what connects best with each audience. Make educated assumptions on what each audience would connect with the most and start building your ads. Common ad creative tests include:
Ad Creative (product vs people-focused)
Ad Copy (test different tag lines, product highlights and why to work with you)
Advertised Offer (10% off vs Free Shipping)
Back to our mattress example. Say, your potential customers care about competitive pricing, delivery convenience, and how your product can improve their quality of sleep. However, someone shopping for their family may care about materials, allergy control and proper back for their kids. Under these assumptions you can create 2-3 ad variations pretty quickly.
Tailor Your Landing Pages
The goal of a landing page is to connect with your potential customers more and discover what converts website visitors into paying customers. Some common tests for a landing page include:
Page Copy / Product Feature Highlights (what messaging resonates)
Call to Actions (what CTA gets more interaction)
Landing Page Flow (what information do customers care about and what key info are they missing)
Offer (is there a compelling offer that makes them want to act now?)
The most common mistake is that businesses send potential customers to the home page or a generic shop page. Depending on what you're advertising, you likely need to expand more on the reason why your target customer clicked on your ad. If you're talking about a specific product collection, your customers want to see that product collection, not every product you have in your store or your homepage. Instead, send them to a tailored landing page that talks about that product collection, highlights those products, and gives enough of a value proposition to earn the sale. Don't overdo it with upsell opportunities or lead them down a different rabbit hole. If your site is set up strategically, your customers will be able to find the product they want (and more often than not, it's not the first product they clicked on).
Win More Sales with Remarketing Ads
More likely than not, the majority of your potential customers won't buy the first time they interact with your business. This could be because they're new to your brand, or they're simply in the research phase of the shopping cycle. That is why remarketing ads are key. Your remarketing ads should be tailored to:
Overcome customer hesitations
Offer special promotions
Create brand awareness
Stay top of mind
These ads can be tailored specifically to the pages that your potential customers visited, so keep that in mind as you spin these up. By the way, it's important to make sure you're not overwhelming your potential customers by showing your ad to them too often. Pay attention to the cost per conversion of your remarketing and how many times your potential customers are seeing your ads monthly to find the right balance. We tend to limit our remarketing efforts to between 6-8 average impressions per user.
TL;DR
If you skimmed the rest of the article, here's the point we've been trying to get across.
Tailor the entire digital shopping journey (initial ad, landing page, remarketing) to each of your target audiences. Put yourself in their shoes and consider what they care about and how your business can best cater to them. You'll waste less budget and drive more conversions. It's a win-win!
Have more questions? We're here to help! Reach out any time!