Every day, I work in front of a computer. And I love it. I love designing meaningful interactive experiences and—get ready for me to pat my own back—I'm good at it. The perfect, glossy world of digital creation is my home sweet home.
But some days it's a bit too cozy and I need to open a window, feel a cold breeze on my face, and get uncomfortable. That's why for 100 days a year, I embrace the flawed, hectic state of creation: it's an effort to rediscover a part of myself I haven't seen in a while.
Each year, The Great Discontent challenges me, and makers worldwide, to join in the creative marathon that is the 100 Day Project. It's 100 days devoted to the art of making, with the only rule being that you must show up. By brute force, you improve and bulldoze through the obstacles, if for no other reason than you want to be done with it, to close the book, to wake up to a clean slate and take on the next day.
In 2015, I discovered and photographed patterns in my day-to-day life, sketched them, and then shared them side by side. I called it #100daysofpatterntastic. During the sketching process, one of my biggest obstacles was deciding when to stop. Patterns repeat with endless opportunities for details. I spent countless hours sketching, burning the midnight oil, and once I started looking for patterns, I couldn't stop seeing them, everywhere. I completed the project, and it felt good, really good; I was proud (and exhausted).
Months later, I found myself hungry for creative fuel. For the daily pulse of making something not for my clients but rather selfishly, to sustain me. When the 100 Day Project 2016 arrived I stepped up, again.
The simple structure
Create one origami animal or plant species, photograph it, and label it with its scientific name (no unicorns allowed in this challenge). Repeat each day for 100 days. #100daysoforigamispecimens begins.
The unexpected reward
As an origami newbie, I found some instructions were challenging. I liken it to writing with your non-dominant hand. Origami focuses on precise folds and pre-planned patterns. There's a subtle decisiveness to the shapes that made my brain hurt, but I think that's a good thing.
I began to see progress in my folding as the days turned to weeks. I learned the foundational base shapes, which patterns photograph the best, and how to light the folds and dimensions for the camera. Bonus points if my photograph captured the essence of that particular animal. More advanced patterns lead to more subtle techniques; you don't just fold the paper. There's all sorts of pleating, creasing, and even wet folding. Who knew?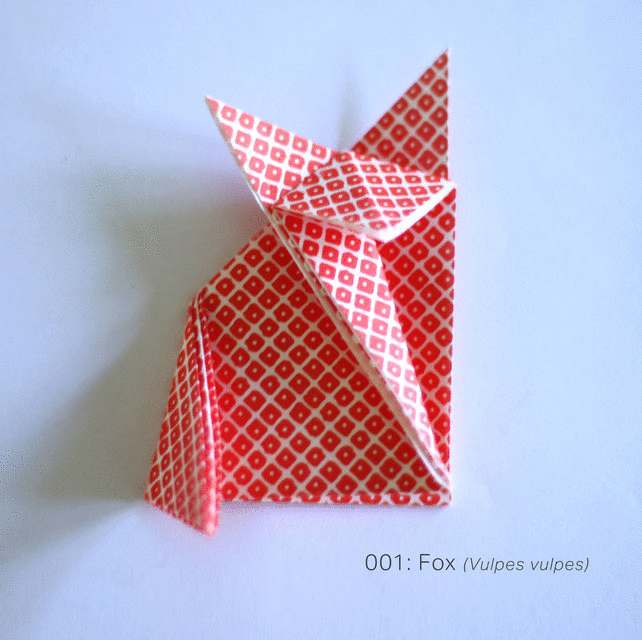 My best creation, drum roll…
It was unanimous: the sloth. A friend suggested this slow-moving, doughy-bodied animal friend, and I got crafty with a hand-drawn diagram I found online. It felt very slothy when I was done.
Holy talent, Batman! #The100DayProject community
In my two years of participating, I've found loads of creative fools to share the love with. I'm such a big fan of Stephanie Fung (@mochichito). Her illustrations are fun, imaginative, and generally kick ass. I discovered her work last year with the project #100daysoflittledudes and I've followed her ever since. She's up to #38 of this year's #100daysoftinyterrariums. They all make me so happy.
Regrets? Of course
Two words: sea urchin. It involved a creating a simple pyramid shape that was then assembled and repeated, but the hard part was interconnecting all the pieces. Last year, a few sketches didn't work out, but I still posted them. It's all about the process, right? This year, that was more difficult to accept. I didn't post failures, because that would mean posting a crumpled up piece of paper, or in this case a lopsided star. Perhaps I pursued perfection too hard this time around. I lost five hours working on this darn sea urchin. I'm thinking of burning it. Not kidding.
The 100 Day Project in one word
Bananas, but in a good way.
The take away
Creativity is as much a habit as it is a skill. Making time to create something, anything, is more important than what you create. Say yes to 100 days and show up, you won't be alone. #the100dayproject